Jack Clayton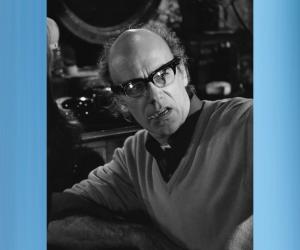 Quick Facts
Nationality: British
Famous: Directors British Men
Died At Age: 73
Sun Sign: Pisces
Born in: Brighton, England
Famous as: Film Director
Family:
Spouse/Ex-: Christine Norden (1947–53), Haya Harareet (1984–1995), Katherine Kath (1953-?)
Died on: February 26, 1995
place of death: Berkshire, England
Continue Reading Below
Jack Clayton was a British film director who made only eight films in his entire career. Even though he made only a few films, he was considered to be highly talented as a filmmaker. He used all the resources available at his disposal to make well-crafted films that sometimes contained spontaneity and rawness. Though he made some great films in his time, they were not always commercially successful. His attitude towards film making was totally uncompromising which was out of sync with what the audience or the critics were looking for most of the time. As a result he could make only a few films during his entire career. It was difficult to put his work in a particular category and his films started a completely new line of thinking in British cinema. His films were famous for their literary adaptations and stories with a combination of realistic details, imaginative storytelling and supernatural touches. His gift for combining all these three subjects to make an enthralling film made him a celebrity in the film industry. He started as a 'tea boy' in the British film industry and worked his way up through the ranks to direct films over a career spanning 60 years.
Recommended Lists:
Recommended Lists:
Continue Reading Below
Childhood & Early Life
Jack Clayton was born in Brighton, East Sussex, England, on March 1, 1921.

Recommended Lists:

Recommended Lists:

Career

Jack Clayton started his career in the British film industry as a child actor in 'Dark Red Roses' in 1929.

He joined the film industry in 1936 when he was only 14-year-old as a 'tea boy' and became a third assistant director under Alexander Korda's 'London Films' at 'Denham Studios'.

During this period he worked on different films such as 'Wings of the Morning' in 1937, 'Q Planes' in 1939, 'Over the Moon' and 'The Thief of Baghdad' in 1940.

During the Second World War he joined the Royal Air Force film unit and worked as a photographer from 1940 to 1946. He directed his first documentary for the Royal Air Force Film Unit titled 'Naples is a Battlefield' in 1944 though he received no credit for it.

After the war he worked on a number of films such as 'Bond Street' in 1948 as an assistant director and on 'An Ideal Husband' in 1947 as production manager.

He became an associate producer later and produced the films 'Moulin Rouge' in 1952, 'Beat the Devil' in 1953 starring John Huston, 'The Good Die Young' in 1954 starring Laurence Harvey and 'I Am a Camera' in 1955. All these films were produced for the production company 'Romulus' run by James and John Woolf.

Clayton got his first credit as a director for the short film 'The Bespoke Overcoat' which was adapted from a ghost story written by Nikolai Gogol in 1955. In this film he explored the psychological effect that is produced by having a feeling of being haunted when a ghost created by the guilty imagination of a tailor visits him. The film won an Oscar and a 'BAFTA'.

Continue Reading Below

Producers John and James Wool gave him another chance to direct the film 'Room at the Top' in 1959 which was again an adaptation of a novel written by John Braine. This film heralded the launch of a new line of thinking in the British film industry of making more mature films in which sexual mores started to be treated more frankly. It starred Simone Signoret as a doomed woman.

Drawing from his experience in making his earlier film on ghost stories, he made a second film 'The Innocents' in 1961 starring Deborah Kerr which was based on a celebrated ghost story 'The Turn of the Screw' written by Henry James. This film was better than the earlier one and portrayed the sensitive character of women and the emotions of children.

He made 'The Pumpkin Eater' in 1964 in which the emotionally disturbed heroine, played by Anne Bancroft, had the same fear of having a mental breakdown similar to the female character in 'The Innocents'. The film portrayed marriage, adultery and divorce as the main topics and had James Mason and Peter Finch in the main cast.

He made the film 'Our Mother's House' in 1967 in which the main theme was about the children trying to communicate with the spirit of their dead mother and the emotional upheavals that they went through while attempting it in an adult world which they were not able to comprehend fully.

Clayton moved to America after this and made two films, the first of which was 'The Great Gatsby' in 1974 adapted from a novel written by F. Scott Fitzgerald and had Robert Redford and Mia Farrow in the main roles. The film did not get a good review from the critics and failed at the box-office.

His next film in the US was 'Something Wicked This Way Comes' in 1983 for 'Disney' which was an adaptation of the novel written by Ray Bradbury in 1962. The film was about the emotional disturbances that are caused in children when they are exposed to evil and unearthly happenings.

In 1983 he served as one of the members of the jury at the 'Venice Film Festival'.

Continue Reading Below

He returned to England to make 'The Lonely Passion of Judith Hearne' in 1987 which was set in the backdrop of Dublin, Ireland, but most of the shots were taken in England. It starred Maggie Smith in the role of a spinster.

His last film was made for BBC titled 'Memento Mori' in 1992 Both these films had Clayton's characteristic eye for detail and the second one dealt with the disappointment of being unable to finish all the work a person has set out to do because of ageing.

Awards & Achievements

Jack Clayton won his first 'Academy Award for Best Director' for the film 'The Bespoke Overcoat' in 1955. He also won the 'BAFTA Award for Best British Film' for it.

In 1958 his film 'Room at the Top' received an 'Academy Award' nomination for 'Best Picture' and a 'BAFTA Award' nomination for 'Best Film'. Neil Paterson bagged the Oscar for 'Best Screenplay' and Simone Signoret won the Oscar for 'Best Actress'.

Personal Life & Legacy

He married actress Christine Norden in 1947 and divorced her in 1953.

He married French actress Katherine Kath in 1953 and divorced her later.

He married Israeli actress Haya Harareet in mid 1960s. She had starred in the remake of 'Ben Hur' in 1959 along with Charlton Heston. She was with him till his death in 1995.

Jack Clayton died in Slough, Berkshire, England, of heart and liver problems on February 25, 1995 at the age of 73.

Trivia

Jack Clayton described himself as an 'ex-Catholic' who never followed normal trends prevailing at the time.

Translate Wiki

to Spanish, French, Hindi, Portuguese

Article Title

- Jack Clayton Biography

Author

- Editors, TheFamousPeople.com

Website

- TheFamousPeople.com

URL

-

https://www.thefamouspeople.com/profiles/jack-clayton-7754.php

Last Updated

- October 31, 2017

---

---

---