Hugo Weaving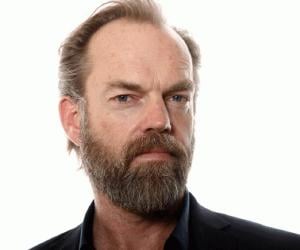 Quick Facts
Nationality: Australian, Nigerian, British
Famous: Actors Australian Men
Age: 59 Years, 59 Year Old Males
Sun Sign: Aries
Also Known As: Hugo Wallace Weaving
Born Country: Nigeria
Born in: Ibadan
Famous as: Actor
Height: 6'2" (188 cm), 6'2" Males
Family:
father: Wallace Weaving
mother: Anne Lennard
siblings: Anna-Jane Weaving, Simon Weaving
children: Harry Weaving, Holly Weaving
Partner: Katrina Greenwood (1984–present)
More Facts
education: National Institute of Dramatic Art, University of New South Wales
Continue Reading Below
Hugo Weaving is an English-Australian actor who is best known to play the main villain Mr. Smith in the science fiction film series 'The Matrix'. Apart from that, he gained a huge fan after he appeared in starring roles in films such as 'V for Vendetta', 'Lord of the Rings' series and 'The Hobbit' series. After being born in Nigeria to English parents, Hugo spent his early years moving between England and Australia. He made his acting debut in 1984 with the Australian television series 'Bodyline' and followed this role with key roles in further more series' such as 'The Dirtwater Dynasty' and 'Melba'. He received critical acclaim for his roles in the films such as 'Bangkok Hilton' and 'Proof'. In 1999, he received his first major career breakthrough when he was signed on to play the main villain in the film 'The Matrix'. The film became a phenomenal critical and commercial success making Hugo an overnight star in Hollywood. Since then, he has remained a critically acclaimed actor with famous appearances in film such as 'Cloud Atlas', 'The Dressmaker' and 'Jasper Jones'. He also acts as the voice for Megatron in the 'Transformers' series.
Recommended Lists:
Recommended Lists:
Continue Reading Below
Childhood & Early Life
Hugo Weaving was born on April 4, 1960 in Nigeria to English parents Anne and Wallace Weaving as the second of the three children in the family. His mother worked as a tour guide and a teacher while his father was an acclaimed seismologist. His father's work took him to different places from time to time and as a result, Hugo spent most of his childhood living in Nigeria, England and Australia.

Soon after Hugo was born, the family moved to England for sometime before moving to Australia for work reasons. The family also had a brief stay in South Africa. Hugo started acting while he was studying in England attending The Downs School. As the first acting role of his life, he played the role of Captain Asquith in the play 'The Thwarting of Baron Bolligrew'. As for his academics, he particularly enjoyed history and scored high grades in it consistently.

In the mid 70s, the family moved back to Australia, where Hugo started attending Knox Grammar School. The family lived in Sydney and by then Hugo had developed a keen interest in acting. Following his high school graduation, Hugo decided to learn acting professionally and got enrolled into National Institute of Dramatic Art in Sydney.

Following his graduation from NIDA, Hugo went out in search of steady acting work. It was not difficult for him as NIDA is known as one of the most well respected acting institutions in the world with alumni such as Geoffrey Rush and Mel Gibson.

Recommended Lists:

Recommended Lists:

Career

Straight out of NIDA, Hugo made his acting debut with a small role as a student in the film '...Maybe this Time' in 1981. He further appeared in bigger roles in films such as 'The City's Edge' and 'For Love Alone'. All of these were small Australian films and remained unanimous for long times post their release.

His television debut happened in 1984 with a role in the series 'Bodyline', where he played the role of an English cricketer. For the years following that, Hugo appeared in several TV series' such as 'The Dirtwater Dynasty' and 'Barlow and Chambers: A Long Way from Home'.

In the early 90s, Hugo finally started gaining recognition for his roles in the films such as 'Proof' and 'Reckless Kelly'. Both the Australian films ran into film festivals and brought Hugo a worldwide exposure for the first time.

In 1993, Hugo appeared playing starring roles in the films such as 'Frauds' and 'The Custodian'. In the very next year, came the next breakthrough role of his career in the film 'The Adventures of Priscilla, Queen of the Desert'. His role as a drag queen brought him international fame. In the coming years, he further gained prominence as he provided his voice to the film 'Babe'.

In 1999 came the project that turned his life around. He was offered the role of the main villain Mr. Smith in the science fiction action film 'The Matrix'. Owing to its existential content and path-breaking action sequences, the film is known as a cult classic. Hugo's portrayal as a stiff, stoic evil AI brought him the super-stardom in Hollywood.

He went on reprising his role as Mr. Smith in the two subsequent instalments titled 'The Matrix Reloaded' and 'The Matrix Revolutions'. After receiving several awards and nominations for his role, he went on starring in key roles in Hollywood films.

In 2001 he bagged another major role in a Hollywood project. He earned the role of half-elven lord named Elrond in the film series 'The Lord of the Rings'. The trilogy had three films with each film releasing in a year's gap. As the trilogy became iconic, Hugo further became a well established Hollywood A-lister. All three of the films were major critical and commercial successes all over the globe.

Continue Reading Below

In 2004, Hugo was seen playing the lead role in the multiple awards winning short film 'Everything Goes'. He then moved back to Australia to star in the indie film 'Little Fish', co-starring with Cate Blanchett in the leading role. The film was a big critical and commercial success and brought many awards and nominations for the cast and the crew.

In 2005, Hugo rejoined the directors of 'The Matrix' to star in their film 'V for Vendetta'. He played the role of an anarchist named V who always has a mask on. Although his face was never quite visible in the film apart from a few early scenes, his body language and voice modulation did the trick of him receiving unanimous appreciation for his role. The film became a cult classic.

Hugo received critical acclaims for his roles in the films such as 'Last Ride', 'Oranges and Sunshine'. Apart from that, he further stretched his voice acting filmography by becoming the voice of the main villain Megatron in the 'Transformers' film series. In 2011, he became a part of the Marvel cinematic universe when he starred as the main villain in the film 'Captain America: The First Avenger', where he played Captain America's arch enemy Red Skull.

In 2012, he further joined hands with 'The Matrix' and 'V for Vendetta' directors The Wachowskis for the experimental indie film 'Cloud Atlas'. In the anthology film, Hugo played several different characters. Tom Hanks led the cast in the film which earned cult status overtime.

In 2013, he played a key role in the film 'The Turning', for which he received several award nominations. 2014's Australian comedy drama film 'The Mule' was another major critical success for Hugo.

In 2015, he earned one of the leading roles in the Australian film 'The Dressmaker' starring alongside Kate Winslet.

In the later years, Hugo has appeared in critically acclaimed roles in the films such as 'Hacksaw Ridge' and 'Jasper Jones'.

Recommended Lists:

Recommended Lists:

Awards & Achievements

Hugo Weaving has won several Australian Film Institute Awards throughout his career. In the Best Actor category, he has won awards for films such as 'Proof', 'The Interview' and 'Little Fish'. Apart from these awards, he has earned many nominations for his roles in critically acclaimed films such as 'The Dressmaker', 'Jasper Jones', 'The Old Man who Read Love Stories' and 'The Matrix'.

Recommended Lists:

Recommended Lists: