HowToBasic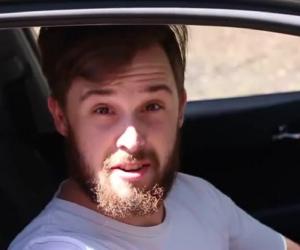 Quick Facts
Nationality: Australian
Age: 39 Years, 39 Year Old Males
Sun Sign: Cancer
Born in: Sydney, Australia
Famous as: YouTube Personality
Height: 1.75 m
Family:
siblings: Dan, Joshua and Steven
Net worth: $1 Million as of Jul 8, 2016
Continue Reading Below
HowToBasic is the screen name of a prominent Australian YouTuber who makes how-to tutorials and uploads them on the channel of the same name. The channel is a part of the Fullscreen network. YouTuber HowToBasic is an internet sensation who is often criticized for sharing misleading instructional videos. Capturing the limelight mainly between 2012 and 2013, the vlogger does not speak or show his face in any of his videos and remains anonymous. Still he has managed to earn millions of subscribers till date. As of now, the channel HowToBasic has over 9 million subscribers. Also note that in the year 2016, this channel became one of the biggest of all Australian YouTube channels. Besides having a strong fan base on YouTube, the Australian YouTube personality has an incredible number of fans on Facebook, Instagram and Twitter as well. Today, he has about 357k followers on Twitter and about 264k followers on Instagram respectively. And we have to mention that he has over 4 million likes on his Facebook page where he is also followed by over 4 million people!
Recommended Lists:
Recommended Lists:
Continue Reading Below
Career
The HowToBasic channel on YouTube was created in December 2011. After this, the channel creator started sharing his weird videos on it. The first video posted to the channel was 'How To Pick Up a Umbrella' which was followed by 'How To Save Power', 'How To Close a Door', 'How To Dig a Hole with your Finger', 'How To Fold a T-shirt in 5 seconds' and several others. One of the most popular yet bizarre video uploaded on the channel was 'How To Put on a Condom'. This video was released on Aug 6, 2013 and has over 49 million views as well as about 109k likes (as of June 2017). A certain segment in each video shows the content maker as an aggressive man who creates a mess by smashing and throwing around objects, such as eggs, dolls, fishes, pieces of chicken meat, printed images, and electronic items, to name a few. Well, it is the craziness of HowToBasic that has helped him earn such tremendous fame! Many of his videos have sexual undertones and thus it is no surprise that the channel has successfully earned over 9 million subscribers till date. The channel is also a part of the Fullscreen network. HowToBasic's content is also hugely popular on Twitter, Instagram and Facebook.

Recommended Lists:

Recommended Lists:

Continue Reading Below

Controversies & Scandals

The channel is known to contain weird visual gags that are disguised as how-to tutorials. It is also criticized on ethical grounds for wasting large amounts of food. Besides this, it has also been claimed that the YouTuber uses expired food from his grocery store. Due to this, the HowToBasic YouTube channel has been suspended on multiple occasions. However the latest suspension was eventually lifted and the channel has been restored. Since then the Australian YouTuber is once again making bizarre videos and sharing them with the general public.

Personal Life

HowToBasic (real name not known) was born on July 8, 1979 in Sydney, Australia. He has three brothers named Joshua, Dan, and Steven. Besides this, no other information regarding the Australian YouTuber's personal life exists on the web.

Last Updated : September 26, 2017

Translate Wiki

to Spanish, French, Hindi, Portuguese

---

---

---

HowToBasic Fans Also Viewed