Howard McNear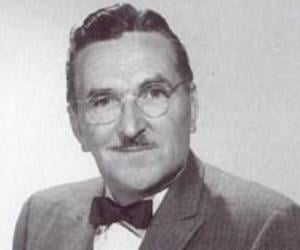 Quick Facts
Birthday: January 27, 1905
Nationality: American
Famous: Actors American Men
Died At Age: 63
Sun Sign: Aquarius
Also Known As: Howard Terbell McNear
Born in: Los Angeles, California
Famous as: Actor
Family:
Spouse/Ex-: Helen McNear (m. ?–1969)
father: Franklin E. McNear
mother: Luzetta M. Spencer
children: Christopher McNear
Cause of Death: Pneumonia
U.S. State: California
City: Los Angeles
Continue Reading Below
Howard Terbell McNear was a character actor from America. He portrayed a variety of roles in films, TV shows, radio programs, and theatre productions. His most notable performance was as Floyd Lawson, the barber in 'The Andy Griffith Show'. A native of California, McNear attended the Oatman School of Theater and subsequently became part of a stock company in San Diego. In the late 1930s, he featured prominently in various radio programs. At the tail end of the World War II, McNear served in the United States Army Air Corps. In 1953, McNear made his screen debut in an uncredited role in the western adventure 'Escape from Fort Bravo'. A year later, he debuted on the small screen in an episode of the NBC series 'Dragnet'. Over the course of his three-decade-long career, McNear accumulated over 100 film and TV credits. His portrayal of Floyd Lawson has left a lasting impression in pop culture, inspiring TV and film characters and songs.
Recommended Lists:
Recommended Lists:
Continue Reading Below
Career
In the late 1930s, Howard McNear garnered initial fame as a radio personality. He served as the voice of ace operator Clint Barlow in the radio serial 'Speed Gibson of the International Secret Police' (1937-40). While he could masterfully portray such authoritative characters, he often chose to play supporting roles and comic characters. McNear joined the US Army Air Corps as a private on November 17, 1942.

In 1952, he brought the role of Doc Charles Adams to life in CBS Radio's 'Gunsmoke'. The show aired until 1961. He was also featured in the renowned radio detective series 'Yours Truly, Johnny Dollar'. In 1950, he served as a voice artist on the TV series 'NBC Comics'. McNear had his screen debut in an uncredited role in the 1953 film 'Escape from Fort Bravo'. He was uncredited in his next film as well, the 1954 romantic comedy 'The Long, Long Trailer'.

In 1954, he played Bertie Simmons in a season three episode of 'Dragnet'. This was his first TV appearance. That year, he also had his first credited film appearance, in the western drama 'Drums Across the River'. Between 1952 and 1955, he played various roles in three episodes of CBS' anthology series 'Four Star Playhouse'. In 1956, he was cast as Professor Scott in a season three episode of CBS' legendary family adventure series 'Lassie'.

McNear worked with Lucille Ball and Desi Arnaz in a season six episode of 'I Love Lucy'. This was the second time he shared screen space with them after 'The Long, Long Trailer'. In 1958, he played a barber named Andy in an episode of the sitcom 'Leave It to Beaver'. From 1953 to 1958, he appeared as multiple characters in CBS' 'The George Burns and Gracie Allen Show'. In 1959, he was cast as Dr. Dompierre in the film 'Anatomy of a Murder'. In unarguably the most memorable scene from the film, McNear's character appears before the court and gives a graphical description of gathering evidence of a rape. He portrayed the role of an editor in Jack Webb's 1959 drama '-30-'.

In the TV version of 'Gunsmoke', which aired on CBS from 1955 to 1975, McNear had the recurring role of Howard Rudd. In the last stage of his career, he played various supporting roles in films like 'My Blood Runs Cold', 'Love & Kisses', and 'The Fortune Cookie'.

In 1961, McNear was hired to play the vague, talkative barber named Floyd Lawson in the CBS sitcom 'The Andy Griffith Show'. While the show was still airing, he had a stroke that paralysed the left side of his body. He subsequently had to leave the show for one and a half years in order to recover. It was Griffith who requested McNear to come back to the show. At the time, he could neither walk nor stand but still agreed to re-join the cast. The production crew and the writing team made the necessary arrangements for him to play his role. He eventually left the show in 1967, reportedly because he was having trouble recalling his lines and was becoming more and more anxious and frustrated.

Recommended Lists:

Recommended Lists:

Continue Reading Below

Family & Personal Life

Born on January 27, 1905, in Los Angeles, California, USA, Howard McNear was the son of Luzetta M. Spencer and Franklin E. McNear. He received his initial education in acting at the Oatman School of Theater and later convinced a stock company in San Diego to hire him. McNear exchanged wedding vows with Helen Spats on January 14, 1935, and had a son named Christopher with her. They were married until his death in 1969.

McNear passed away on January 3, 1969, at San Fernando Valley Veterans Hospital in Sylmar, California, from pneumonia, after suffering a stroke. He was 64 years old at the time. McNear was buried in the Los Angeles National Cemetery. Actor Parley Baer, who had been a lifelong friend of McNear, gave the eulogy.

Translate Wiki

to Spanish, French, Hindi, Portuguese

Article Title

- Howard McNear Biography

Author

- Editors, TheFamousPeople.com

Website

- TheFamousPeople.com

URL

-

https://www.thefamouspeople.com/profiles/howard-mcnear-43962.php

Last Updated

- March 13, 2019

---

---

---