Ross Perot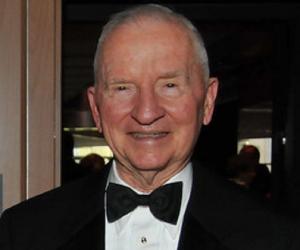 Quick Facts
Nationality: American
Famous: Billionaires Political Leaders
Age: 88 Years, 88 Year Old Males
Sun Sign: Cancer
Also Known As: Henry Ross Perot
Born in: Texarkana, Texas
Famous as: Independent U.S. Presidential Candidate
Height: 5'5" (165 cm), 5'5" Males
political ideology: Independent Reform
Family:
Spouse/Ex-: Margot Birmingham
father: Gabriel Ross Perot
mother: Lula May Perot (née Ray)
children: Carolyn, Katherine, Nancy, Ross Jr., Suzanne
U.S. State: Texas
Founder/Co-Founder: Perot Systems Corporation, Inc., Electronic Data Systems (EDS)
More Facts
education: United States Naval Academy, Texarkana College, Texas High School
Continue Reading Below
Ross Perot is a successful American businessman who became one of the wealthiest persons in the world after Dell bought his company, Pero Systems. This Texas billionaire is, however, most popularly known for being an independent candidate in the 1992 and 1996 U.S. presidential election. In the 1992 elections, he won nearly 19 per cent of the votes; this was more than the votes earned by any independent candidate in history, since Theodore Roosevelt. With an estimated net worth of $3.5 billion, Perot has played an active role in public affairs and has presided over several rescue missions and prisoner negotiations during the Iranian Revolution. He also fervently opposed the Gulf War and did not support the President George H. W. Bush administration. Born into an impoverished family, he worked many odd jobs since the age of seven. He later joined the U.S Navy after graduation and served there for a period of four years. After being discharged from the Navy, he worked as a salesman for IBM, where he performed immensely well meeting annual sales targets in just a mere two weeks' time. He had a strong faith in Steve Jobs even before he had founded Apple and acted as an angel investor for his company.
Recommended Lists:
Recommended Lists:
Continue Reading Below
Childhood & Early Life
Henry Ross Perot was born on June 27, 1930, to cotton broker Gabriel Ross Perot and Lula May Perot, in Texarkana, Texas.

He initially went to the Patty Hill private school and graduated from the Texas High School in Texarkana in 1947. He was part of the Boy Scouts of America.

After high school graduation, he went to the Texarkana Junior College and later became a part of the U.S. Naval Academy. He reached the position of battalion commander. He later resigned from the Navy in 1957.

Continue Reading Below

Recommended Lists:

Recommended Lists:

Career

After he quit the U.S. Navy, he worked as a salesman for The International Business Machines Corporation, where he exhibited immense potential and fulfilled his annual sales target in just two weeks.

In 1962, he established and founded the Electronic Data Systems in Dallas, Texas and went through an initial struggle period, after which the company began receiving contracts.

In the 1960s, Electronic Data Systems received many orders and contracts including many profitable contracts from the government of the United States of America.

Electronic Data Systems became a public company in 1968 and this facilitated a tremendous rise in the stock prices of the company. Within just a few days of going public, prices rose significantly.

In 1974, he gained much attention in the media as his share value dramatically dropped by $450 million on a single working day.

He was always involved in public affairs and in 1979, he headed the Texas War on Drugs Committee and he was also appointed on the Select Committee on Public Education.

In 1988, he became the founder of the Perot Systems Corporation, Inc., a technology services provider, which is located in Plano, Texas. The company was later acquired by 'Dell, Inc.'

Continue Reading Below

In 1990, he got into an agreement with the Vietnam Foreign Ministry, stating that he would become the country's business agent, if U.S. diplomatic relations with the country eventually improved.

In 1991 February, he appeared on the 'Larry King Live' on CNN, where he claimed that he would run as an independent candidate for the presidential elections.

By the summer of 1991, his candidacy received of immense media glare and attention. Subsequently, his followers began to organise petition drives to include his name on ballot in all fifty states.

On October 1, 1991, he re-entered the presidential race after he quit in July, following a controversy about his daughter and an apparent threat by the Republican government to leak compromising photos of his daughter.

He lost the 1992 presidential elections but polled 18.9% of the popular vote. With this, he became the most successful third-party presidential candidate in terms of the popular vote since Theodore Roosevelt in the 1912 election.

In 1995, he became the founder of the Reform Party and eventually earned himself a nomination to contest in the 1996 U.S. presidential elections. He lost this election too.

Continue Reading Below

Recommended Lists:

Recommended Lists:

Major Works

He founded Electronic Data Systems, an American multinational information technology equipment and services company, headquartered in Plano, Texas. He sold the company to General Motors in 1984.

In 1988, he founded Perot Systems, which as an information technology services provider. The company was bought by Dell for $3.9 billion in 2009.

Recommended Lists:

Recommended Lists:

Awards & Achievements

The S. Roger Horchow Award for 'Greatest Public Service by a Private Citizen' was bestowed upon him in 1986.

On April 22, 2009, he was awarded the Honorary Green Beret at the John F. Kennedy Special Warfare Center, located at Fort Bragg, North Carolina.

He received the Sylvanus Thayer Award, which was conferred upon him by the U.S. Military Academy at West Point in 2009.

Personal Life & Legacy

In 1956, he got married to Margot Birmingham, who was from Greensburg, Pennsylvania. The couple has five children together.

Trivia

This American businessman, who participated as an Independent presidential candidate, abruptly withdrew from the presidential race. He cited that there was a conspiracy to stop his daughter's wedding and consequently disrupt him from participating.

Translate Wiki

to Spanish, French, Hindi, Portuguese

Article Title

- Ross Perot Biography

Author

- Editors, TheFamousPeople.com

Website

- TheFamousPeople.com

URL

-

https://www.thefamouspeople.com/profiles/henry-ross-perot-2762.php

Last Updated

- September 25, 2017

---

---

---