Harold Godwinson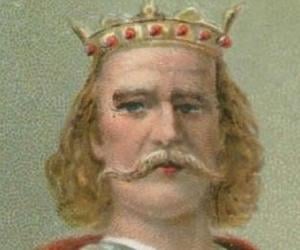 Quick Facts
Born: 1022
Nationality: British
Famous: Emperors & Kings British Men
Died At Age: 44
Also Known As: Harold II
Born in: Wessex
Famous as: King of England
Family:
Spouse/Ex-: Edith the Fair (m. ?–1066), daughter of Earl Elfgar (m. 1066–1066), Ealdgyth
father: Godwin, Earl of Wessex
mother: Gytha Thorkelsdóttir
siblings: Edith of Wessex, Gunhild Godwinson, Gyrth Godwinson, Leofwine Godwinson, Sweyn Godwinson, Tostig Godwinson, Wulfnoth Godwinson, Ælfgifu Godwinson
Died on: October 14, 1066
Continue Reading Below
Harold Godwinson, also known as Harold II or Harold the Saxon, was an Anglo Saxon King of England in the 11th Century. He was the last regent to hold the title before the Battle of Hastings in 1066 where he died fighting the Norman invaders led by William the Conqueror. Following his demise at the battle, England was no longer in control of the Anglo-Saxons; power shifted to the Normans who had come from France. During his reign, he was reputed to be a strong ruler and skilled general. A powerful earl prior to becoming the king, he established himself as a prominent figure in England by the mid-1060s, and was most likely expected to ascend the throne after the passing of the ruler Edward the Confessor who was childless and without an heir. Even before his coronation, Harold owned vast areas of land in Somerset and Wessex. In fact, he was the most powerful person in the entire kingdom after the king. He ascended to the throne in January 1066 after Edward's death. His reign, however, was destined to be a short one as he was killed in the Battle of Hastings in October the same year.
Recommended Lists:
Recommended Lists:
Continue Reading Below
Childhood & Early Life
Harold was born in 1022 (circa) to Godwin, the Earl of Wessex and a Danish noblewoman named Gytha, near Senlac Hill, Sussex, England. He had several siblings. His family was of noble origin and his own sister married Edward the Confessor, the king who he would later succeed. His father Godwin was one of the important figures in the government of England. Godwin was an ardent ally and supporter of Cnut the Great, who was the king of Denmark, England and Norway, collectively known as the North Sea Empire back in the day.

Following Cnut's death, Godwin helped Edward the Confessor become the king of England. He eventually married his daughter Gytha, who was Harold's sister, to Edward. Harold's elder brother Sweyn brought shame and disgrace to his family and the royalty by abducting the abbess of Leominster. Sweyn was subsequently exiled for this act, thereby ruling him unfit for kingship and automatically making Harold the most likely successor.

Harold's family played a prominent role in the politics of England and their power grew with time. Their growth in power concerned a lot of other lords and nobles who sought to take the throne for themselves. During this period, Harold married Edyth Swannesha and had six children with her, but the clergy considered her to be his mistress and not a wife.

Ascension & Reign

Records state that Edward the Confessor promised the throne to William of Normandy when he was still alive. This move led to uproar in several of the English families who considered it a betrayal to the crown. Needless to say, several families hastened to further support Godwin and his family's claim to the throne. Tensions between the Normans and the Anglo Saxons slowly grew over the years leading to Edward's death. Edward passed away on 5th January 1066.

The Witan, which was the term used to describe the council or gathering comprised of Anglo-Saxons rulers, declared Harold Godwinson the king of England the very next day on 6th January 1066. After this, Harold married Edith, the daughter of Earl Ælfgar and the widow of the Welsh ruler Gruffydd ap Llywelyn against who he had led several successful campaigns. Harold had also become the Earl of Hereford in 1058, replacing his late father as the focus of the opposition.

Following Harold's coronation, Duke William of Normandy started plans to invade England. To do this, he had to fight Harold's professional soldiers on land as well as deal with the Saxon navy on the English Channel. William built 700 warships on the Norman Coast in preparation for this invasion. During this time, there was also the looming threat of the Vikings from Norway.

The King of Norway, Harald Hardrada and his army of Norsemen invaded England in September 1066. Godwinson managed to fight the forces off which culminated in a bloody stalemate at Stamford Bridge before the Vikings were forced to retreat. Following this, Harold began to march his troops south to met William and his Norman army at Hastings.

The Battle of Hastings

At Hastings, Harold Godwinson initially took charge in the battle and had William's knights outnumbered and on the run. As rumors of William's death began to spread, the Normans turned to flee. However, Duke William wasn't dead, he threw aside his helmet to reveal himself clearly to Harold's troops and his own men then began to charge at Harold's soldiers.

A fierce battle ensued and Harold's army was crushed and Harold himself was killed in the battle. His brothers Gyrth and Leofwine were also killed in the battle. This 'Battle of Hastings' in 1066 is one of the most important battles in British History.

There is a conflict of historical accuracy as to whether Harold was shot down by one of the Norman archers or if he was actually killed by his own men when there were rumors hinting that he had betrayed his side to William. This is a major debate among core historians while the general narrative is that Harold was killed by an arrow which pierced his eye.

Harold's body was stripped of all badges and honors as were those of his brothers who were killed alongside him. He could only be identified by certain marks on his body. According to one source, Edith, his widow, was called to identify the body, and she did so by recognizing some private marks known only to her. It is suggested that due to Harold's strong association with Bosham, his birthplace, and the discovery of an Anglo-Saxon coffin in the church there, it was the actual place of his burial.

The details of the king's death and burial are shrouded in mystery with different sources giving varied accounts. According to William of Poitiers, Harold's body was given to William Malet for burial. Some sources also say that his body was given a proper funeral years later, in the church of Waltham Holy Cross in Essex, which had been refounded by him in 1060. There are also legends that state that Harold had survived the battle of Hastings, and had fled to England. He is said to have died as a hermit at Chester or Canterbury.

Personal Life

For around twenty years, Harold was married to the Edyth Swannesha. They had at least six children. However, the clergy considered her to be Harold's mistress.

According to Orderic Vitails, he was once betrothed for to Adeliza, one of the daughters of William, Duke of Normandy. However, the betrothal never led to marriage.

Later in 1066, he married Edith, the daughter of Earl of Mercia and the widow of Gruffydd ap Llywelyn. He had two sons with her named Harold and Ulf. Not much is known about their later lives, though it is speculated that they lived their lives in exile.

After Harold's death, Edith had to flee for refuge to her brothers, Edwin, Earl of Mercia, and Morcar of Northumbria.

Translate Wiki

to Spanish, French, Hindi, Portuguese

Article Title

- Harold Godwinson Biography

Author

- Editors, TheFamousPeople.com

Website

- TheFamousPeople.com

URL

-

https://www.thefamouspeople.com/profiles/harold-godwinson-37296.php

Last Updated

- June 18, 2018

---

---

---