Hannah Hart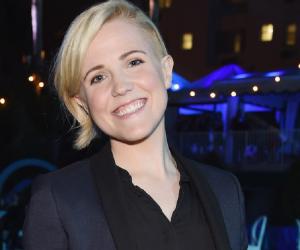 Quick Facts
Nick Name: Hannah Maud Hart
Birthday: November 2, 1986
Nationality: American
Age: 32 Years, 32 Year Old Females
Sun Sign: Scorpio
Also Known As: Hannah Maud Hart
Born in: Colorado Springs, USA
Famous as: YouTuber/ Comedienne
Height: 1.63 m
Family:
siblings: Maggie (Sisters), Naomi
U.S. State: Colorado
Net worth: $2 million as of 2017
More Facts
Continue Reading Below
Hannah Hart is a well-known and much loved YouTuber, who has also made great waves as an actress, comedienne and even author. Ask any soul that swears by social media--Hannah Hart defines class and there is nothing that can compare to her unique sense of humor! Her upward trajectory of YouTube fame came with her installments of 'My Drunk Kitchen' which led to her acquiring over 2.5 million subs. And now, Hannah Hart is known globally for her video content skills, her eccentric movies, and her inspiring-yet-hilarious self-help and cookery books. And what makes Hannah's journey stand out, is the fact that this woman never aspired to hit it off as a social media celeb- her famous channel began by accident! No wonder her fans and viewers relate to her sense of humor and don't spare a second for thought before hitting the 'Subscribe' button. Happy Hannah Hart channel binging!
Recommended Lists:
Recommended Lists:
Continue Reading Below
The Meteoric Rise To Stardom
Hannah Hart can be named as one of the most amusing YouTubers of this generation, and if there is a go-to idol for serendipitous YouTube fame, it has to be her! But what's more commendable is her journey to this glorious stardom. From facing a rather bleak childhood to dreaming about making it into the biggest colleges, she knew that giving up and letting defeat win was just not in her agenda. But little did she know that she was about to get more than she bargained for; and that her fate was going to take the craziest shift. Sitting in her sister's room and chatting with her friend over the webcam one day, Hart tried to record herself cooking whilst being intoxicated. Struck with a lightning bolt of an idea, Hannah took to YouTube to share the video. As luck would have it, the video went viral! Named as 'Butter yo shit', it generated over 100,000 views in just few days, and her viewers began bombarding her social media asking her to upload more 'episodes.' The unexpected yet greatest phenomenon in her career, 'My Drunk Kitchen' was what shot Hannah to an immortal fame. Now with over a billion views for her 'My Drunk Kitchen' video installments, Hannah Hart has gone as far as featuring chef Jamie Oliver, actress Sarah Silverman, and even musician Lance Bass in her channel.

Recommended Lists:

Recommended Lists:

Not only is she adored for her hilarious YouTube drunk cooking sessions, Hart has also gained global recognition as a comedienne, actress, and author. In the year 2013, she starred in her first feature film 'Camp Takota', along with her best friends Grace Helbig and Mamrie Hart. She later went on to make a movie along with Grace and Mamrie called 'Dirty 30' which was produced by Lions Gate Entertainment and released in September 2016. Hannah has also gained huge acclaim after the release of her first parody cookbook in the year 2014, called 'My Drunk Kitchen: A Guide to Eating, Drinking and Going with Your Gut'. After the book release saw a whirlwind of acceptance, Hannah later released a second book, a memoir called 'Buffering: Unshared Tales of a Life Fully Loaded', in the year 2016, which debuted #4 in the New York Times Best Seller. Goes without saying that Miss Hannah Hart has made her way into her viewers' and fans' hearts, and there is just no way anything can bring her down!

Recommended Lists:

Recommended Lists:

Continue Reading Below

What Makes Hannah Hart So Special

Watch her YouTube videos and you just can't escape her infectious positive-yet-hilarious vibes that will take over all your blues. According to one of her videos, growing up even in the midst of absolute poverty, Hannah was known for spinning that rather sorrowful phase into a comical one. And since she has experienced nothingness first-hand, she started a campaign called Have a Hart Day, where volunteers hope to reach out throughout the globe, feeding, helping, and meeting the needs of underprivileged families.

Beyond Fame

Hannah Hart recently took to social media to officially 'come out' as lesbian. Then in the year 2015, she confirmed her relationship with YouTuber and Project Runway Judge, Ingrid Nilsen. Unfortunately, the pair ended their fairytale romance in mid-2016.

Behind The Curtains

Hannah Maud Hart was born on November 2, 1986, in Colorado Springs, USA. Not much is known regarding her parents, but she has two sisters- Naomi and Maggie (half-sister). Hart attended the prestigious UC Berkeley and graduated with two degrees- English literature and Japanese language. She even lived in Japan for a few years before moving to LA, where she currently lives. Her YouTube channel is all about never letting the rock bottoms of life define you, and it is of no wonder that she has over 2.5 million happy subscribers!

Last Updated : January 17, 2017

Translate Wiki

to Spanish, French, Hindi, Portuguese

---

---

---

Hannah Hart Fans Also Viewed