Gloria Steinem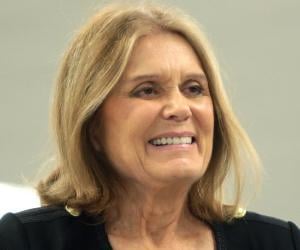 Quick Facts
Nationality: American
Famous: Feminists Journalists
Age: 85 Years, 85 Year Old Females
Sun Sign: Aries
Also Known As: Gloria Marie Steinem
Born in: Toledo, Ohio
Famous as: Journalist
Height: 5'9" (175 cm), 5'9" Females
Family:
Spouse/Ex-: David Bale (m. 2000)
father: Leo Steinem
mother: Ruth Nuneviller
children: Christian Bale, Erin Bale, Louise Bale, Sharon Bale
U.S. State: Ohio
City: Toledo, Ohio
More Facts
education: Waite High School, Western High School in Washington, D.C., Smith College
Continue Reading Below
Gloria Marie Steinem is an American feminist, author, and journalist who played an influential role in the American feminist movement of the late 1960s and early 1970s. The leader and the spokesperson of the movement, her social activism helped in bringing about several significant changes in the western society. Steinem grew up witnessing first-hand the social injustices and inequalities faced by women as her mother was suffering from mental health issues but was denied the requisite social support she needed. Steinem attended the Smith College in Massachusetts, US and later spent two years in India. After her return to the US, she briefly and indirectly worked for the CIA before beginning her journalism career. She wrote articles for 'Esquire,' 'Huntington Hartford,' and 'New York' magazines. Steinem gained wide recognition after publishing an article titled 'After Black Power, Women's Liberation' in 1969. Having been involved in activism since 1959, when she organized the Independent Service for Information on the Vienna festival, advocating American participation in a Soviet-sponsored youth event, she has campaigned for Equal Rights Amendments and pro-choice activism, and against the Gulf War. In 1972, she co-established the feminist magazine 'Ms.' In 2005, she and her long-time friends Jane Fonda and Robin Morgan set up the Women's Media Center, an organization whose mission is "to make women visible and powerful in the media". At present, Steinem is a world-renowned feminist icon and often serves as the keynote speaker at events organized on the subject.
Recommended Lists:
Recommended Lists:
Continue Reading Below
Childhood & Early Life
Gloria Steinem was born on March 25, 1934 in Toledo, Ohio, as one of the two daughters of Ruth (née Nuneviller), a Presbyterian of mostly German (including Prussian) and some Scottish ancestry, and Leo Steinem, a son of Jewish immigrants who originally came from Germany and Poland. Her sister, Susanne Steinem Patch, is a renowned author in her own right.

She spent her childhood in the trailer which her father used to perform his trade as a travelling antique dealer. Her mother suffered a nervous breakdown at the age of 34 before she gave birth to Gloria. It drastically changed her, rendering her invalid and often trapped in violent delusional fantasies. Her parents separated in 1944 and Leo relocated to California while Gloria and Ruth stayed back in Toledo.

Surprisingly, she does not blame her father for the separation. In her later writings, she has stated that she "understood and never blamed him for the breakup." However, it did have a significant effect on her and her personality in those formative years.

She started to believe that her mother could not hold on to a job because of the general hostility of the patriarchal society towards working women. Experiencing the general apathy of doctors towards her mother's condition, she felt that it was the direct product of a similar anti-women animus. These experiences helped her conclude that women did not possess social and political equality.

She studied at the Waite High School in Toledo and later at the Western High School in Washington, D.C. After she graduated from high school, she enrolled at the Smith College where she was a member of Phi Beta Kappa.

In the late 1950s, she travelled to India where she would spend the next two years of her life. She spent the time as a law clerk to Mehr Chand Mahajan, the Chief Justice of India.

Recommended Lists:

Recommended Lists:

Career

When she came back to the US, Gloria Steinem was hired as the director of an organization named Independent Research Service, which, as it later turned out, was sponsored by the CIA. While she did admit having worked for the organization in the late 1950s and early 1960s, she vehemently denied any continued association in the 1970s. She wrote about her experience with the agency in her 2015 book 'My Life on the Road.'

Her foray into the world of journalism occurred in 1960, when she landed a job at Warren Publishing's 'Help! Magazine' as its first employee. In 1962, one of her most memorable pieces, 'The Moral Disarmament of Betty Coed' was published. The article, which dealt with the notion that women are forced to choose between a career and marriage, was groundbreaking, preceding Betty Friedan's 'The Feminine Mystique' by a year.

In another famous article, printed as 'A Bunny's Tale' in 1963 on Huntington Hartford's now-defunct 'Show' magazine, she wrote about her experience as a Playboy Bunny at the New York Playboy Club. In the article, she revealed how exploitative the working conditions of the bunnies were and how the demands made of them trudged the thin line on the edge of the law. Despite receiving much praise for the piece, she did not get any other assignment for months, which she attributed to the misgivings about her tenure as a bunny.

She interviewed John Lennon for 'Cosmopolitan' in 1964 and then served on the writing team for the NBC-TV's weekly satirical revue, 'That Was The Week That Was' (TW3). Eventually, Clay Felker, her editor during her time as a freelancer for Esquire, hired her at his New York magazine.

She gradually became one of the New York magazine's most prolific writers. In 1969, she chose to cover an abortion speak-out. As she herself had undergone the ordeal at 22, she felt that the event needed to be recognized by the media. She also states that her "big click" happened at the event and prompted her to begin her life as an active feminist.

In 1972, Steinem, along with Dorothy Pitman Hughes, founded 'Ms,' a magazine with feminist aspirations. Debuting as a special edition for New York, its first issue became a considerable success, selling over 300,000 copies within eight days. In the following days, the number of subscribers steadily increased and the magazine received 20,000 reader letters. In 2001, a Virginia-based non-profit organization named Feminist Majority Foundation bought the magazine. Steinem is still involved with the magazine, serving on the advisory board.

On March 22, 1998, she had written a controversial piece where, while not directly speaking out against the Clinton accusers, she claimed that those incidents involving the then president were not necessarily sexual harassments. It drew criticism from every corner of the political spectrum. In 2017, she stated in an interview that while she doesn't regret the piece, she "wouldn't write the same thing now because there's probably more known about other women now."

Recommended Lists:

Recommended Lists: