Eric Idle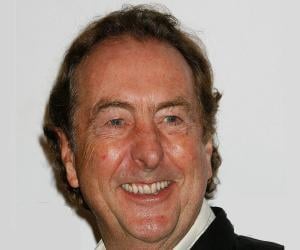 Quick Facts
Nationality: British
Age: 75 Years, 75 Year Old Males
Sun Sign: Aries
Born in: South Shields
Famous as: Comedian
Height: 1.85 m
Family:
Spouse/Ex-: Tania Kosevich (m. 1981), Lyn Ashley (m. 1969–1975)
father: Nora Barron Idle
mother: Ernest Idle
children: Carey Idle, Lily Idle
Continue Reading Below
Eric Idle is a popular English entertainer who has impressed the audience with the versatility of his talent as a comedian, actor, author, singer, writer and composer. His first exposure to performing arts came at Cambridge where he had enrolled as a student of English. Soon, he became a part of the Cambridge University Footlights Club and soon became the club's president. As president, his foremost work included opening the membership to women. He was a member of the English surreal comedy group Monty Python, a member of the Rutles on Saturday Night Live, and the author of the Broadway musical Spamalot. Other than being an actor and writer, he is an accomplished guitarist and composed quite a few musicals. Furthermore, in addition to acting, he has given voice over for several animated films and characters and served as the director and producer of several flicks.
Continue Reading Below
Childhood & Early Life
Eric Idle was born to Ernest Idle and Nora Barron in South Shields, County Durham, UK. While his father served in the Royal Air Force, his mother was a health visitor.

Tragedy struck the life of Young Idle as his father passed away post World War II. His mother found it hard to raise a child and survive a living and as such, admitted young Idle to Royal Wolverhampton School as a boarder.

His childhood years were tough as he was exposed to harsh environment, bullying and other malicious treatments. However, he dealt the situation with his smartness and a subversive attitude.

Since the school did not have much extra-curricular activities to engage on, he studied hard and finally gained admission at the Cambridge University. At Cambridge, he attended the Pembroke College to study English.

At Cambridge, he joined the Cambridge University Footlights Club and no sooner than in 1965, became the Footlights President. During his term as the President, he allowed women to enter the club, a move which none above him holding the position aimed at.

Continue Reading Below

Recommended Lists:

Recommended Lists:

Career

His acting career commenced with the children's television comedy series, 'Do Not Adjust Your Set' which had future Python fellows, Terry Jones and Michael Palin.

He wrote the script for the comedy group, Monty Python mostly all by himself. This turned to be a tedious task at hand given the fact that he had to impress the others with the material. However, given the complexities, he preferred to work independently as the independence brought out the best in him.

The characters in Python display an obsessive language and communication which formed the basis of his write-ups. The characters were mostly distant from one another as one would speak in anagrams, while the other would say words in wrong order and still the other who alternated between rudeness and politeness.

He was the second youngest member of the comedy group and the only one who was closest to the students and teenagers, who comprised of much of the fan base of the comedy group.

Most of the sketches that he made for the comedy group comprised of extended monologues of a single character about the experiences that he carried with them.

Most of the sketches that he made for the group dealt with contemporary obsessions like pop music, sexual permissiveness and recreational drugs. Other than this, his work essentially comprised of double entendre and sexual references which formed the basis of 'Nudge Nudge'.

Other than concentrating on writing, he was a blessed guitarist as well and was competent musically. He composed the famous musical numbers 'Always Look on the Bright Side of Life' and 'Galaxy Song'. While the first became the closing number for Life of Brian and a signature tune of Python, the latter was for 'Eric the Half-a-Bee' from Previous Record album.

Continue Reading Below

The comedy group disbanded in 1973 which eventually gave way for his solo career. He started off with his own BBC Radio One Show, Radio Five which ran for two seasons from 1973 to 1974. The show had him performing sketches and links to records and all multi-tracked parts.

Apart from radio, he tried his hand in television as well and created the Rutland Weekend Television on BBC2. The programme had noted performers like David Battley, Henry Woolf, Gwen Taylor and Terence Bayler. Unlike the London Weekend Television, on which it played a spoof on, the show was telecast on a weekday rather than weekend. George Harrison even made a guest appearance.

The highest point in RWT career was the creation of an affectionate parody of the Beatles. This got the band instant popularity in US, where he appeared on the Saturday Night Live.

In 1978, he collaborated with his early Python members and the then Saturday Night Live members to come up with a mockumentary film, 'All You Need is Cash' which was very well received. The show was written by him with music by Innes. He even made an appearance in the film as Dirk McQuickly.

In 1986, he gave a voice over for the character of Wreck-gar in the film, 'The Transformers: The Movie'. The following year, he appeared in the English National Opera production of the Gilbert and Sullivan comic opera The Mikado, where he played the role of the Lord High Executioner.

In 1989, he made an appearance in the U.S. comedy television series 'Nearly Departed'. Additionally, he starred in a number of guest roles in several films including 'The Adventures of Baron Munchausen', 'Nuns on the Run', 'Casper', 'The Wind in the Willows' and 'Splitting Heirs'.

In 1994, he played the role of Dr. Nigel Channing in the three-dimensional film 'Honey, I Shrunk the Audience!' The film became a major attraction at the Walt Disney's Epcot until 2010 and at Disneyland from 1998 to 2010.

Continue Reading Below

Following the success of the first film, 'Journey into Imagination', he was a part of the sequel, replacing Dreamfinder. Furthermore, he was writer and star of the 3-D film 'Pirates – 4D' for Busch Entertainment Corporation.

Other than acting in films and television, he even gave voice over for video games including Rincewind the 'Wizzard' and its sequel. For the sequel, he also provided and sang the theme song. Later on, he provided the voice of Devon, a dragon in the animated movie, 'Quest for Camelot' and as Slyly in 'Rudolph the Red-Nosed Reindeer: The Movie'.

In the latter half of 2003, he set off on The Greedy Bastard Tour, performing in several cities in America and Canada. The tour performances comprised of performing episodes and films of Monty Python and his post-Python days.

Following the tour, he came up with the Green Bastard Diary that detailed the events and situations that the crew encountered during the tour.

Taking cues from his 'Monty Python and the Holy Grail' film, he created the musical comedy 'Spamalot' which gave a spoof on the journey of King Arthur and his Knights and their quest for the Holy Grail.

In 2007, his play 'What About Dick?' was given a staged reading at two public performances. Such was the positive reception that the play returned on April 26–29, 2012 in the Oprheum Theatre with its entire cast excluding Emily Mortimer who was replaced by Sophie Winkleman. Russell Brand was an addition in the group.

In 2012, he performed in the closing ceremony at the Olympic Stadium in London on August 12. He performed on his famous number, 'Always Look on the Bright Side of Life'.

Recommended Lists:

Recommended Lists:

Personal Life & Legacy

He tied the nuptial knot with Lyn Ashley, an Australian, in 1969. The couple was blessed with a son Carey in 1973. The marriage did not last long and the two separated in 1975

He then married Tania Kosevich, an American, in 1981. The couple has been blessed with a daughter Lily in 1990. They put up in Los Angeles.

Recommended Lists:

Recommended Lists:

Trivia

He is the only member of Monty Python not to appear on Friday Night, Saturday Morning (1979).

Recommended Lists:

Recommended Lists:

1. Monty Python and the Holy Grail (1975)

(Fantasy, Comedy, Adventure)

2. Life of Brian (1979)

(Comedy)

---

3. The Crimson Permanent Assurance (1983)

(Fantasy, Adventure, Short, Comedy)

4. Monty Python Live at the Hollywood Bowl (1982)

(Documentary, Comedy)

---

---

5. The Meaning of Life (1983)

(Comedy, Musical)

6. And Now for Something Completely Different (1971)

(Comedy)

---

---

---

7. Monty Python Live (Mostly) (2014)

(Documentary, Comedy)

8. The Adventures of Baron Munchausen (1988)

(Fantasy, Adventure, Comedy)

---

---

---

---

Translate Wiki

to Spanish, French, Hindi, Portuguese

Article Title

- Eric Idle Biography

Author

- Editors, TheFamousPeople.com

Website

- TheFamousPeople.com

URL

-

https://www.thefamouspeople.com/profiles/eric-idle-4271.php

Last Updated

- November 13, 2017

---

---

---