Edward Lodewijk Van Halen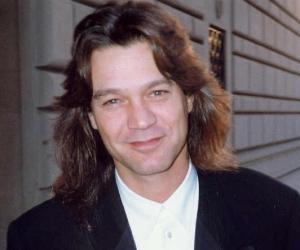 Quick Facts
Birthday: January 26, 1955
Famous: Alcoholics Dutch Men
Age: 64 Years, 64 Year Old Males
Sun Sign: Aquarius
Also Known As: Eddie Van Halen
Born Country: Netherlands
Born in: Nijmegen
Famous as: American-Dutch musician
Height: 1.73 m
Family:
Spouse/Ex-: Janie Liszewski, Valerie Bertinelli
father: Jan Van Halen
mother: Eugenia van Beers
siblings: Alex Van Halen
children: Wolfgang Van Halen
Founder/Co-Founder: Van Halen Band.
Net worth: $85 million as of Sep 19, 2016
More Facts
awards: 1992 - Grammy Award for Best Hard Rock Performance with Vocal
Continue Reading Below
Eddie Van Halen, one of the most original and influential guitarists to have rocked the American music scenario, is the lead guitarist and co-founder of the hard rock band Van Halen. The son of music loving parents, Eddie was forced to learn piano as a youngster which he absolutely loathed. Instead he took to guitar and was hooked—he would spend hours locked up in his room practicing on the instrument. He was a big fan of Eric Clapton and he listened to his records day and night, teaching himself to play every one of Clapton's solos. Along with his drummer brother Alex, bassist Mark Stone and vocalist David Lee Roth, he formed a band that was initially called Mammoth. After considering several other names, the band members settled on Van Halen as they liked the sound of it. The band got their big break when they were heard by Gene Simmons, the lead guitarist of the band Kiss. They eventually signed a contract with Warner Brothers and released their self-titled debut album which went on to achieve Diamond status in the U.S. The band released a string of other hit album over the years, as Eddie's reputation as a phenomenal guitarist soared higher and higher.
Recommended Lists:
Recommended Lists:
Continue Reading Below
Childhood & Early Life
Born as Edward Lodewijk Van Halen to Jan Van Halen and Eugenia, he is of mixed descent.

His father was a musician who made sure that Eddie and his brother Alex received piano lessons. However the brothers did not like playing the piano much; Eddie later took to the guitar and Alex started playing the drums.

Growing up, his musical idols were Eric Clapton and Jimmy Page. He learnt to play all of Clapton's solos by listening to his records.

The brothers' love for music was such that they formed their first band while they were still in Elementary school.

Recommended Lists:

Recommended Lists:

Career

Eddie, along with brother Alex, bassist Mark Stone and vocalist David Lee Roth formed a band called Mammoth. Later on the band's name was changed to Van Halen in 1972 and Michael Anthony was called in to replace Mark Stone.

The band was heard by record producer Ted Templeton in 1977 who helped them sign a contract with Warner Brothers Records. Their debut album 'Van Halen' was out in 1978 which peaked at No. 19 on the U.S. Billboard Albums Chart and eventually went Diamond.

They released 'Van Halen II' in 1979 which performed even better than its predecessor reaching No. 6 on the Billboard charts. It included the singles 'Dance the Night Away' and 'Beautiful Girls'.

In 1980 their third studio album 'Women and Children First' was released. The lyrics had been solely composed by the band members and it featured music that was different from the previous albums.

The prolific band released 'Fair Warning' in 1981 and 'River Down' in 1982. Both albums were accredited Multi-Platinum in the U.S and Platinum in Canada.

The band's album '1984', released in the same year as the name, was its most commercially successful album. It peaked at No. 2 on the Billboard Top 200 Album Charts and spawned the hits 'Jump' and 'Panama'.

By 1986 there was a change in the band's lineup: singer Sammy Hagar had replaced David Lee Roth. The first album produced with Hagar was '5150' which was a big hit like its predecessors.

Continue Reading Below

The 1980's were the best time for the band when each of their albums became super hits with the audiences. They brought out only three albums in the 1990's out of which two went Multi-Platinum: 'For Unlawful Carnal Knowledge' (1991) and 'Balance' (1995).

The new millennium was a difficult period for Eddie as he was plagued by several personal and health problems, including a diagnosis of cancer and divorce. The band did not release any albums during the decade.

After a gap of several years, the band brought out the album 'A Different Kind of Truth' in 2012 which debuted at No. 2 on U.S. Billboard Albums Chart. It featured Eddie's son Wolfgang Van Halen.

Recommended Lists:

Recommended Lists:

Major Works

The band's debut album, 'Van Halen' was a smash hit which included many of Van Halen's signature songs like 'Runnin with the Devil', 'You Really Got Me' and the guitar solo 'Eruption'. It was accredited Diamond in the U.S. and Multi-Platinum in Canada.

The album '1984' is the band's best performing album in terms of sales and charting. It spawned the No. 1 Billboard Pop hit 'Jump' and achieved Diamond status in the U.S. The highly popular rock band reached the pinnacle of its glory with this album.

Awards & Achievements

Van Halen won the American Music Award for Favorite Heavy Metal/Hard Rock Album in 1992 for the album 'For Unlawful Carnal Knowledge'.

Their song, 'Right Now' featured in the album 'For Unlawful Carnal Knowledge' won three MTV Video Music Awards in 1992 including the award for Video of the Year.

Personal Life & Legacy

He was previously married to actress Valerie Bertinelli whom he divorced in 2005. The couple has a son named Wolfgang Van Halen who is also a musician.

He married actress and stuntwoman Janie Liszewski in 2009.

He has a history of alcohol abuse and has been plagued by various major health problems like avascular necrosis and tongue cancer.

Trivia

He named his son after the famous composer Wolfgang Amadeus Mozart.

He was named the greatest guitarist of all time in 2012 by Guitar World.

Translate Wiki

to Spanish, French, Hindi, Portuguese

Article Title

- Edward Lodewijk Van Halen Biography

Author

- Editors, TheFamousPeople.com

Website

- TheFamousPeople.com

URL

-

https://www.thefamouspeople.com/profiles/edward-lodewijk-van-halen-1286.php

Last Updated

- September 29, 2017

---

---

---