Drew Brees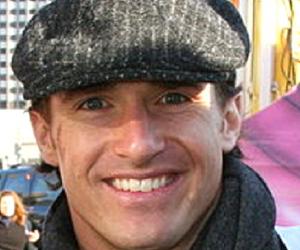 Quick Facts
Nick Name: Breesus, Cool Brees, Hurricane Drew
Birthday: January 15, 1979
Nationality: American
Famous: American Football Players American Men
Age: 40 Years, 40 Year Old Males
Sun Sign: Capricorn
Also Known As: Andrew Christopher Brees
Born in: Austin, Texas, United States
Famous as: American Football Player
Height: 1.83 m
Family:
Spouse/Ex-: Brittany Brees
father: Eugene Wilson Brees II
mother: Mina Brees
children: Baylen Robert Brees, Bowen Christopher Brees, Callen Christian Brees
U.S. State: Texas
Net worth: $55 million as of Jul 3, 2017
More Facts
education: Westlake High School
Continue Reading Below
Drew Brees is an established American football quarterback for NFL's New Orleans Saints. He has accomplished a revered position in football ever since his university days and has earned a post graduate scholarship from the 'National Football Foundation' in 2000. It didn't take him time to rise from being a popular college footballer to a national powerhouse. After college he was undoubtedly chosen for the 2001 NFL Draft by San Diego Chargers, which in turn propelled his professional career. Although he met with a couple of tragic injures in his initial years, he ultimately joined the New Orleans Saints. A quick turn of events helped him in getting his team to several victories and eventually led them to the 'Super Bowl XLIV' where the Saints knocked out Indianapolis Colts with a huge 31-17 victory. Spanning a proficient career, Brees has been awarded several titles including 'Academic All-American Player of the Year','NFL's Comeback Player of 2004' and has also been crowned 'Sportsman of the Year' in 2010 by Sports Illiustrated. Brees also went on to break Marino's single season yardage record closing at 5,476 yards through air in 2013.
Recommended Lists:
Recommended Lists:
Continue Reading Below
Childhood & Early life
Drew Christopher Brees was born to Eugene Wilson Brees and Meena Ruth on 15th January, 1979 in Austin, Texas. Both his parents worked in a law firm; his father was a trial lawyer while his mother was a popular attorney.

When he was seven his parents filed for divorce and the rest of his childhood was spent in both his parents taking turns to bring him up. His younger brother, Reid, also bore the brunt of a failed marriage.

However, the unfortunate situation only brought both brothers closer to one another. Drew also has a half-sister named Audrey from his father's second marriage.

From the very beginning, he had a natural aptitude for sports. His father had been a basketball player in his younger days, and his mother participated in a few all-state sports in high school. Even his maternal uncle, Marty Akins was a quarterback for 'Texas Longhorns'.

He attended 'St. Andrew's Episcopal School' and showed interest in three sports - basketball, baseball and football. However, football dominated most of his interest after he led the 'Westlake High School' football team to a 16-0 victory and state championship.

He hoped to walk in the footsteps of his uncle but wasn't selected by 'Texas Longhorns'. He later joined Purdue University and graduated with a degree in Industrial Management in 2001.

However, he had a glamourous run as a footballer in the university. He was trained by Joe Tiller in his sophomore year in the 'Boilermakers' and though he harnessed much acclaim, he chose to continue with his senior year rather than join the NFL Draft.

It was owing to his efforts that the 'Boilermakers' claimed the 'Big Ten Championship' after thirty years. His four interceptions and the final 64 yard touchdown pass will forever be etched in the memory of American football fans.

Recommended Lists:

Recommended Lists:

Career With San Diego Chargers

He began his preofessional career under 'San Diego Chargers' when he was chosen in the 2001 NFL Draft. He played his debut match against Kansas City Chiefs on 4th November 2001.

He began the 2004 season with 15 games and managed to assist his team in acquiring a 12-4 victory. It was after a decade that the team won the 'AFC West' tournament and was an obvious choice for the '2004 Pro Bowl'.

Even after he was made a free agent he continued to perform consistently. Unfortunately in 2005 he tore his labrum and had to undergo arthroscopic surgery.

Career With New Orleans Saints

On not receiving a hike in payment from the 'San Diego Chargers', Brees turned to other teams and soon joined 'New Orleans Saints' signing a contract of six years at sixty million dollars on 14th March 2006.

The first year was quite prolific for the famous quarterback. Even after the team battled with the catastrophe 'Hurrican Katrina', they still managed to pull of a victory and claimed the 'NFC South Division' title.

With a whopping 4418 passing yard and 26 touchdown accomplishment to his name, he was selected as starting quarterback for '2007 Pro Bowl'.

The year 2007 seemed to be equally good for him as he made 28 touchdowns and secured a 4,423 passing yard. In 2008, he finished with a 5,069 yards and with that became the second ever quarterback to cross 5,000 in NFL history.

Continue Reading Below

Drew's excellent performance throughout his six year contract quaranteed a renewal and thus on 13th July 2012 'New Orleans Saints' offered him a five year contact of 100 million dollars, the largest amount to ever be offered to a player in NFL.

Recent Seasons

In 2015, he made a spectacular 80 yard touchdown pass to C.J. Spiller which helped in winning the match 26-20 against Dallas Cowboys on 4th October. He became the fifth player to earn 400 touchdowns and is now hailed as the fastest player to reach the milestone. Later that year he crossed the 60,000 yard milestone in merely 215 games. That year, he achieved a record of 96 matches with straight 300-yard games.

He ended the 2016 season with a completion percentage of 70% but his team missed the playoffs in 2016 even after a stellar performance by him of 5,208 passing yards.

Awards & Achievements

In 1999, he was named a finalist for the 'Davey O'Brien Award' for best national quarterback player. The following year, he won the Maxwell Award for the 'Nation's Oustanding Player'.

He was placed fourth in the Heisman Trophy in 1999 and third in 2000. He bagged the 'Big Ten Medal of Honor' thrice in his collegiate football career.

For his dedication and selflessnes he was awarded the 'Purdue's Leonard Wilson Award' by his university. Later in 2009, he was also inducted into the 'Purdue's Intercollegiate Athletics Hall of Fame'.

In 2010, the US President Barack Obama announced that Drew held the co-chair of the 'Council of Fitness, Sports and Nutrition' alongside the gymnast, Dominique Dawes.

Drew entered the 'Super Bowl XLIV' in 2009 with great confidence and with consecutive wins eventually went on to face the Indianapolis Colts in the final. He led his team to a victory of 31-17 and also claimed the 'Super Bowl Most Valuable Player Award' that season.

Personal Life & Legacy

In 2003, Brees married his college friend, Brittany Dudchenko. They have three sons and a daughter. The eldest is Brylen followed by Bowen, Callen and their daughter, Rylen. He presently resides in New Orleans, Lousiana.

Drew is a philanthropist and has made innumerable donations to several charitable foundations. He has even put together his own foundation called 'Brees Dream Foundation' to support cancer patients and to promote further reasearch for the treatment of cancer.

In 2008, he did a promotional deal with 'Chili's Grill & Bar' and participated in 'Pro Sports Team Challenge' to raise money for charity, and has also appeared in the 'It Gets Better' anti-bullying video.

Trivia

Throughout his life he had a strained relationship with his mother but before her death their relationship began to improve. Thus, her suicide came as a major shock to him.

Translate Wiki

to Spanish, French, Hindi, Portuguese

Article Title

- Drew Brees Biography

Author

- Editors, TheFamousPeople.com

Website

- TheFamousPeople.com

URL

-

https://www.thefamouspeople.com/profiles/drew-brees-11095.php

Last Updated

- July 17, 2017

---

---

---