Draya Michele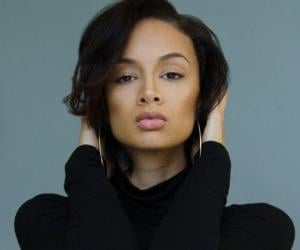 Quick Facts
Birthday: January 23, 1985
Nationality: American
Age: 34 Years, 34 Year Old Females
Sun Sign: Aquarius
Also Known As: Michele, Andraya Michele Howard
Born in: Reading, Pennsylvania, United States
Famous as: Reality TV Star, Model, Actress & Entrepreneur
Height: 1.7 meters
Family:
Spouse/Ex-: Orlando Scandrick
children: Jru Scandrick, Kniko Howard
U.S. State: Pennsylvania
Continue Reading Below
For most reality TV stars, fame lasts only as long as the show does. However, Draya Michele has proved herself to be an exception from the common lot as her career has grown manifold after she left her popular reality TV show 'Basketball Wives: LA'. A successful model, actress and entrepreneur, she is now the owner of three clothing lines: Mint Swim, a swimwear collection; Fine Ass Girls, an urban girl's clothing line; and Beige and Cocoa, her latest offering to mature and sophisticated women. However, she is not done with acting at all. In fact, since her stint on the VH1 reality series, she has made guest appearances on a number of TV shows and movies, as well as acted in movies, such as 'Will to Love' (2015), 'True to the Game' (2016), 'The Perfect Match' (2016) and 'Bring Out the Lady' (2016). She also hinted that she might appear in a brand new reality television show along with a few of her female friends.
Recommended Lists:
Recommended Lists:
Continue Reading Below
Career
Draya Michele was inspired by Victoria Beckham and dreamed of becoming a model and fashion designer. However, she had a rough start as a model due to her skinny figure. She sent out her pictures to various men's magazines that she wished to be featured in, but was told that she looked like a bird due to her long neck. Nevertheless, she kept trying and eventually got selected by a few editors, photographers, and music video directors who offered her roles in music videos for artists like Kanye West, Usher, Nicki Minaj, The Game, and Jay-Z. She soon gained popularity and started to appear on a number of men's magazines including Black Man, Show, XXL and King. In 2011, she became a part of the VH1 reality series, 'Basketball Wives: LA', which made her a household name in America. In 2015, she left the show to establish herself as a successful entrepreneur, and started her own clothing and swimsuit lines. She feels that despite not being beautiful in the traditional way, she has achieved success because of her ambitious and business savvy nature.

Recommended Lists:

Recommended Lists:

Continue Reading Below

Controversies & Scandals

Draya Michele has been in a number of relationships in the past, and has been linked to stars like DeShawn Stevenson, Kenyon Martin, Gilbert Arenas, Wiz Khalifa, Bernard Berrian, Ray J and French Montana at various points in her life. Her affair with Chris Brown became the talk of the town after she appeared on 'The Wendy Williams Show', in 2011, to talk about her relationship with him. In January 2013, she started dating Orlando Scandrick, the cornerback for the Dallas Cowboys football team. After an on-and-off relationship for a couple years, the two got engaged in June 2015. She gave birth to their son Jru (pronounced "Drew") on April 8, 2016. She has another son, Kniko, whom she gave birth to when she was only 17 years old. While there have been rumors that Gilbert Arenas is the father of her first son, she once revealed on Instagram that his father is a barber from her hometown, Pennsylvania.

She thinks that her appearance on the reality TV show, 'Basketball Wives: LA', has created a number of misconceptions about her. She firmly asserts that the perception people make about her based on her image on the show is vastly different from what she is in real life. When she left the show back in 2015, she stated that she no longer felt like sharing her private life with the audience. Even before she entered the reality show, she was shamed on social media after news surfaced that she had once been arrested for neglecting her 7 years old son Kniko. However, she later regained custody of her son. After the birth of her second son, she once again courted controversy after she stated that she didn't share the newborn baby's pictures with her fans because he is "ugly". Facing a huge backlash, she later clarified that she only joked about it and that she didn't think it was yet time for sharing her baby's pictures.

Recommended Lists:

Recommended Lists:

Personal Life

Draya Michele was born Andraya Michele Howard on January 23, 1985, in Reading, Pennsylvania, to an Italian mother and African-American father. She has been fascinated with skin care since her childhood years and took a beautification course at school. She was also interested in music and dreamed of becoming a singer, however, according to her, she didn't have a good enough voice to pursue a singing career. She eventually moved to Los Angeles, California, to open up more career opportunities. She currently lives there with her two sons, Kniko and Jru. She is also close to her fiancé Orlando Scandrick's twin daughters Taylor and Tatiana.

Recommended Lists:

Recommended Lists:

Translate Wiki

to Spanish, French, Hindi, Portuguese

Article Title

- Draya Michele Biography

Author

- Editors, TheFamousPeople.com

Website

- TheFamousPeople.com

URL

-

https://www.thefamouspeople.com/profiles/draya-michele-32249.php

Last Updated

- April 04, 2017

---

---

---