Dina Tokio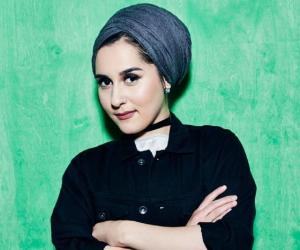 Quick Facts
Nationality: Egyptian, British
Age: 29 Years, 29 Year Old Females
Sun Sign: Gemini
Born Country: Egypt
Born in: Cairo
Famous as: YouTuber
Height: 1.60 m
Family:
Spouse/Ex-: Siddiq Kaan (m. 2013)
siblings: Hassan, Toosy, Yoosuf
children: Hana
More Facts
education: Cardiff University
Continue Reading Below
Dina Tokio is an Egyptian–English beauty vlogger/blogger and social-media personality. She is currently based in London and has emerged as an influential and successful "hijabi" woman in the UK. Her beauty vlogs and blogs not only provide beauty, fashion, and makeup tips to "hijabi" women but also inspire them to have their own opinions. Dina has thoroughly used social media to advocate the empowerment of Muslim women. Dina owns three 'YouTube' channels and a clothing line. She has also launched a book titled 'Modestly,' which is a combination of her autobiography, her fashion blogs, and some parenting advice. Dina's contribution to uplift the fashion statement of Muslim women has earned her a few rewards, including a 'BBC' documentary.
Recommended Lists:
Recommended Lists:
Continue Reading Below
Birth & Early Life
Dina and her twin sister, Toosy, were born on June 6, 1989, in Cairo, Egypt. Her real name is Donia Torkia, and she is half-English and half-Egyptian. She has two brothers, Hassan and Yoosuf. Dina was initially named "Noor." She went to the same primary school where her mother taught English. Dina and her family moved to London when she was 7 years old. Her father worked at a company in Egypt and later became an entrepreneur in London. He started a trading business there, selling Egyptian products to the people of London who were fascinated by the exotic appeal of Egypt. Dina went to 'Horsenden Primary School' in Greenford, UK. She played football and rugby until she began wearing the 'hijab.' Dina then attended 'The Ellen Wilkinson School for Girls.' Following the birth of her brother, Hassan, Dina moved back to Cairo. Dina and her sister could not adjust with the environment at their school there and moved to London again. Her family could not afford their home rent in London and they moved to Cardiff soon. There, Dina attended 'Cathays High School.' Her favorite subjects were history and textile. She also created her own clothing brand named 'Unleaded.' After school, Dina opted for the sixth form and chose English literature, business studies, and product design as her A-level subjects. She later studied psychology, too.

Recommended Lists:

Recommended Lists:

After college, Dina got her first job at a mobile network call-center. Within a year and a half, she switched multiple call-center jobs. Simultaneously, Dina started writing fashion blogs, which later helped her shape her career as a fashion blogger.

Dina then attended 'Cardiff University' and studied Hebrew and Islamic studies there. She dropped out after a year. Soon, she went back to call-center jobs. Dina began attending university again and joined the English teaching module (teaching English to foreigners). She left her course midway.

Dina met her husband, Sid Kaan, at the university. He would help Dina with her projects. Sid is a graphic designer. Later, Dina moved back to Egypt where she bagged a teaching job and simultaneously worked as a fashion designer. A few months later, she moved to the UK again and got engaged to Sid. They married in 2013. Dina gave birth to her daughter, Hana, in October 2015. In July 2018, Dina had a son.

Continue Reading Below

Career

Dina began her career as a fashion blogger after dropping out of college in 2011. However, she had already begun writing fashions blogs a year earlier. She felt the need to upgrade the fashion statement of "hijabi" women. This triggered the idea to work on fashion for Muslim women who wear the "hijab" and want to look stylish without showing much skin.

Recommended Lists:

Recommended Lists:

Dina launched her first 'YouTube' channel, 'Dina Tokio,' in April 2011. The channel primarily hosts makeup tutorials and fashion vlogs exclusively for "hijabi" women. With this channel, Dina became the first successful "hijabi" fashion vlogger in the UK. She also advocates women empowerment through her vlogs. Some of her popular videos are 'THE MOST BEAUTIFUL LIPSTICK IN THE WORLD,' 'TURBAN TUTORIAL WITH LIBERTY LONDON | OOTD!,' and 'AIRPORT SECURITY DON'T BELIEVE I'M BRITISH.' The channel now has over 813 thousand subscribers. Dina also has a collaborative channel with her husband. The channel has gained more than 374 thousand subscribers. Dina's daily vlogs can be found on her vlog channel, 'Dina Tokio Vlogs.' The vlog channel has over 115 thousand subscribers. Dina's 'Instagram' posts have earned her over a million followers on the platform.

In 2015, Dina launched her debut clothing line, 'Dina Torkia.' She and her husband worked for a year to launch the clothing line. They had to travel to Indonesia to monitor the manufacturing process. The launch was a huge success, and Dina's first-ever collection was sold out almost instantly. Her collection can be found on her blogging website.

Dina launched her debut book, 'Modestly,' in September 2018. The book is largely based on Dina's life experiences as a "hijabi" woman. The book also emphasizes on the lives of British Muslim and their struggles.

Dina's efforts to bring the issues of Muslim women on a visible platform have earned her several rewards. She was chosen as the subject of a 'BBC' documentary titled 'Muslim Miss World.' In 2017, she was named a 'Creator for Change' by 'YouTube.' She was also featured in a series of her 'YouTube' videos under the hashtag '#YourAverageMuslim.' In January 2018, Dina earned a spot on 'Vogue's "New Suffragettes" list for being one of the most influential and successful "hijabi" women and for her contribution to modernize Muslim women. Dina has collaborated with many brands such as 'Liberty London,' 'Tom Ford,' 'ASOS,' 'Revlon,' 'Glossier,' and 'H&M.'

Last Updated : October 17, 2018

Translate Wiki

to Spanish, French, Hindi, Portuguese

---

---

---

Dina Tokio Fans Also Viewed