Dianne Feinstein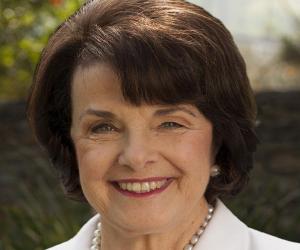 Quick Facts
Nationality: American
Famous: Political Leaders American Women
Age: 85 Years, 85 Year Old Females
Sun Sign: Cancer
Also Known As: Dianne Goldman Berman Feinstein
Born in: San Francisco, California
Famous as: Politician
Height: 1.78 m
Family:
Spouse/Ex-: Richard C. Blum (m. 1980), Bertram Feinstein (m. 1962–1978), Jack Berman (m. 1956–1959)
father: Leon Goldman
mother: Betty
children: Katherine Feinstein Mariano
U.S. State: California
City: San Francisco, California
Continue Reading Below
Dianne Goldman Berman Feinstein is a left-leaning American politician who is currently serving as the senior US Senator from California. She has been serving the people of California for several years, first on the local level and now on the national level. As the senior senator from California, she has been working on issues like protecting amateur athletes from sexual abuse, preserving the environment, consumer protection, and food safety. Born into a Jewish family, she started showing interest in politics as a teen. She was also active in the student government in the university. An advocate of capital punishment in the beginning of her political career, she has now become an opponent of the punishment. Feinstein has created a number of "firsts" in her career—from being the first woman President of the San Francisco Board of Supervisors to being the first elected woman Senator of California. She also occupies seats on several powerful committees and has authored or co-authored many legislations. Born during the Great Depression, Feinstein is the oldest serving United States Senator as of today. A trailblazer for women in politics, she has officially declared her intention to run for re-election in November 2018.
Recommended Lists:
Recommended Lists:
Continue Reading Below
Childhood & Early Life
Dianne Goldman Berman Feinstein was born on June 22, 1933, as Dianne Emiel Goldman in San Francisco. Her mother Betty Rosenburg was a former model and her father Leon Goldman was a surgeon.

Her paternal grandparents were Jewish immigrants from Poland while her maternal grandparents were from Saint Petersburg, Russia. She went to a Roman Catholic school and a Jewish temple as a child.

In 1951, she graduated from Convent of the Sacred Heart High School, San Francisco, and in 1955, from Stanford University with a Bachelor of Arts in history. She then interned at the Coro Foundation in San Francisco, where she gained political experience.

Recommended Lists:

Recommended Lists:

Career

From 1960 to 1966, Dianne Feinstein worked on the California Women's Board of Terms and Parole. She then chaired San Francisco's Advisory Committee for Adult Detention from 1966 to 1968.

In 1969, she was elected to the San Francisco Board of Supervisors, on which she served for nine years, becoming the president in 1978. After two unsuccessful attempts in 1971 and 1975, she became the acting Mayor of San Francisco in 1978 and the mayor the next year. She held the post till 1988.

As the mayor, she took up the challenge to re-start the San Francisco cable car system. A sum of $60 million was needed for the repair, so she helped get federal funding and the system was repaired and re-started in 1984.

On November 3, 1992, she became the first Jewish woman Senator from California, a seat she has been holding till date, after being re-elected in 1994, 2000, 2006, and 2012.

Her career has been dotted with many "firsts"—she was the first woman President of the San Francisco Board of Supervisors, the first woman Mayor of San Francisco, the first Jewish woman Senator of California, the first female member of the Senate Judiciary Committee, and the first woman to chair the Senate Select Committee on Intelligence and the Senate Rules and Administration Committee.

She authored the Comprehensive Methamphetamine Control Act of 1996, which was eventually signed into law. She spearheaded the Federal Gang Violence Act, which was passed as a part of the Juvenile Justice bill in 1997.

During her tenure, she also focused on environmental issues. She drafted the California Desert Protection Act, which promised to protect more than 3 million acres of desert, national parks, and nature reserves.

Continue Reading Below

She also supported the Crime Victims' Bill of Rights, the Small Business Defense Conversion Guarantee Act, and the legislation that led to the Breast Cancer Research Stamp.

She initiated an amendment to the Economic Development Revitalization Act of 2011 that led to the elimination of the Volumetric Ethanol Excise Tax Credit. The amendment was passed on June 16, 2011. The subsidy, which had been introduced in 2004, provided a 45-cent-per-gallon credit on pure ethanol and a 54-cent-per-gallon tariff on imported ethanol. However, the subsidies cost the national exchequer an annual expenditure of $6 billion.

In May 2011, she co-sponsored Protect IP Act. In January 2012, she met representatives of technology companies, including Facebook and Google, to ensure that the bill is balanced and protects the intellectual property rights of the content community.

In January 2013, about a month after the Sandy Hook Elementary School shooting took place, Feinstein proposed a bill to ban the sale, transfer, manufacturing or importation of 150 specific firearms. The bill also proposed to exempt 900 models of guns used for sport and hunting. She stated that military assault weapons should be used only for the military. However, the bill failed on a Senate vote of 60 to 40.

A staunch defender of National Security Agency practices, she criticized the agency in October 2013 for monitoring telephone calls of foreign leaders who have good relations with the US. In November 2013, she supported the FISA Improvements Act bill, which allowed intelligence agencies to launch warrantless searches in certain conditions.

She backed a legislation to allow doctors to recommend cannabis as a medicine. She also backed the Iran nuclear deal. In June 2017, she urged the Senate to forgo a vote for sanctions on Iran in response to the Tehran attacks.

In September 2016, she supported the Obama government's plan to sell more than $1.15 billion worth of weapons to Saudi Arabia.

Continue Reading Below

In 2017, she criticized the Trump government for banning transgender enlistments in the military. In the same year, after North Korea conducted the intercontinental ballistic missile test for the second time, she stated that North Korea has become a danger to the US security and criticized China for its lack of response.

In June 2018, Feinstein initiated the Keep Families Together Act, which intends to stop federal agents from separating children from their parents who are arrested while crossing the border illegally. The Trump government has a 'zero tolerance' policy for those caught at the border while trying to enter the country illegally. This policy has already separated more than 2,300 children from their parents.

Feinstein is fighting this policy and has made efforts to find a bipartisan solution to this 'family separation' crisis at the border. The Congress is divided on this issue, but she is determined to find a practical solution to this major problem that has affected thousands of families so far.

Recommended Lists:

Recommended Lists:

Major Works

During Dianne Feinstein's first term as the senator, she co-authored the Gun-Free Schools Act and the Hate Crimes Sentencing Enhancement Act; both became laws in 1994. She spearheaded the Federal Assault Weapons Ban, which became a law in 1994 and expired in 2004.

She headed the six-year review of the CIA's detention and interrogation program, which resulted in the release of the report's executive summary, which in turn, led to the passage of the legislation banning the use of torture in 2014.

Awards

In 1977, Dianne Feinstein was awarded an honorary degree of Doctor of Laws by Golden Gate University in San Francisco.

In 1984, she was awarded the Legion of Honor by France.

Continue Reading Below

In 2001, she received the Woodrow Wilson Award for public service from the Woodrow Wilson Center of the Smithsonian Institution, Los Angeles.

In 2002, she was presented the American Medical Association's Nathan Davis Award for the Betterment of the Public Health.

Personal Life

Dianne Feinstein has been married thrice. In 1956, she married Jack Berman, who was her colleague in the San Francisco District Attorney's Office. They divorced in 1959. Their daughter, Katherine Feinstein Mariano, was born in 1957. Katherine was the presiding judge of the San Francisco Superior Court from 2000 to 2012.

In 1962, Feinstein married neurosurgeon Bertram Feinstein, who died of colon cancer in 1978. In 1980, she married Richard C. Blum, an investment banker.

She has been accused of misusing her office to grant her husband's companies billions of dollars in military contracts. She was also criticized for her husband's extensive business dealings with China. According to critics, business contracts with the US government awarded to Perini, a company controlled by Blum, may raise a conflict-of-interest issue with Feinstein's policies.

She was also criticized when she introduced a bill directing $25 billion to the Federal Deposit Insurance Corporation (FDIC) in 2009, the day after the agency awarded her husband's company a contract to sell foreclosed properties at rates higher than the industry norms.

In January 2017, she had a cardiac pacemaker inserted.

Translate Wiki

to Spanish, French, Hindi, Portuguese

Article Title

- Dianne Feinstein Biography

Author

- Editors, TheFamousPeople.com

Website

- TheFamousPeople.com

URL

-

https://www.thefamouspeople.com/profiles/dianne-feinstein-30746.php

Last Updated

- August 07, 2018

---

---

---