David Duchovny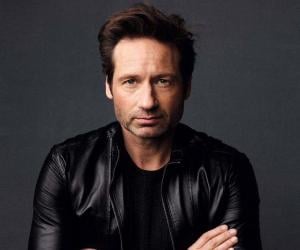 Quick Facts
Nationality: American
Famous: Jewish Actors Actors
Age: 58 Years, 58 Year Old Males
Sun Sign: Leo
Also Known As: David William Duchovny
Born in: Brooklyn
Height: 6'0" (183 cm), 6'0" Males
Family:
Spouse/Ex-: Téa Leoni (m. 1997–2011)
father: Amram Ducovny
mother: Margaret Ducovny
siblings: Daniel Duchovny, Laurie Duchovny
children: Kyd Miller Duchovny, Madelaine West Duchovny
U.S. State: New Yorkers
More Facts
education: Princeton University (1982), Collegiate School, Yale University, Grace Church School
Continue Reading Below
It is difficult to imagine 'The X-Files' without the paranormal-obsessed FBI agent 'Fox Mulder'. The show gained cult status and David Duchovny, who played the character of Mulder, identified with his character even in real life. He quit his Ph.D. at Yale University to pursue a career in film and television. After a few average movies, he finally gained popularity with 'The X-Files'; a horror-drama show. The series gave him a big break and he was idolized by viewers and pop-culture enthusiasts. Agent Mulder's character gave him such fame that the actor could not find better work which would give him the same appreciation and popularity. Finally, after quitting the show, he worked in a number of films and television series and even tried his hand at direction with 'House of D'. However, he did not gain the same commercial success. He was finally noticed again for his role as 'Hank Moody' in the TV series, 'Californication'. The show, following the life of a womanizing writer, became an instant hit with its unusual humour and his brilliant acting won him a prestigious award.
Recommended Lists:
Recommended Lists:
Continue Reading Below
Childhood & Early Life
David William Duchovny was born in New York City to Margaret 'Meg' and Amram 'Ami' Duchovny. Margaret, a Lutheran migrant, was a school teacher and administrator and Amram was a writer and publicist working for the American Jewish Committee.

His parents got divorced and he stayed in Manhattan with his siblings. He later earned a scholarship to The Collegiate School For Boys, Manhattan. He graduated as class valedictorian, in 1978.

He then attended Princeton University, where he earned a BA in English Literature in 1982.

He received a Master of Arts degree in English Literature from Yale University and started working on his PhD under popular literary critic, Harold Bloom. However, he left his PhD to pursue a career in films and television.

Continue Reading Below

Recommended Lists:

Recommended Lists:

Career

In 1987, Duchovny first appeared in the 'Lowenbrau' beer advertisement. The following year, he was seen in 'Working Girl' only for two scenes.

From 1991 to 1992, he played the role of a DEA agent in the series 'Twin peaks' and was also seen as a host in the TV series, 'Red Shoe Diaries'.

He then appeared in Richard Attenborough's film 'Chaplin' based on the life of Charlie Chaplin, in 1992. This year, he did several other films like 'Ruby', 'Beethoven', and 'Venice/Venice'. He also appeared in the television-film, 'Baby Snatcher'.

From 1993, he starred in the critically acclaimed and hugely popular TV series 'The X-Files', playing the character of FBI Special Agent, Fox Mulder. The same year, he appeared in the thriller 'Kalifornia', alongside Brad Pitt.

From 1995-1996, he appeared in 'The Larry Sanders Show'. His performance as a guest actor, earned him a nomination for the Primetime Emmy Award.

In 1996, he played the character of 'Handsome Alvin' on the TV series 'Space: Above and Beyond'.

He lent his voice for an episode of 'The Springfield Files' for 'The Simpsons', the following year.

Continue Reading Below

His film 'The X-Files: Fight the Future' was released in 1998. The movie was an adaption of the popular television series.

In 2000, he appeared in the film 'Return to Me'. He also appeared on 'Who wants to be a Millionaire?' the same year and won $32,000.

In 2001, he quit 'X-Files' due to some contract disputes after the end of season seven. He was seen in films like 'Evolution' and 'Zoolander' this year.

He appeared in an episode of 'Sex and the City' in 2003 playing the character of Carrie Bradshaw's high-school boyfriend, Jeremy.

In 2005, he wrote, directed and acted in the film 'House of D' which also starred his wife. The film received poor reviews. He also lent his voice for the video game 'Area 51'.

Over the next two years, he worked in several films like 'Queer Duck: the Movie', 'The TV Set', 'The Secret' and 'Quantum Hoops'. In 2007, he made a big comeback with the award-winning TV series, 'Californication'.

In 2008, he appeared in the second instalment of the X-Files movies, 'The X-Files: I Want to Believe'. The following year, he was featured in the film 'The Joneses'.

Continue Reading Below

In 2012, he played the character of the Goat Man in the film, 'Goats'.

He appeared in the film Phantom in 2013 and is presently working on 'Louder Than Words' and 'Relative Insanity'.

Recommended Lists:

Recommended Lists:

Major Works

After several appearances on TV and films, Duchovny gained popularity with the TV series 'The X-Files'. His award winning character was not only lauded critically but the show also gained cult status and was eventually adapted into films.

'Californication' is clearly his magnum opus in which he played the character of 'Hank Moody', the novelist who turns to sex, drugs and rock to ease his troubled life. The show has garnered a lot of popularity and has also earned him a number of awards and nominations.

Recommended Lists:

Recommended Lists:

Awards & Achievements

In 1996, Duchovny won the Golden Globe Award for Best Performance by an Actor in a Television Series-Drama for his performance in 'The X-Files'.

He won his second Golden Globe in 2007 for Best performance by an Actor in a Television Series-Musical or Comedy for his hugely popular show 'Californication'.

Personal Life & Legacy

In 1997, Duchovny married actress Tea Leoni and they have two children— Madelaine West Duchovny and Kyd Miller Duchovny.

In 2008, Duchovny went into rehabilitation to treat his 'sex addiction'. The same year, it was announced that he and Leoni had separated for a few months. After several rumours of his affair, Duchovny and Leoni came back together but separated in 2011.

Trivia

This popular TV actor of the 'Californication' fame was a vegetarian and is now, a pescetarian.

1. Chaplin (1992)

(Drama, Comedy, Biography)

2. Things We Lost in the Fire (2007)

(Drama)

---

3. The X Files (1998)

(Mystery, Drama, Thriller, Sci-Fi)

4. Return to Me (2000)

(Romance, Drama, Comedy)

---

---

5. House of D (2004)

(Drama, Comedy)

6. Working Girl (1988)

(Romance, Comedy, Drama)

---

---

---

7. Kalifornia (1993)

(Crime, Drama, Thriller)

8. The TV Set (2006)

(Drama, Comedy)

---

---

---

---

| | | |
| --- | --- | --- |
| 2008 | Best Performance by an Actor in a Television Series - Comedy or Musical | Californication (2007) |
| 1997 | Best Performance by an Actor in a Television Series - Drama | The X Files (1993) |

Translate Wiki

to Spanish, French, Hindi, Portuguese

Article Title

- David Duchovny Biography

Author

- Editors, TheFamousPeople.com

Website

- TheFamousPeople.com

URL

-

https://www.thefamouspeople.com/profiles/david-duchovny-3743.php

Last Updated

- August 17, 2018

---

---

---