David Boreanaz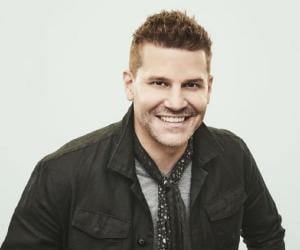 Quick Facts
Nationality: American
Age: 50 Years, 50 Year Old Males
Sun Sign: Taurus
Born in: Buffalo, New York
Height: 6'1" (185 cm), 6'1" Males
Family:
Spouse/Ex-: Jaime Bergman (m. 2001), Ingrid Quinn (m. 1997–1999)
father: David Thomas Boreanaz
mother: Patti Boreanaz
siblings: Ingrid Quinn
children: Bella Vita Bardot Boreanaz, Jaden Rayne Boreanaz
U.S. State: New Yorkers
More Facts
education: Malvern Preparatory School, Ithaca College in Ithaca, New York
Continue Reading Below
The actor who brought the emotionally anguished vampire Angel to life in the supernatural drama series 'Buffy the Vampire Slayer', David Boreanaz has also made his mark as a television producer and director. Even though he has acted in several television productions and films, it was his portrayal of the vampire with the human soul which was the highlight of his career. 'Buffy the Vampire Slayer' was a highly successful series, and his role in it was especially appreciated. The character of Angel was so much liked by the audiences that the producers of the show decided to create a spin-off series, 'Angel' where he played the title character of a vampire who seeks the redemption of his soul. David had always loved acting from a young age and pursued a degree in cinema and photography in college. Athletically built and good looking, the ambitious young man began his career with a guest spot in the sitcom 'Married…With Children'. It was by chance that he landed the role that would catapult him to worldwide fame. Once he was walking his dog in his neighbourhood when someone spotted him and recommended him for the role. Thus he became Angel, the mysterious vampire with the human soul.
Recommended Lists:
Recommended Lists:
Continue Reading Below
Childhood & Early Life
He was born to Dave Roberts and Patti Boreanaz in New York. His father worked as a weather forecaster and hosted a children's show called 'Rocket Ship 7'. Young David was exposed to the show business early on due to the nature of his father's profession.

He received his primary education from Rosemont School of the Holy Child before moving to the Malvern Preparatory School. He was an athletic youngster and played for the school football team.

He loved acting from a young age and had enough exposure to the show business. By the time he was a teenager, he had decided that he wanted to become an actor. He studied cinema and photography in Ithaca College in New York and graduated in 1991.

Continue Reading Below

Recommended Lists:

Recommended Lists:

Career

After college he shifted to Los Angeles to pursue a career in acting. Initially he could only get to play small, uncredited roles in some television programs. Then he was cast as the cheating biker boyfriend of Kelly in one episode of the television series, 'Married…With Children'.

In spite of appearing in several television series in guest or small roles, he was primarily an unknown face. Something incredibly lucky happened to him: he got noticed by a talent scout while walking his dog in his neighbourhood and was offered the role of Angel in the series 'Buffy the Vampire Slayer' in 1997. He played this role till 2003.

The character he played, Angel, was a multidimensional one. He was a vampire who had been cursed with a human soul and could feel all the emotional turmoil and anguish that human beings are subject to. He portrayed the role so perfectly that he became synonymous with the tormented vampire.

'Buffy the Vampire Slayer' became a very successful show and his role, was critically appreciated. This prompted the creator of Buffy, Joss Whedon, to create a spin-off series, 'Angel', which had David playing the titular role. The show ran from 1999 to 2004.

He starred as Adam Carr in the 2001 slasher film, 'Valentine' which also had Marley Shelton and Denise Richards in its cast. The movie revolves around a group of high school students who publicly humiliate a classmate who later returns to take revenge.

In 2002, he played the role of Luke in the romantic comedy 'I'm With Lucy'. This role was a supporting role in which he played a doctor who goes on a date with the film's protagonist.

He started appearing as FBI Agent Seeley Booth in the crime comedy drama television series, 'Bones' which premiered in 2005. The series is loosely based on the writings and works of the forensic anthropologist Kathy Reichs.

Continue Reading Below

In the movie 'Ghost Writer', a 2007 comedy/horror film, he played Sebastian, a young writer who is pursued by John, an eccentric music teacher. However, things turn ugly when Sebastian starts dating a woman and John becomes jealous.

He played a supporting role as Ed Rush in the film, 'The Mighty Macs' which is about the story of Cathy Rush, a Hall of Fame women's basketball coach. The film premiered in 2009.

He played himself in the episode 'Road to the North Pole' in the television series 'Family Guy' in 2010 and in the episode 'Less Money, Mo' Problems' in 'American Dad!' in 2012.

Recommended Lists:

Recommended Lists:

Major Works

David Boreanaz is synonymous with the emotionally troubled vampire Angel, the character he portrayed in the highly successful vampire series, 'Buffy the Vampire Slayer'. Tall, handsome and brooding, he fit the part of the character perfectly and his performance was critically acclaimed.

Recommended Lists:

Recommended Lists:

Awards & Achievements

He is the three-time recipient of the Saturn Award for Best Actor on Television (2000, 2003, and 2004) for his role of the titular character, Angel, in the television series of the same name.

Personal Life & Legacy

He had a brief first marriage with Ingrid Quinn from 1997 to 1999.

He later dated and married the beautiful actress Jaime Bergman in 2001. The couple has two children.

He admitted to having a sexual affair with Rachel Uchitel while his wife was expecting their second child.

Trivia

This television actor cheated on his pregnant wife with the very same woman Tiger Woods had cheated on his wife with.

1. Kingdom Hearts (2002)

(Adventure, Comedy, Mystery, Fantasy, Family, Action)

2. The Finder (2012)

(Crime, Comedy, Drama, Romance)

---

3. Sleepy Hollow (2013)

(Thriller, Adventure, Mystery, Fantasy, Drama)

4. The Mighty Macs (2009)

(Drama, Sport)

---

---

5. I'm with Lucy (2002)

(Comedy, Romance)

6. Aspen Extreme (1993)

(Sport, Drama, Romance)

---

---

---

7. These Girls (2005)

(Drama, Comedy)

8. Mr. Fix It (2006)

(Romance, Comedy)

---

---

---

---

Translate Wiki

to Spanish, French, Hindi, Portuguese

Article Title

- David Boreanaz Biography

Author

- Editors, TheFamousPeople.com

Website

- TheFamousPeople.com

URL

-

https://www.thefamouspeople.com/profiles/david-boreanaz-4258.php

Last Updated

- September 28, 2017

---

---

---