Danny DeVito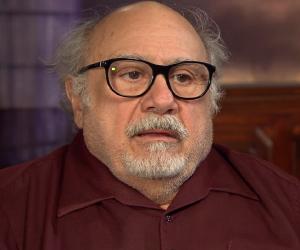 Quick Facts
Birthday: November 17, 1944
Nationality: American
Famous: Quotes By Danny DeVito Actors
Age: 74 Years, 74 Year Old Males
Sun Sign: Scorpio
Also Known As: Daniel Michael DeVito Jr.
Born in: Neptune Township
Height: 4'10" (147 cm)
Family:
Spouse/Ex-: Rhea Perlman
father: Daniel Michael DeVito, Sr
mother: Julia Devito
siblings: Angela DeVito
children: Daniel J. DeVito, Grace Fan DeVito, Lucy DeVito
U.S. State: New Jersey
More Facts
education: Oratory Prep School, Summit, NJ, Academy of Dramatic Arts, Wilifred Academy of Hair and Beauty,
Continue Reading Below
Daniel Michael 'Danny' DeVito, Jr., popularly known as Danny DeVito, is an American actor, comedian, director and producer. Bullied for his small stature at school and by neighboring kids, DeVito took a lot of lumps while he was growing up but he proved his mettle with his innate talent and passion for acting. He started out by doing off-Broadway musicals and later on landed his first major role in NBC series 'Taxi'. The portrayal of a tyrannical yet endearing taxi dispatcher, for the fictional Sunshine Cab Company, made him a sweetheart on American television and soon it landed him roles in Hollywood movies. He has always been admired for his comic timing and charming humor but he did not restrict himself to only that and experimented with serious cinema as well. DeVito not only graced Hollywood with his acting and comedy but also directed movies, starring major actors like Michael Douglas, Jack Nicholson, Robin Williams, etc. The genre close to his heart is black comedy and almost all of his directorial ventures belong to this genre. DeVito is also a producer and has produced famous projects like, 'Pulp Fiction', 'Erin Brockovich', 'Reno 911!', etc.
Continue Reading Below
Childhood & Early Life
Danny DeVito was born in Neptune Township, New Jersey to Julian and Daniel DeVito. His father was a small business owner whose various ventures included a dry cleaners, luncheonette, etc. and his mother was a homemaker.

He attended the boarding school on his own request to his father and went to the Oratory Preparatory School in Summit, New Jersey, after which he attended the American Academy of Dramatic Arts and graduated in 1966.

Continue Reading Below

Recommended Lists:

Recommended Lists:

Career

Right after graduating, DeVito worked at the Eugene O'Neill Theater Center in Waterford, Connecticut and after seeing an advertisement for Hollywood auditions for a movie version of 'In Cold Blood', he tried for the audition.

DeVito did not get the part in the movie and started working as a car parker, to earn his living but soon he moved back to New York, where he got parts to play in several off-Broadway plays.

In 1971, DeVito landed the role of 'Martini' in the production of 'One Flew Over the Cuckoo's Nest'. Four years later Michael Douglas produced its film version and asked him to revive his stage role.

DeVito auditioned for a new NBC series 'Taxi' in 1978 and he landed the part of the endearingly oppressive cab dispatcher 'Louie DePalma'. The show ran for five years and he won an Emmy Award for best supporting actor.

After 'Taxi' was taken off air, DeVito's Hollywood career started with 'Terms of Endearment' in 1983. The movie won 5 Academy awards and starred actors like Shirley MacLaine, Debra Winger, Jack Nicholson, etc.

Now that his Hollywood career had kick started, DeVito landed with another successful venture, 'Romancing the Stone' in 1984, an action-adventure romantic comedy starring his friend Michael Douglas and Kathleen Turner.

In the following year, 'Romancing the stones' sequel came out, 'The Jewel of the Nile' in which all the actors reprised their roles. The movie turned out to be a commercial hit but failed to impress the critics.

Continue Reading Below

In 1987, DeVito released his first directorial venture, 'Throw Momma from the Train', a dark comedy in which he acted as well, along with actors like Billy Crystal, Rob Reiner. It was inspired by Hitchcock's 'Strangers on a Train'.

DeVito again united with Michael Douglas in his next directorial venture, 'The War of the Roses' in 1989, which was another black comedy. The movie is based on a novel with the same title, by Warren Adler.

In the effort of changing his image from a comedy actor to a serious actor, he starred in movies like, 'The Rainmaker (1997)', 'Hoffa (1992)––a biographical film that he directed and acted along with Jack Nicholson, 'Heist (2001)', etc.

In 2002-2003, DeVito directed two movies, 'Death to Smoochy (2002)' starring Robin Williams and Edward Norton, and 'Duplex (2003)' starring Ben Stiller and Drew Barrymore. Both the movies are black comedies, a genre close to DeVito.

As DeVito's interest in documentaries was always quite profuse, he got into a partnership with Morgan Freeman's company ' ClickStar' in 2006, which gave him an opportunity to host a documentary channel called 'Jersey Docs'.

In 2012, he debuted with the West End in a play by Neil Simpson, 'The Sunshine Boys'. He acted in the play along with Richard Griffiths. It previewed at the Savoy Theatre for a 12-week season.

Continue Reading Below

Recommended Lists:

Recommended Lists:

Major Works

The Portrayal of a despotic and yet an endearing taxi driver 'Louie De Palma' in the series 'Taxi' in 1978, made DeVito what he is today. It gave him the popularity, which was essential for him to get into films.

Recommended Lists:

Recommended Lists:

Awards & Achievements

DeVito received a star on the Hollywood Walk of Fame for his rich contribution in television in 2011.

Personal Life & Legacy

DeVito met the love of his life Rhea Perlman during the showcase of one of his plays, 'The Shrinking Bride'. They started an affair and got married in 1982. They have three children together––Lucy, Grace and Jacob.

Trivia

It was said that in 2012, DeVito got separated from his wife after 30 years of marriage but in the following year it was publicized that they have reconciled and are living together again.

DeVito is a vegetarian and an animal lover, to an extent that once at the sets of 'Taxi' he refused to kill cockroaches.

When DeVito had not joined the acting academy, he joined her sister at her salon and worked as a hairdresser for some time.

1. One Flew Over the Cuckoo's Nest (1975)

(Drama)

2. Pulp Fiction (1994)

(Crime, Drama)

---

3. L.A. Confidential (1997)

(Mystery, Crime, Thriller, Drama)

4. Big Fish (2003)

(Romance, Adventure, Drama, Fantasy)

---

---

5. Terms of Endearment (1983)

(Drama, Comedy)

6. Gattaca (1997)

(Drama, Thriller, Sci-Fi)

---

---

---

7. Hot Dogs for Gauguin (1972)

(Short)

8. Romancing the Stone (1984)

(Comedy, Romance, Action, Adventure)

---

---

---

---

| | | |
| --- | --- | --- |
| 1980 | Best Actor in a Supporting Role - Television Series | Taxi (1978) |

| | | |
| --- | --- | --- |
| 1981 | Outstanding Supporting Actor in a Comedy or Variety or Music Series | Taxi (1978) |

Translate Wiki

to Spanish, French, Hindi, Portuguese

Article Title

- Danny DeVito Biography

Author

- Editors, TheFamousPeople.com

Website

- TheFamousPeople.com

URL

-

https://www.thefamouspeople.com/profiles/danny-devito-3738.php

Last Updated

- September 13, 2017

---

---

---