Colin Farrell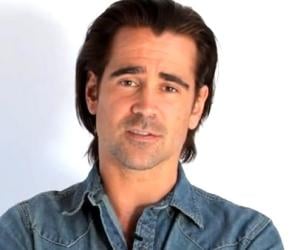 Quick Facts
Nationality: Irish
Famous: Quotes By Colin Farrell Carefree
Age: 43 Years, 43 Year Old Males
Sun Sign: Gemini
Also Known As: Colin James Farrell
Born in: Castleknock
Famous as: Actor
Height: 5'10" (178 cm), 5'10" Males
Family:
Spouse/Ex-: Amelia Warner (m. 2001–2001)
father: Eamon Farrell
mother: Rita Farrell
siblings: Catherine Farrell, Claudine Farrell, Eamonn Farrell
children: Henry Tadeusz Farrell, James Padraig Farrell
More Facts
education: Gormanston College, Castleknock College, Gaiety School of Drama, St. Brigid's National School Castleknock
Continue Reading Below
Irishman Colin Farrell set his footprints firmly on the Hollywood timeline with his performance in the film 'Tigerland'. Since then, this Dubliner has given several award-winning performances with some of the best directors and co-stars. Born and brought up in Dublin, Farrell was inspired to take up acting after watching the classic Spielberg film, E.T. It was on his brother's insistence that he joined a drama school and began learning the nuances of acting. However, he was inducted into television even before he could finish his course. A few television series and films later, he got noticed and carved his niche as an accomplished actor. With his rapid rise to stardom, came a rambunctious lifestyle - heavy smoking, drinking and partying. Farrell often found himself in the midst of fights and brawls. This highly boisterous way of life got him into many gossip columns and tabloids for issues as embarrassing as drugs, rehab and leaked tapes of intimate moments with co-stars. However, Farrell took it all in his stride and has been giving good performances on screen. He has lent his support for many charitable causes, as well.
Recommended Lists:
Recommended Lists:
Continue Reading Below
Childhood & Early Life
Colin Farrell was born in Dublin, Ireland, to Rita and Eamon Farrell. His father ran a health food shop and was also a football player, who played for the team 'Rovers'.

He had an older brother, Eamon Jr., and two sisters, Claudine and Catherine. His older sister, Claudine went on to become his personal assistant, after he became an actor.

He began his schooling in St. Brigid's National School and finished secondary schooling from Castleknock College. He then went to Gormanston College, a co-educational, Catholic school located in Gormanston Castle, Dublin.

Recommended Lists:

Recommended Lists:

Career

The inspiration to choose acting as a career came after he watched the Hollywood sci-fi film, E.T., the Extra Terrestrial. His brother encouraged him to join the 'Gaiety School of Acting', from where he dropped out when he was chosen to act in 'Ballykissangel', a BBC television drama.

His debut feature film was 'The War Zone', and thereafter he acted in a movie called 'Ordinary Decent Criminal'. In the year 2000, he acted in the movie 'Tigerland' after which his career graph spiraled northwards.

Farrell's next venture was 'American Outlaws', in 2001, in which he donned the role of an outlaw by the name of Jesse James but the film did not get success at the box office. Along with this, his next 'Hart's War' with co-star Bruce Willis, was also a flop at the box office.

Colin Farrell's golden moment came in 2002, when he got an opportunity to act in director Steven Spielberg's film, Minority Report. His role as a young member of the justice department became popular and got him critical acclaim, as well.

His film 'Phone Booth', a thriller, directed by Joel Schumacher was also a hit at the box office. He played the role of a victim harassed by an unseen killer, who is bent upon revealing his sins to everyone.

The year 2003 was an important one for Farrell, as he got roles with prominent actors and directors. 'The Recruit', 'Daredevil' and 'S.W.A.T' were movies that did really well and shot Farrell to fame.

In 2003, he also acted in the Irish film, 'Intermission' which had a black comedy theme. He got another Irish assignment 'Veronica Guerin', which was directed by Joel Schumacher.

Continue Reading Below

The year 2004 landed him the title role of the epic film, 'Alexander', directed by Oliver Stone. However, his fine performance with a blonde wig and a heavy Irish accent for the role did not get him the expected appreciation from critics.

In 2005, he acted in yet another historical film, 'The New World', as explorer John Smith, alongside Christopher Plummer and Christian Bale. Though it did not do very well at the box office, it was acclaimed for stunning cinematography.

In the next two years, he acted in several films like 'Miami Vice', 'Ask the Dust' and 'Cassandra Dreams'. Though the first two did not receive much accolades, Woody Allen's 'Cassandra Dreams' got mixed reviews from critics.

'In Bruges', released in 2008, was a great success and was nominated for the 'Golden Globe' award. He also acted in a crime film, 'Pride and Glory' in the same year, but it was not as well received as the former.

In 2009, he donned a small role of a street singer in the film 'Crazy Heart'. He even sang a few sound tracks for this film – a new venture for this actor.

The next two years saw the actor opposite co stars like Keira Knightley, in 'London Boulevard', and comedy film 'Horrible Bosses' with Jennifer Aniston. Farrell was given credit for his performances in both, but received some whiplash reviews, as well.

In 2012, he appeared with Kate Beckinsale, in the remake of 'Total Recall', a sci-fi film about a sleeper agent. Compared with the original's actor, Arnold Schwarzenegger, Farrell emerged the better one in various scenes of the film.

Continue Reading Below

In the same year, he appeared as a creative writer Marty, in the black comedy, 'Seven Psychopaths', directed by Martin McDonagh. He was highly appreciated for his expressive portrayal and received good reviews.

Although initially criticized for living a hell-raising lifestyle and being a party animal, Colin Farrell is respected for his talent and versatility. He is known to have succumbed to recreational drugs and pain killers and has undergone rehab treatment.

Recommended Lists:

Recommended Lists:

Major Works

His film 'Tigerland', directed by John Schumacher and released in 2000, is about recruits who undergo infantry training at Louisiana before leaving for Vietnam to fight in the war. Though the film was not a box office hit, it shot Farrell to fame and fetched him the 'London Film Critics Circle award for Best Newcomer of the Year'.

In Oliver Stone's 'Alexander the Great', he starred along with famous co-stars like Christopher Plummer, Val Kilmer, Anthony Hopkins and Angelina Jolie. Though the film did not do well at the American box office, it fared better internationally and grossed a neat profit, enough to recover its losses.

Awards & Achievements

Colin Farrell won the Golden Globe for the Best Actor for his performance in the black comedy film 'In Bruges', written and directed by Martin McDonagh. He and Brendan Gleeson took on the roles of two Irish hit men who go into hiding in the city of Bruges.

Farrell acted as an Irish fisherman in the film 'Ondine', a 2009 romantic drama directed by Neil Jordan. He bagged the award for the 'Best Actor in a Leading Role by the 'Irish Film and Television Awards' as well as 'San Deigo Film Critics Society Award' for his work.

Continue Reading Below

Personal Life & Legacy

Colin Farrell's colourful lifestyle and penchant for dating several women earned him the title of a 'lothario' in Hollywood. He dated English actress Amelia Warner, and though there were speculations that they were married, he declared that it was not a legal ceremony.

He then dated British writer Emma Forrest, a relationship which went on for almost a year. He was further linked to singer Britney Spears and actresses Angelina Jolie and Demi Moore, among many others.

He has a son named James Farrell, from American model Kim Bordenave, who was born in 2003; he is said to suffer from a rare genetic disorder. He has another son, named Henry Farrell, from his 'Ondine' co-star, Alicja Curus.

Trivia

This talented actor has taken up the roles meant for actor Heath Ledger, twice. The first was the lead role in the film 'Alexander the Great', and the second was for the film 'The Imaginarium of Doctor Parnassus'.

This flamboyant actor was named one of the 50 most beautiful people by People's magazine in the year 2003. He was also voted 6th in the world's 'sexiest man' category by Company magazine in the same year.

1. In Bruges (2008)

(Drama, Comedy, Thriller, Crime)

2. Minority Report (2002)

(Mystery, Thriller, Action, Adventure, Crime, Drama, Sci-Fi)

---

3. Phone Booth (2002)

(Thriller, Crime, Action, Mystery)

4. Saving Mr. Banks (2013)

(Comedy, Drama, Biography, Music, Family)

---

---

5. Fantastic Beasts and Where to Find Them (2016)

(Adventure, Family, Fantasy)

6. The War Zone (1999)

(Drama)

---

---

---

7. Seven Psychopaths (2012)

(Comedy, Crime)

8. The Way Back (2010)

(Drama, History, Adventure)

---

---

---

---

| | | |
| --- | --- | --- |
| 2009 | Best Performance by an Actor in a Motion Picture - Comedy or Musical | In Bruges (2008) |

| | | |
| --- | --- | --- |
| 2003 | Best Trans-Atlantic Breakthrough Performer | Winner |

Translate Wiki

to Spanish, French, Hindi, Portuguese

Article Title

- Colin Farrell Biography

Author

- Editors, TheFamousPeople.com

Website

- TheFamousPeople.com

URL

-

https://www.thefamouspeople.com/profiles/colin-farrell-3726.php

Last Updated

- July 26, 2017

---

---

---