Clay Matthews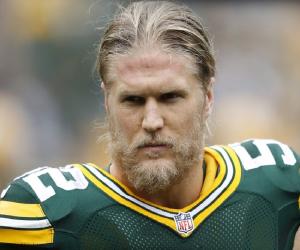 Quick Facts
Nationality: American
Famous: American Football Players American Men
Age: 33 Years, 33 Year Old Males
Sun Sign: Taurus
Also Known As: William Clay Matthews III, William Matthews III, William Matthews, Clay Matthews
Born in: Northridge, Los Angeles, California, United States
Famous as: American Football Linebacker
Height: 6'3" (190 cm), 6'3" Males
Family:
father: Clay Matthews Jr.
mother: Leslie Matthews
siblings: Brian Matthews, Casey Matthews, Jennifer Matthews, Kyle Matthews
U.S. State: California
City: Los Angeles
More Facts
education: Agoura High School, University of Southern California
Continue Reading Below
William Clay Matthews III, popularly known as Clay Matthews, is an American football linebacker. He plays for the team Green Bay Packers of the National Football League. Having been chosen for Pro Bowl six times, and also having won the 'NFC Defensive Player of the Year' once, Matthews continues to be known as one of the most talented players of the NFL. Born in in California, in the United States, to a family with a history of professional football players, Matthews decided to follow in his father's footsteps at an early age. He started playing in the Agoura Chargers High School football team during his school days. Later, he attended the University of Southern California, where he played for the Trojans. He was drafted into the NFL in his early twenties and selected by the Green Bay Packers. He is considered a late bloomer as it took him a few years to establish himself successfully as a pro football player. With time he developed the speed and tactics of a linebacker and soon became a valuable contributor to his team. He went on to win three consecutive Special Teams Player of the Year awards and has since then earned a reputation for being one of the best players of the NFL.
Recommended Lists:
Recommended Lists:
Childhood & Early Life
Clay Matthews was born on 14 May 1986 in Los Angeles, California, United States, to Leslie and Clay Matthews Jr.

Both his father Clay Matthews Jr. and grandfather Clay Matthews Sr. were renowned football players. His brother is also a well-known footballer. His cousins Kevin Matthews, Jake Matthews, and Mike Matthews are also involved with the sport.

He attended Agoura High School in Agoura Hills, California. There he used to play for the Agoura Chargers high school football team. After finishing his schooling, he attended the University of California, where he played for the Trojans Football Team.

Recommended Lists:

Recommended Lists:

Career

From the year 2004 to 2008, Clay Matthews played for the Trojans, under Pete Carroll, the head coach at the University of Southern California. Despite being the son of a renowned NFL player, he had entered the team without any aid from his father. By the beginning of 2006, he had been granted full athletic scholarship status. Both in the 2006 and 2007, he played as reserve linebacker. Both these years, he was also awarded the USC's Co-Special Teams Player of the Year award.

Around this time he also started working on his weight as well as on improving his size, so that he could improve his stamina and his overall performance. Matthews performed brilliantly during the 2008 season, once again being awarded the USC's Co-Special Teams Player of the Year.

The next year, he took part in the 2009 Senior Bowl, after which he was considered one of the top prospects for the 2009 NFL draft. After being picked up by the Green Bay Packers, his official career in the NFL began.

He performed well, though not brilliantly, in his early matches against the Minnesota Vikings, Detroit Lions, and Dallas Cowboys. In his first season, he had a total record of 51 tackles, 10.0 sacks, 7 pass deflections, 3 fumble recoveries, as well as a forced fumble. However, he lost the NFL Defensive Rookie of the Year title to his former USC teammate Brian Cushing.

In the 2010 season, his performance was better as compared to the previous one. Despite the fact that he had suffered a stress fracture in his lower leg, his performance earned him the title of SN-NFL Defensive Player of the Year. He also won the Butkus Award.

He played 15 matches in the 2011 season and recorded 50 tackles and 6.0 sacks. He also recorded 3 interceptions, 9 pass deflections as well as 3 forced fumbles.

The team's defense needed much improvement, as it could be seen during the 2012 season. The Packers, therefore, drafted six new defensive players. One of them, Nick Perry, was a former teammate of Matthews in the USC.

Prior to the season, Matthews had been ranked as the second best linebacker in the league, by Sporting News. His performance also helped him get selected to his fourth straight Pro Bowl, but due to an injury he had to drop out.

Meanwhile, Matthews also rose to become the highest paid linebacker in the history of NFL. Over the next five years, he and the Packers made a deal worth $ 66 million.

Despite playing only 11 games in the 2013 season, he recorded 41 tackles, 7.5 sacks and three forced fumbles. During a match with the Detroit Lions, he broke his right thumb due to which he had to miss the next four games of the season. He returned in a match against the Philadelphia Eagles; however, because of his inability to use his fingers, he was mostly ineffective.

Later, Matthews used a device that helped him play by allowing his fingers to remain free. However, he fractured his thumb once again and could not play for the remainder of the season.

The Packers performed better during the 2014 season, and gained a respectable rank of 14th position in the NFL in total defense. Matthews' performance was also fine, as he finished the season with 11 sacks, 9 passed defended, and two forced fumbles.

In the 2015 season, Matthews helped his team reach the NFC Divisional Round playoff game, where they played against the Arizona Cardinals; they lost 26-20 in the overtime.

Matthews appeared in 12 games in the 2016 season. His overall record was good. It included 24 tackles, five sacks as well as forced fumble. He was ranked 57th on the NFL Top 100 Players of 2016.

Awards & Achievements

Clay Matthews has earned several awards throughout his career. Some of them are the 'NFC Defensive Player of the Year' (2010), and the 'Butkus Award' (2010).

Personal Life & Legacy

Clay Matthews married Casey Noble in 2015. The couple has two children.

Trivia

Matthews, along with his teammates David Bakhtiari, TJ Lang, Josh Sitton, and Don Barclay, made a cameo appearance in the popular movie 'Pitch Perfect 2' in the year 2015.

Translate Wiki

to Spanish, French, Hindi, Portuguese

Article Title

- Clay Matthews Biography

Author

- Editors, TheFamousPeople.com

Website

- TheFamousPeople.com

URL

-

https://www.thefamouspeople.com/profiles/clay-matthews-15226.php

Last Updated

- January 09, 2018

---

---

---