Chris Columbus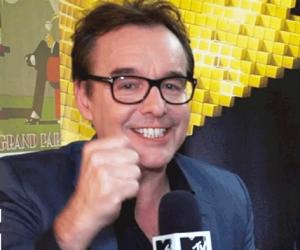 Continue Reading Below
Chris Joseph Columbus is a name every Harry Potter fan would be familiar with. The American director though already successful by the time he directed movies in the Harry Potter film franchise, was catapulted to worldwide acclaim when the Harry Potter movies based on the novels of J. K. Rowling became phenomenally popular among children and youth. A fan of fantasy and horror comics from a young age, little Chris was very creative and had an imaginative mind. He loved to conjure up images in his mind and build them into interesting stories. On growing up he realized he wanted to work in films and joined the New York University's film school. He started writing screenplays while he was still a student and even managed to sell one of his screenplays to the legendary director Steven Spielberg! As a director he believes in making films that give people hope and a reason to dream. Thus he always models his characters after real-life people who struggle to achieve a balance in their chaotic lives. In spite of being such a successful and wealthy man, Columbus is surprisingly simple and down-to-earth. A happy and optimistic person, he is a devoted family man who loves spending time with his wife and four children.
Recommended Lists:
Recommended Lists:
Continue Reading Below
Childhood & Early Life
He was born on September 10, 1958 as the only son of Mary Irene and Alex Michael Columbus. He was raised in poverty as his father was a coal miner who later found work at an Aluminum plant. His mother worked in a factory.

He loved reading fantasy and horror comics as a child. He was fascinated with movies which kindled his imagination and entertained him.

After graduating from John F. Kennedy High School he won a scholarship to attend New York University's film school at the Tisch School of the Arts.

He started writing screenplays while he was still a student. It was his fourth screenplay, 'Gremlins' which he sold to none other than the iconic director Steven Spielberg that marked his entry to filmdom.

Continue Reading Below

Recommended Lists:

Recommended Lists:

Career

After selling his screenplay for 'Gremlins' to Spielberg, Columbus moved to Los Angeles to work on the script. 'Gremlins', released in 1984, was a horror comedy about a strange creature that gives birth to other creatures that transform into tiny, evil monsters.

Having made movies like 'The Goonies' (1985) and 'Heartbreak Hotel' (1988) during the 1980s, he directed 'Home Alone' in 1990. This Christmas film is about a boy who finds himself alone at home when burglars break in. The movie was a huge success.

He directed the comedy film 'Mrs. Doubtfire' in 1993 which starred Robin Williams in the title role. The film received mixed reviews at the time of its release but became a hit later on.

In 1998, he directed and also co-produced the comedy-drama, 'Stepmom' starring Julia Roberts, Susan Sarandon and Ed Harris. The movie was a box office hit in spite of receiving mixed reviews from critics.

The new millennium marked the beginning of a very prosperous period for the director. He got the opportunity to direct the movie 'Harry Potter and the Philosopher's Stone' in 2001 which went on to become a big hit and was nominated for an Academy Award.

In 2002, he directed the film 'Harry Potter and the Chamber of Secrets', the second one in the Harry Potter franchise. Nominated for three BAFTA awards, the movie was an even bigger hit than its predecessor.

The third installment in the Harry Potter series, 'Harry Potter and the Prisoner of Azkaban' was released in 2004. He also co-produced this film. It was considered by critics and fans as the best of the Harry Potter movies.

Continue Reading Below

He directed and co-produced the 2009 comedy film, 'I Love You, Beth Cooper' which was based on the novel of the same name by Larry Doyle. He also co-produced the movie, 'Night at the Museum: Battle of the Smithsonian' the same year.

In 2011 he co-produced the drama film 'The Help' which is the story of a young white woman and her relationship with two black maids during the Civil Rights era in 1963. The two other co-producers were Michael Barnathan and Brunson Green. This movie won many awards.

Major Works

Columbus first tasted big success with the Christmas comedy film 'Home Alone' which launched Macaulay Culkin as a major child star. The movie was a big time grosser and spawned several sequels and three video games.

He was catapulted to mega stardom and recognition when he directed 'Harry Potter and the Philosopher's Stone' based on J. K. Rowling's popular fantasy novel of the same name. The film was a huge critical as well as commercial hit and made Columbus a household name.