Bon Scott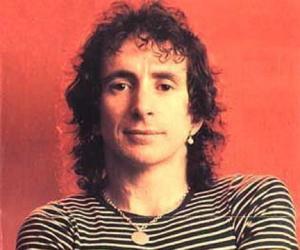 Quick Facts
Nationality: Australian, British, Scottish
Famous: Died Young Musicians
Died At Age: 33
Sun Sign: Cancer
Also Known As: Bon Scott
Born Country: Scotland
Born in: Forfar
Family:
Spouse/Ex-: Irene Thorton
father: Charles
mother: Isa
siblings: Derrek, Graeme
Died on: February 19, 1980
place of death: Fremantle Cemetery
Cause of Death: Drug Overdose
More Facts
education: Sunshine Primary School, North Fremantle Primary School, John Curtin College of the Arts,
Continue Reading Below
Ronald Belford "Bon" Scott was an Australian musician of Scottish origins who rose to fame as the leading singer and songwriter of the hugely popular hard rock band AC/DC during the 1970s. He loved music from a young age and was a highly creative and rebellious youngster. As is common with unruly teenagers, he often found himself in trouble with the authorities. He dropped out of school at 15 and had brushes with the law which had him sent to the Riverbank Juvenile Institution. Labeled as a social misfit, he was denied a position in the Australian army. He worked at several odd jobs to support himself after leaving school. He started playing drums during his adolescent years and formed his first band The Spektors, in 1964. He played for some other bands as well before joining AC/DC as their lead singer. The band's popularity reached new heights after Scott joined them; the band's debut album 'High Voltage' was a big hit. Within a year the band brought out the single, 'It's a Long Way to the Top (If You Wanna Rock 'n' Roll)' which soon became known as the quintessential rock anthem. However the promising young musician soon got caught up in the shackles of alcoholism which put an abrupt full stop on his career by snuffing out his life.
Recommended Lists:
Recommended Lists:
Continue Reading Below
Childhood & Early Life
He was the son of Charles Belford Scott and his wife Isabelle Cunningham. He was born in Scotland though the family later migrated to Australia.

He attended North Fremantle Primary School and went to the John Curtin College of Arts. He was however never interested in studies much and dropped out when he was 15. He had learned to play the drums as a member of the Fremantle Scots Pipe Band.

He had a record as a troublemaker—he spent time in Fremantle Prison's assessment centre and was committed to the Riverbank Juvenile Institution for nine months on charges of theft and sexual misconduct.

Continue Reading Below

Recommended Lists:

Recommended Lists:

Career

He worked at a number of odd jobs such as a postman, bartender and truck packer for sometime. He formed his first band, The Spektors, in 1966 in which he played the drums and sang occasionally.

The Spektors merged with another band, the Winstons to form a new band The Valentines in 1967. The new band was doing well and recorded several songs before a drug scandal erupted that tarnished the reputation of the band causing it to break up in 1970.

He joined the rock band Fraternity in 1970. The band played at the Festival of Australian Progressive Music in 1971 and released the LPs 'Livestock' and 'Flaming Galah'.

The band went on a tour of the U.K. in 1973 and played there under the name 'Fang'. However the band went on a hiatus after returning to Australia.

He got involved in a serious motorbike accident in 1974 which left him in a coma for three days. His friend Vince Lovegrove helped him by giving him odd jobs during his recovery. He also introduced the struggling musician to the band AC/DC who were looking for a new lead singer.

The hard rock band AC/DC was formed by the Young brothers, Malcolm and Angus. Scott joined the band in September 1974 and changed the fortunes of the band for the better.

Within a month of his joining, the band released its album 'High Voltage' in October 1974 in Australia only. Scott had contributed lyrics to the songs featured in the album. The band released the single 'It's a Long Way to the Top (If You Wanna Rock 'n' Roll)', which became their signature song.

Continue Reading Below

The band went on an international tour of Europe in 1976 which was called the 'Lock Up Your Daughters Summer Tour'. The band grew in popularity and supported leading rock bands such as Black Sabbath, Aerosmith, and Kiss.

The band's album 'Dirty Deeds Done Dirt Cheap' was out in 1976. It was originally released in Australia and later an international version was also released. The album was an international super hit.

In 1977, the album 'Let There Be Rock' was released. It featured the tracks 'Dog Eat Dog', 'Let There Be Rock', and 'Bad Boy Boogie'. The very next year, the album 'Powerage' was released.

The late 1970s was a very busy time for the band as they released albums in quick succession. 'Highway to Hell', released in 1979 went on to become one of the most popular albums. It was the last one to feature Scott who died the next year.

Recommended Lists:

Recommended Lists:

Major Works

'Dirty Deeds Done Dirt Cheap' was one of the most popular albums on which Scott had collaborated with the Young brothers in writing the lyrics. The album was accredited multi-platinum with over six million copies being sold the world over.

The last album to feature Scott, 'Highway to Hell' was a super hit with the fans. With a sales figure of over seven million copies, the album was listed among the list of '500 greatest albums of all time' by 'Rolling Stone.

Recommended Lists:

Recommended Lists:

Personal Life & Legacy

He married Irene Thornton in 1972 and divorced in 1978.

He was an alcoholic and had drunk too much in a London club on 19 February 1980. He was so drunk that he passed out in the car where he was left to spend the night by a friend. The next day he was found lifeless and taken to the hospital where he was pronounced brought dead. The official cause of his death was listed as acute alcohol poisoning.

This musician's grave site is considered the most visited grave in Australia and the National Trust of Australia has included it on its list of classified heritage places.

Trivia

A bronze statue of this hard rock musician was unveiled at Fremantle Fishing Boat Harbour in Western Australia in 2008.

Translate Wiki

to Spanish, French, Hindi, Portuguese

Article Title

- Bon Scott Biography

Author

- Editors, TheFamousPeople.com

Website

- TheFamousPeople.com

URL

-

https://www.thefamouspeople.com/profiles/bon-scott-3687.php

Last Updated

- September 28, 2017

---

---

---