Begum Akhtar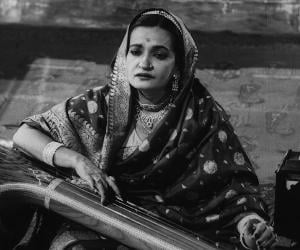 Quick Facts
Nationality: Indian
Famous: Ghazal Singers Indian Women
Died At Age: 60
Sun Sign: Libra
Also Known As: Akhtari Bai Faizabadi
Born in: Bhadarsa
Famous as: Singer
Family:
Spouse/Ex-: Ishtiaq Ahmed Abbasi
siblings: Bibbi, Zohra
Died on: October 30, 1974
place of death: Ahmedabad
Continue Reading Below
Begum Akhtar, also known as Akhtari Bai Faizabadi, was a well-known Indian singer of Hindustani classical music, most famous for her renditions of the Ghazal, Dadra, and Thumri genres. Honored with the title of Mallika-e-Ghazal (Queen of Ghazals), she was one of the best known Indian singers of her era, known for her soulful, poignant, and melancholy melodies. A highly successful professional artiste, her personal life was a very tragic one. She was exposed to life's difficulties at a young age after her father abandoned the family leaving her mother alone to fend for the children. Another tragedy followed soon after when she lost her beloved sister to poisoning. Miseries followed her throughout her early years, and singing offered her solace from life's injustices and tragedies. Naturally inclined towards music, she started receiving singing lessons as a little girl and gave her first public performance at the age of 15. She received encouragement from the famous poet Sarojini Naidu which motivated the teenager to make a career in music. Good looking and talented, she ventured into films as an actress and also sang her songs herself in all her films. With her rich and soulful voice she carved a niche for herself, and received several honors and awards for her contribution to classical music.
Recommended Lists:
Recommended Lists:
Continue Reading Below
Childhood & Early Life
She was born as Akhtaribai Faizabadi on 7 October 1914 in Faizabad, Uttar Pradesh, India, to Asghar Hussain and his second wife Mushtari. She had a twin sister. Her father, a lawyer, disowned the family when the girls were very young and never acknowledged their existence.

Her childhood was a great struggle. Things went from bad to worse when her sister died of poisoning at the age of four.

Akhtari was exposed to music at an early age and was thoroughly captivated. Her mother and relatives recognized her talent and arranged for her to receive lessons from Ustad Imdad Khan, the great sarangi exponent from Patna, and later from Ata Mohammed Khan of Patiala. She then went on to learn from Mohammad Khan and Abdul Waheed Khan of Lahore before finally becoming the disciple of Ustad Jhande Khan.

Recommended Lists:

Recommended Lists:

Career

Begum Akhtar gave her first public performance at the age of 15. The famous poet Sarojini Naidu heard the teenager sing during a concert which was organized in the aid of victims of the 1934 Nepal-Bihar earthquake and was full of praise for her. This motivated the girl to pursue a career as a singer.

She recorded her first disc for the Megaphone Record Company, and went on to make several more gramophone records with her ghazals, thumris, and dadras. Eventually she broke away from singing in private gatherings and began performing in public concerts.

As a pretty young girl with a melodious voice, she was naturally attracted to the world of films. The 1930s was the early era of the talkies and she appeared in films like 'Ek Din Ka Badshah' and 'Nal Damayanti' in 1933. Like other actresses of that era, she sang her songs herself in all her films.

Even though she had ventured into films, she still remained much focused on her career as a Hindustani Classical singer. Some of the movies she appeared in and sang for during this time are 'Mumtaz Beghum' (1934), 'Ameena' (1934), 'Roop Kumari' (1934), and 'Jawaani Ka Nasha' (1935).

Her success as an actress cum singer attracted the attention of famous producer-director Mehboob Khan who asked her to act in his upcoming film. The movie 'Roti' was released in 1942. It was originally supposed to feature six of her ghazals but three or four of the ghazals were deleted from the film following altercations between the producer and director.

She got married in the mid-1940s and took a break from her career for a few years. But being away from her beloved profession and passion affected her health and she was advised to resume singing. She returned to the recording studios and sang three ghazals and a dadra at Lucknow All India Radio station. Then she returned to singing in concerts and continued till her death.

Major Works

Bestowed with the title of Mallika-e-Ghazal (Queen of Ghazals), Begum Akhtar was one of the finest singers of Ghazal, Dadra, and Thumri genres of Hindustani classical music. Known for her deep, soulful voice, she has nearly four hundred songs to her credit and was also famous for her skills as a composer of raag based ghazals.

Awards & Achievements

One of the most talented singers in Hindustani Classical music, she was honored by the Government of India with Padma Shri in 1968. She was also awarded the Padma Bhushan posthumously in 1975.

She became the recipient of Sangeet Natak Akademi Award in 1972.

Personal Life & Legacy

Begum Akhtar had a very traumatic and tragic early life. As a little girl she was molested by her music teacher and raped as a teenager. She became pregnant following the rape and gave birth to a daughter who she presented to the society as her sister in an attempt to escape the stigma faced by unwed mothers.

She married a Lucknow-based barrister, Ishtiaq Ahmed Abbasi, in 1945. She could not sing for a few years after marriage due to her husband's restrictions.

She remained active till the very end of her life. She died on 30 October 1974 shortly after giving what was to become her final performance.

Translate Wiki

to Spanish, French, Hindi, Portuguese

Article Title

- Begum Akhtar Biography

Author

- Editors, TheFamousPeople.com

Website

- TheFamousPeople.com

URL

-

https://www.thefamouspeople.com/profiles/begum-akhtar-6721.php

Last Updated

- November 12, 2017

---

---

---