Adolphe Menjou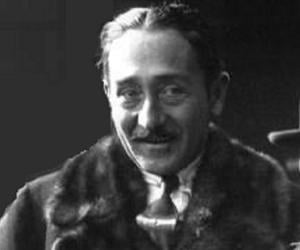 Quick Facts
Birthday: February 18, 1890
Nationality: American
Famous: Actors American Men
Died At Age: 73
Sun Sign: Aquarius
Also Known As: Adolphe Jean Menjou
Born in: Pittsburgh, Pennsylvania
Famous as: Actor
Height: 1.77 m
Family:
Spouse/Ex-: Kathryn Carver (m. 1928 – div. 1934), Kathryn Conn Tinsley (m. 1920 – div. 1927), Verree Teasdale (m. 1934 – his death. 1963)
father: Albert Menjou
mother: Nora Menjou
Died on: October 29, 1963
place of death: Beverly Hills, California
U.S. State: Pennsylvania
City: Pittsburgh, Pennsylvania
Continue Reading Below
Adolphe Menjou was an American actor. Known as an archetypal Frenchman, he is remembered as one of the best-dressed men in Hollywood. Adolphe's career traversed from the silent era to that of the talkies, and he showcased his versatility by playing both heroic and villainous characters with equal ease. He was blessed with one of the most expressive faces in the industry, framed with a perfectly groomed mustache that he grew at 21. His looks had a significant role in his stardom. Born to a French hotelier, Adolphe was supposed to join his family business, but his passion for acting beckoned, and he ended up becoming one of the superstars of the silent-film era. After delivering numerous performances in silent films, Adolphe surprised the audience with his command over languages when he starred in talkies. He had a brief stint on TV and also worked as a radio presenter. Adolphe had been married thrice and had adopted a son with his third wife.
Recommended Lists:
Recommended Lists:
Continue Reading Below
Childhood & Early Life
Adolphe was born Adolphe Jean Menjou, on February 18, 1890, in Pittsburgh, Pennsylvania. His father, Albert Menjou, was a French-born hotelier and restaurateur. His mother, Nora, was from Galway in Ireland. Adolphe and his younger brother, Henry Arthur Menjou, were both raised according to the Roman Catholic faith.

Adolphe attended the 'Culver Military Academy' in Indiana and then studied engineering at 'Cornell University.' At 'Cornell,' Adolphe was deeply involved in the institution's dramatic productions. Allured by the charm of acting, he switched to the 'College of Liberal Arts.' However, he dropped out eventually.

After leaving 'Cornell,' Adolphe moved to New York, where he worked at a haberdashery firm and later joined his father's restaurant, 'Maison Menjou.' By 1914, Adolphe had received a few acting offers, all due to his expressive face. He appeared in two films, namely, 'The Acid Test' and 'The Man behind the Door' (both uncredited), but he eventually took a break. During World War I, he joined the 'US Army Ambulance Corps' in France. After serving them for a year, Adolphe began his quest in Hollywood.

Recommended Lists:

Recommended Lists:

Career

Adolphe began his full-fledged acting career with the 1916 silent romantic comedies 'Nearly a King' and 'A Parisian Romance.' In 1916, Adolphe appeared in 10 more silent films, of which three roles were uncredited. One of them was actually a drama film series named 'The Scarlet Runner,' which is now considered lost.

In the subsequent years, from 1917 to 1921, Adolphe appeared in numerous silent films, of which most released in 1917. He made his first star performance in the 1921 silent romantic comedies 'The Three Musketeers' and 'The Sheik.' He was cast as 'Dr. Raoul de St. Hubert' in the latter. After 'The Sheik,' Adolphe became one of the most sought-after and expensive actors in Hollywood.

Over the years, Adolphe emerged as an actor with an impeccable sense of fashion. After he appeared in the 1923 feature-length silent film 'A Woman of Paris,' Adolphe was named the 'Best Dressed Man in America,' a titled he earned nine times throughout his career. Interestingly, the film was not a commercial success. However, it will forever be remembered as a milestone in Adolphe's career. In the subsequent years, he strengthened his stardom and his dapper image with films such as 'Forbidden Paradise' (1924), 'The Swan' (1925), and 'The Sorrows of Satan' (1926).

Adolphe's first talkie film was released in 1929. His voice was first heard in the pre-Code comedy film 'Fashions in Love.' Unlike some of his contemporaries, he had a smooth transition. He even surprised his critics and audiences with his amazing diction. Being a Frenchman, Adolphe had a neutral accent. His multilinguistic skill earned him a contract with 'MGM' after Adolphe ended his long-time association with 'Paramount Pictures.'

'MGM' cast Adolphe in three French films and one in Spanish, along with several other English projects. He was also cast in the 1931 German film 'Wir schalten um auf Hollywood.' During World War II, Adolphe had a brief stint as a radio artist and broadcast shows in French, Italian, Spanish, German, Russian, and English to keep soldiers entertained and motivated.

By 1950, Adolphe's career was on the verge of a marked decline. Of all of his final credits, his performances as 'Police Lt. Frank Kafka' in the film noir 'The Sniper' (1952) and as 'Gen. George Broulard' in the anti-war film 'Paths of Glory' (1957) were considered most strong and prominent. Adolphe also had a few TV projects to his credit, including his TV debut as the host of the 'NBC' syndicated series 'Your Favorite Story' and a one-episode role in the series 'Science Fiction Theatre.'

Before Adolphe made his final appearance in the 1960 'Walt Disney' drama film 'Pollyanna,' he was honored with a "star" on the 'Hollywood Walk of Fame.' He earned an 'Academy Award' nomination for his performance as 'Walter Burns' in the 1931 pre-Code comedy film 'The Front Page.' The role is considered to be one of Adolphe's finest comedy performances.

As a dedicated 'Republican,' Adolphe co-founded the 'Motion Picture Alliance for the Preservation of American Ideals.' He later became a proud member of the anti-communism advocacy group 'John Birch Society.' Adolphe's right-wing politics had, however, tarnished his image to some extent.

Recommended Lists:

Recommended Lists:

Family, Personal Life & Death

After two failed marriages, one with Kathryn Conn Tinsley and another with Kathryn Carver (m. 1928; div. 1934), Adolphe married actor Verree Teasdale in 1934. They adopted a son, Peter, and lived in Beverly Hills.

Adolphe owned a huge collection of art and coins. His autobiography, 'It Took Nine Tailors,' was published in 1948. In one of his speeches, Adolphe criticized communism as a "foul philosophy." His right-wing political views and his hardcore anti-communist beliefs affected his relations with a few actors, the most prominent being his relationship with his co-actor and staunch communist Katharine Hepburn. While filming 'State of the Union,' the two spoke to each other only in front of the camera.

On October 29, 1963, Adolphe died of hepatitis and was cremated at 'Hollywood Forever Cemetery.'

Translate Wiki

to Spanish, French, Hindi, Portuguese

Article Title

- Adolphe Menjou Biography

Author

- Editors, TheFamousPeople.com

Website

- TheFamousPeople.com

URL

-

https://www.thefamouspeople.com/profiles/adolphe-menjou-43975.php

Last Updated

- March 14, 2019

---

---

---