Pauline Phillips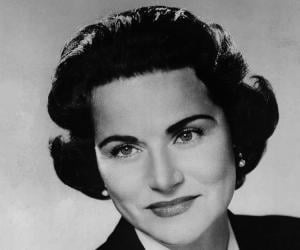 Quick Facts
Nationality: American
Famous: Newspaper Columnists American Women
Died At Age: 94
Sun Sign: Cancer
Also Known As: Abigail Van Buren
Born in: Sioux City
Famous as: Advice Columnist
Family:
siblings: Eppie Lederer
children: Jeanne Phillips
Died on: January 16, 2013
place of death: Minneapolis
U.S. State: Iowa
More Facts
education: Morningside College
Continue Reading Below
Pauline Phillips, best known by her pen name "Abigail Van Buren", was an American advice columnist who authored the famous "Dear Abby" column. Her identical twin, Esther Lederer, who wrote under the pen name "Ann Landers", was also a columnist. Pauline was one of the most popular and adored advice columnists and is credited with transforming a dull "lonely hearts" section into one of the wittiest features of the paper. Her writing infused a fresh mix of humour, compassion, and quirkiness that quickly made her a household name in America. Covering topics ranging from sex to religion, and politics to philosophy, her column churned delightful pieces of counsel. While her career flourished, her relationship with her sister took a nosedive. Phillips' "Dear Abby" was a direct competition to Lederer's "Ask Ann Landers". This led to a very public falling out between the sisters and continued for over a decade. The feud only fuelled their popularity. However, in 1964, they put aside their differences and reconciled. She continued to charm readers with her advice for 46 years till she officially retired and passed the reins to her daughter Jeanne. Even today, Pauline is recognised as a force that helped shape America's moral conscience for over four decades.
Recommended Lists:
Recommended Lists:
Continue Reading Below
Childhood & Early Life
Pauline Phillips was born Pauline Esther Friedman on July 4, 1918, in Sioux City, Iowa. Her parents, Rebecca Rushall and Abraham B. Friedman, were Russian immigrants who came to the USA in 1908. Her mother was a homemaker and her father was the proprietor of a movie theatre.

Pauline had three siblings—all sisters—and she was the youngest of them. Her identical twin, Esther was older by 17 minutes. Her elder siblings were Helen and Dorothy.

Both Esther and Pauline credit their parents with having a strong influence on their careers. Pauline attributed her ability to listen and help other people to her mother and her sense of humour to her father.

She attended Central High School and Morningside College in Sioux City, Iowa. Her subjects of interest were journalism and psychology. At Morningside, she and Esther, known as the "Friedman twins", wrote for the "Collegian Reporter", the school's newspaper.

Continue Reading Below

Recommended Lists:

Recommended Lists:

Career

Pauline Phillips began her career in 1955 as advice columnist for 'The Chicago Times'. She used to give responses to the readers for the "Ask Landers" column, which was handled by her twin sister Esther.

Soon Puline was able to carve an identity for herself when in 1956 she started working as advice columnist for the 'San Francisco Chronicle'. There is an interesting story behind how she got hired. She wrote a letter to editor Stanleigh "Auk" Arnold stating she could write a better column than what was being published currently. He sent her a few letters in need of answers and she replied within an hour and a half. Auk described her writing as 'fabulous' and hired her the very same day.

Pauline's column called "Dear Abby", debuted, in the San Francisco Chronicle on January 9, 1956 and became an instant hit. Her personal touch and quirky one-liners in replies were highly popular with readers. Everything from family issues to lovesickness to health was covered by her column. Her readership included people from all walks, faiths, and statuses. Thus, she and her sister initially received over 9000 letters in a single week for advice.

Many letters, covering topics considered sensitive or taboo for that time, such as, divorce, homosexuality, sexual abhorrence, pro-choice, and domestic violence were not published, but she took it upon her to respond to them personally. She would even call the reader and give advice if she felt they were suicidal or hopeless.

Some of the letters required a thorough research and in order to reply to them Pauline used to consult experts in fields like medicine and law. Once she visited a Gamblers Anonymous meeting in New Jersey and another time, a Masters and Johnson clinic in St. Louis in disguise to properly understand the problem before she meted out advice.

Her incoming mail was so huge that she hired four full-time mail openers, six letter-answerers and a research assistant to help her. She received anywhere between 3000 to 25,000 letters per week.

Her professional feud with her sister never deterred her writing but the relationship was tense. In 1956, she offered her column to "Sioux City Journal" at a reduced price as long as they would not run "Ann Landers". The sisters reconciled in 1964 but speculations of acrimony between them continued.

Continue Reading Below

In 1987, she brought aboard her daughter, Jeanne, to co-write her column. She retired in 2002 at the onset of her Alzheimer's.

Major Works

Apart from her column, Pauline Phillips hosted a radio adaptation of "Dear Abby" called "The Dear Abby Show" on CBS Radio. It was just as successful as her writings and ran from 1963 to 1975.

She authored many books that included the choicest advice from her columns. Many went on to become best-sellers such as 'Dear Abby' (1958) and 'The Best of Dear Abby' (1981).

Awards & Achievements

Within two years of writing her column, she became "the most widely read and most quoted woman in the world". Her column was published in over 1000 newspapers in the world with a readership of over 110 million.

Her radio show "Dear Abby" was commemorated with a star on the Hollywood Walk of Fame in Los Angeles. It is located at 7002, Hollywood Boulevard and was unveiled on February 14, 2001.

Continue Reading Below

Personal Life & Legacy

Pauline married Morton Phillips, on July 2, 1939, in a double-wedding that included her sister Esther's nuptials with Jules Lederer. They were two days short of their 22nd birthday. She had met Morton, a salesman, at a dance at the University of Minnesota.

They had two children, Edward Jay Phillips and Jeanne Phillips. She prioritized her family before everything else and believed in the permanence of marriage despite odds. Edward died in 2011 at the age of 66. Jeanne continued her mother's legacy by contributing to her advice column.

Even after her retirement, she continued to volunteer at old age homes, the American Society for AIDS Research (AmFar), and the Jewish National Fund.

For the last 11 years of her life, Phillips was plagued with Alzheimer's disease. She passed away on January 16, 2013, at the age of 94. She left behind her husband, daughter, 4 grandchildren, 2 great-grandchildren, and a proud legacy.

Trivia

Her daughter, Jeanne, co-wrote the column until Phillips' retirement. From 2002, Jeanne took over the writing responsibilities but continued to do so under her mother's pen name. Jeanne also owns the legal rights to the pen name.

She was called "Popo", a shortened form of Pauline. Her pen name, Abigail Van Buren, comes from "Abigail"—the Old Testament prophetess from the 'Book of Samuel'—and the last name "Van Buren" is named after the president, Martin Van Buren.

The feud between her and her twin sister was chronicled by Life Magazine as the "most feverish female feud since Elizabeth sent Mary Queen of Scots to the chopping block."

Translate Wiki

to Spanish, French, Hindi, Portuguese

Article Title

- Pauline Phillips Biography

Author

- Editors, TheFamousPeople.com

Website

- TheFamousPeople.com

URL

-

https://www.thefamouspeople.com/profiles/abigail-van-buren-4054.php

Last Updated

- November 13, 2017

---

---

---