Abel Ferrara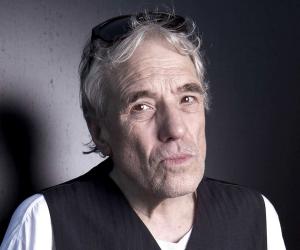 Quick Facts
Nationality: American
Famous: Actors American Men
Age: 67 Years, 67 Year Old Males
Sun Sign: Cancer
Also Known As: Jimmy Laine,
Born in: The Bronx
Famous as: Director, Screenwriter and Actor
Family:
Spouse/Ex-: Christina Ferrara, Nancy Ferrara
religion: Catholic
City: New York City
U.S. State: New Yorkers
Net worth: $275 million as of June 7, 2017
More Facts
awards: Gotham Independent Film Tribute Award
Continue Reading Below
Abel Ferrara is an American filmmaker best known for films like 'King of New York', 'Bad Lieutenant' and 'The Funeral'. A multifaceted man, he is also a screenwriter, director, producer, actor, and cinematographer. His films are characterized by the distinct use of neo-noir imagery, extreme physical and emotional violence, and religious themes reflecting the Catholic faith he was raised in. Interested in films from a young age, he attended the film conservatory at the State University of New York to hone his professional skills. He struggled to establish himself during his early career and even made pornographic movies to rake in some money. In the beginning, he directed and also acted in his films, often portraying deranged characters like killers and rapists. Even though the controversial content of his movies shocked the viewers, it also helped to him gain visibility in the film industry. Eventually he started getting noticed for his dark themed and violent movies which garnered a cult following. As someone who hates his work to be regulated by external parties, he prefers to make most of his films independently though he sometimes collaborates with well-known film studios. In addition to feature films, he also makes short films, documentaries, and television movies.
Recommended Lists:
Recommended Lists:
Continue Reading Below
Childhood & Early Life
Abel Ferrara was born on July 19, 1951, in the Bronx, New York City. He is of Italian and Irish descent. Not much is known about his family, but it is known that he was raised Catholic.

He developed an early interest in films and attended the film conservatory at State University of New York to get professional training in the field. Soon after completing his studies he started making short films. Many of these were collected and compiled into the Short Films of Abel Ferrara collection.

Recommended Lists:

Recommended Lists:

Career

Despite being talented and passionate about filmmaking, Abel Ferrara's initial years in the field were a struggle. Desperate to make some money when he was unemployed, he directed a pornographic film titled '9 Lives of a Wet Pussy Cat' in 1976. He also featured in it as an actor, under the pseudonym Jimmy Boy L.

In 1979, he directed and starred in a black comedy horror film 'The Driller Killer.' It was a slasher thriller about a struggling artist who turns insane from stress and goes on a killing spree. The movie was extremely violent and bloody.

His next film, released in 1981, was an even darker one, revolving around the theme of "rape revenge." The movie 'Ms. 45', also known as 'Angel of Vengeance', told the story of a mute woman who becomes a spree killer after being raped twice in one day.

While the dark themes of his movies shocked the conservative cinema audience, it also gained him popularity. Following the release of 'Ms. 45', Abel Ferrara was hired to direct another thriller 'Fear City' (1984) which featured Billy Dee Williams and Tom Berenger in the lead roles. Like his other films, this too was about a deranged murderer.

He remained active throughout the remainder of the 1980s, making crime thrillers and mafia movies. Some of his movies from this era are 'China Girl' (1987), 'The Gladiator' (1987) and 'Cat Chaser' (1989).

He ushered in the 1990s with 'King of New York' (1990), starring Christopher Walken as gangster Frank White. His next venture was the much acclaimed Bad Lieutenant (1992) which starred Harvey Keitel in the titular role.

Even though Abel Ferrara preferred making movies independently, he sometimes collaborated with major Hollywood film studios. He directed 'Body Snatchers' (1993) for Warner Bros. and 'Dangerous Game' (1993) starring Keitel and Madonna, for MGM.

Continue Reading Below

Returning to independent filmmaking in the mid-1990s, he directed 'The Addiction' in 1995 and 'The Funeral' the following year. Both these movies were well-received.

In 1997, he directed the drama film 'The Blackout' which starred Matthew Modine in the lead role. It was screened out of competition at the 1997 Cannes Film Festival. The following year he co-wrote and directed a cyberpunk drama film 'New Rose Hotel' starring Christopher Walken, Willem Dafoe and Asia Argento. It was based on William Gibson's story of the same name.

After making a few more dark and religious themed films in the early 2000s, Abel Ferrara tried his hands at comedy with 'Go Go Tales' (2007) starring Willem Dafoe as a strip club owner and Bob Hoskins as a baron. Ferrara described the film as his "first intentional comedy."

In 2009, he directed a documentary film 'Napoli, Napoli, Napoli' about the problems in early 21st century Naples. The next year he directed another documentary 'Mulberry St.' and a short film segment '42 One Dream Rush.'

He wrote and directed '4:44 Last Day on Earth', an apocalyptic drama which featured his regular collaborator Willem Dafoe, Shanyn Leigh, and Natasha Lyonne.

One of Abel Ferrara's most popular recent films is 'Pasolini' (2014). The drama film is about the final days of Italian film director Pier Paolo Pasolini. It was screened in the Special Presentations section of the 2014 Toronto International Film Festival. This film is very close to Ferrara's heart as he cites Pasolini as a major influence on his own directorial career.

Major Works

His 1992 neo-noir crime drama film 'Bad Lieutenant' is one of his best known ones. The movie had Harvey Keitel in the title role as a drug-addicted lieutenant who sexually molests young women. The film also featured a controversial rape scenario. Despite its provocative content—or maybe because of it—the movie earned a cult status.

Continue Reading Below

Another one of his well-known films is 'The Funeral' (1996). Starring Christopher Walken, Chris Penn, and Annabella Sciorra in leading roles, the story is about the funeral of one of three brothers in a family of gangsters. Like his other films, this one too contains extreme bloodshed and violence.

*Ferrara explored the themes of feminism and trinity in the 2005 drama thriller film 'Mary' which he wrote and directed. The film premiered at the 2005 Venice Film Festival where it won the Special Jury Prize. It also played at the 2005 Toronto International Film Festival, Deauville Film Festival and San Sebastián International Film Festival.

Awards & Achievements

Abel Ferrara was nominated for a Spirit Award for the movie 'Bad Lieutenant' (1992).

His drama thriller film 'Mary' won the Special Jury Prize at the 2005 Venice Film Festival.

He won Time-Machine Honorary Award in the Siges-Catalonian International Film Festival in 2008.

Je was honored with the Leopard of Honor in 2011 in the Locarno International Film Festival.

Personal Life & Legacy

Abel Ferrara's first marriage was to Nancy Ferrara. He is presently married to Christina. He has three children, two of them adopted.

Even though he was raised a Catholic, he converted to Buddhism in 2007.

Translate Wiki

to Spanish, French, Hindi, Portuguese

Article Title

- Abel Ferrara Biography

Author

- Editors, TheFamousPeople.com

Website

- TheFamousPeople.com

URL

-

https://www.thefamouspeople.com/profiles/abel-ferrara-579.php

Last Updated

- February 13, 2017

---

---

---