Aaron Stanford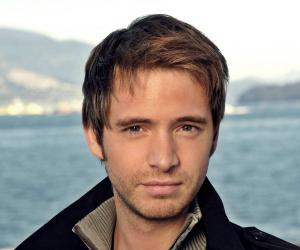 Continue Reading Below
Aaron Stanford, also popularly known as a 'X-Men' actor, is an American actor, best known for his roles as Pyro, (a fictional super villain) in the movies 'X2' and 'X: Men: The Last Stand.' He is also known for his role as Doug in the 2006 remake of 'The Hills Have Eyes.' For his intense acting and incredible performances, he is regarded by many as one of the most talented actors in the present generation. After receiving much critical acclaim for his performance in his first film 'Tadpole' (released in 2002) where he was cast opposite Bebe Neuwirth and Sigourney Weaver, there has been no looking back for him. After his amazing performance in that movie, he has worked in other popular movies like 'Live Free or Die', a comedy film where he plays the role of an aspiring criminal and his misadventures, and 'Rick', a movie which was based on 'Rigoletto', an opera by Giuseppe Verdi. Currently, Aaron appears in an American science fiction TV Series known as '12 Monkeys', which is based on a 1995 film of the same name and directed by American-born British film director Terry Gilliam. This TV series, which takes place in the year 2043, and is considered one of the most popular science fiction TV series in America, premiered on January 16, 2015.
Recommended Lists:
Recommended Lists:
Continue Reading Below
Childhood & Early Life
Aaron Stanford was born on 27 December 1976, in Westford, Massachusetts, in the United States. His father Don Stanford is a publishing executive while his mother Judith is an English professor.

He attended Westford Academy in Westford, Massachusetts, where he developed an interest in acting, having met his first acting teacher. After high school he attended the State University of New York, but he didn't continue there for a long time. He transferred to Rutgers University Mason Gross School of Arts, in New Jersey, from where he graduated in 2000.

Recommended Lists:

Recommended Lists:

Career

In 2002, Aaron Stanford acted in his debut film 'Tadpole', a romantic comedy directed by Gary Winick. He played the lead role of Oscar Grubman, a smart 15-year-old boy, with a crush on his stepmother. His performance in the movie was regarded as excellent, and it earned him a nomination for the Golden Satellite Award.

After the success of his first film, he was flooded with offers. The next major roles he played included Pyro in 'X2', Duke in 'Rick', and Gabe Winters in 'Winter Solstice.'

Because of his amazing performances, in 2006 he was part of the trilogy of the X-Men series. In 'X-Men: The Last Stand', in which he to played the role of Pyro, a mutant with the ability to manipulate fire.

Meanwhile, he also continued to act in American television. He acted in several TV series such as 'Traveler' a thriller series, where he played Will Traveler. However, the show was officially cancelled later for several reasons.

Other popular television series he worked in include 'Law & Order: Criminal Intent' where he plays a character named Josh Snow, and 'Nikita', a thriller TV series, where Stanford plays the role of Seymon Birkhoff.

He also worked in a video game 'Call of Duty: World at War', providing the voice-over for one of the characters.

Major Works

Aaron Stanford's debut film 'Tadpole' is undoubtedly one of the most significant films in his career. The romantic comedy which was directed by Gary Winick and written by Heather McGowan and Niels Mueller, had Stanford playing the role of Oscar Grubman, a smart fifteen-year-old boy, who is much mature for his age. However, he finds girls of his age immature and inexperienced with life, and ends up having a liking for his stepmother Eve. The comedy is mostly about Oscar's obsession for her, though she doesn't accept any of his advances. In the end, Oscar realizes that his obsession was not as important as it seemed. The film, which received mostly positive reviews, earned over 3 million dollars worldwide. For his incredible acting skills, Aaron also received nomination for the Golden Satellite Award.

Continue Reading Below

X2' also known as 'X-Men 2' was another one of the significant films of Aaron's career, where he played the role of a mutant "Pyro." The film, which released in 2003, is an American superhero film based on the X-Men superhero team which initially appeared in Marvel Comics. This film, which is the second installment of the X-Men trilogy, was directed by Bryan Singer, and written by Michael Dougherty, Dan Harris and David Hayter. The film is mostly about an assault on the well-guarded mansion of the mutants, which was planned by a top military commander. It is left up to the X-Men team to destroy the growing mistrust of mutants in society, as well as to save the President's life, from a rogue mutant assassin. The film, which is regarded as one of the best-superhero movies, earned around 85 million dollars in its first few days alone.

Because of his performance, Aaron Stanford was also offered the role in the final installment of the X-Men series: 'X-Men: The Last Stand.' This film, which also earned several awards, made around 459 million dollars worldwide, becoming the seventh-highest grossing film of 2006. Stanford reprised the role of Pyro, the mutant who can manipulate fire. However, in the film, as stated by Stanford himself, his character doesn't have to do much other than stand and throw fire at people.

Stanford acted in 'How I Got Lost', an American film released in 2009, which was directed by Joe Leonard. He played the role of a banker who was deeply affected by 9/11 attacks. The film mostly explored the attacks of September 11, 2001, and the Northeast Blackout of 2003, both considered transformative events of New York City. This film earned Stanford the 'NY Emerging Talent' Award.

Awards & Achievements

His portrayal of the character of Gabe Winter in 'Winter Solistice' won Stanford the 'Rising Star of Tomorrow' Award at 2004 Hamptons Film Festival.

For his immense talent, Stanford was honored with the 'One To Watch' award at the 2006 Young Hollywood Awards.

Personal Life & Legacy

Aaron Stanford is a bachelor, and he currently resides in Los Angeles, in the United States. He has an elder brother, David Stanford, who is a well-known composer.