Wil Wheaton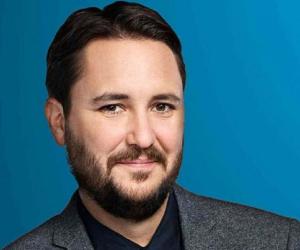 Quick Facts
Nationality: American
Famous: Actors Voice Actors
Age: 47 Years, 47 Year Old Males
Sun Sign: Leo
Also Known As: Richard William Wheaton III
Born in: Burbank, California
Famous as: Actor
Height: 5'11" (180 cm), 5'11" Males
Family:
Spouse/Ex-: Anne Prince (m. 1999)
father: Richard William Wheaton, Jr.
mother: Debbie Wheaton
children: Nolan Wheaton, Ryan Wheaton
U.S. State: California
City: Los Angeles
More Facts
education: University of California, Los Angeles
Continue Reading Below
Richard William Wheaton III, better known as Wil Wheaton, is an American actor, voice artist, as well as a writer. The versatile actor is popularly known among the television audiences for portraying the character of 'Wesley Crusher' in 'Star Trek: The Next Generation', an American science-fiction television series in the Star Trek franchise created by Gene Roddenberry. In his lengthy acting career, Wil has appeared in over 35 television shows, mostly as a guest or in special appearances. He has also acted in several hit shows including 'Leverage', 'Eureka', and 'Powers'. Wheaton has worked in more than forty films (including short films and TV-films) with some of his popular works being 'Stand by Me', 'Toy Soldiers', 'Flubber' and 'The Day Lincoln Was Shot'. A well-known name in the animation industry, Wil has worked in several animation shows and has given voice to numerous popular animated characters over the years. His works in the animation industry include 'The Legend of Prince Valiant', 'Teen Titans', 'Avatar: The Last Airbender', 'Ben 10: Alien Force', 'Naruto', 'Ben 10: Ultimate Alien', 'Redakai', and 'Ben 10: Omniverse'. He has also been a part of many popular video games like 'Grand Theft Auto: San Andreas', 'Tom Clancy's Ghost Recon 2', 'Tom Clancy's Ghost Recon Advanced Warfighter 2', 'Ben 10 Alien Force: Vilgax Attacks', 'Grand Theft Auto V', and 'Code Name: S.T.E.A.M.', providing voice to several characters.
Recommended Lists:
Recommended Lists:
Continue Reading Below
Childhood & Early Life
Richard William Wheaton III was born in Burbank, California, on July 29, 1972 to Richard William Wheaton, a medical specialist by profession, and actress Debra Nordean. He has two siblings, a brother Jeremy and a sister Amy; the latter also acted alongside him in the 1987 film 'The Curse'.

Wil started his acting career at the tender age of seven with several appearances in commercials of big brands. He made an appearance alongside comedian Bill Cosby in a commercial of 'Jell-O Pudding Pops'. After the early popularity of these commercials, Wil started to get better opportunities in the show business.

Recommended Lists:

Recommended Lists:

Acting Career

Wil Wheaton made his acting debut in 1981 on television with a role in a television film titled 'A Long Way Home', in which he played the character of 'Donald Branch'. A year later, he appeared as 'Amos Cotter' in the American anthology series for teenagers, 'CBS Afternoon Playhouse'.

In the ensuing years, Wil made appearances in several films and television shows including '13 Thirteenth Avenue' as 'Willie', 'The Last Starfighter', 'The Buddy System' as 'Tim', 'Highway to Heaven' as 'Max', 'St. Elsewhere', 'Disneyland' as 'Ehrich Weiss / Harry Houdini', and 'Family Ties' as 'Timothy Higgins'.

In 1987, Wil was signed for the role of 'Wesley Crusher' in 'Star Trek: The Next Generation', an American science-fiction television series in the Star Trek franchise created by Gene Roddenberry. The series also had actors like Brent Spiner, Patrick Stewart, LeVar Burton, Jonathan Frakes, Denise Crosby, Gates McFadden, and Marina Sirtis alongside him. He played one of the lead characters in the show between 1987 and 1994.

He played several important roles in the coming years, mostly in films. He also played a couple of significant roles on television apart from making numerous guest appearances in other shows. In 1991, he appeared in the American action drama film 'Toy Soldiers', directed by Daniel Petrie Jr., which starred Sean Astin, Louis Gossett Jr., Mason Adams, Andrew Divoff, and Denholm Elliott alongside him.

In the late 1990s and the 2000s, he appeared in several films including 'The Liars' Club', 'Pie in the Sky', 'Flubber', 'Fag Hag', 'Jane White Is Sick & Twisted', 'Neverland', and 'Americanizing Shelley'.

He also worked in several important independent films and television films like 'It Was Him or Us', 'The Day Lincoln Was Shot', 'Book of Days', 'Four Fingers of the Dragon', and 'Loki and SageKing Go to GenCon', besides making guest appearances in various television shows like 'Guys Like Us', 'CSI: Crime Scene Investigation', 'Numb3rs', 'Criminal Minds', and 'The Big Bang Theory'.

Recommended Lists:

Recommended Lists:

Career as Voice Artist

An avid follower of animation, Wil Wheaton has been working in the animation industry since the early 1980s. He has given voice to several popular animated characters, both in animated films and TV series. His popular works in animation include 'The Legend of Prince Valiant' (Prince Michael / King Michae), 'Teen Titans' (Aqualad), 'Legion of Super-Heroes', 'Ben 10: Alien Force' (Mike Morningstar / Darkstar), 'Naruto' (Menma), 'Ben 10: Ultimate Alien', 'Redakai', and 'Ben 10: Omniverse'.

Continue Reading Below

He is well known for his passion for video games and this led to him voicing characters in some of the most popular video games. Between 2004 and 2015, he voiced different characters in video games like 'Grand Theft Auto: San Andreas' (Richard Burns), 'Tom Clancy's Ghost Recon 2', 'Tom Clancy's Rainbow Six: Lockdown', 'Tom Clancy's Ghost Recon Advanced Warfighter', 'Tom Clancy's Ghost Recon Advanced Warfighter 2', 'Grand Theft Auto: Liberty City Stories', 'Grand Theft Auto: Vice City Stories', 'Grand Theft Auto V', and 'Code Name: S.T.E.A.M.'.

Major Works

Among Wil Wheaton's many roles on television, 'Wesley Crusher' from 'Star Trek: The Next Generation' is his best work till date. He played the character in the show between 1987 and 1994. He later reprised the recurring role in several movies and documentaries of the 'Star Trek' universe.

He is a well-known person in the independent film genre. He has worked in several such films, one of them being 'The Good Things' in 2001. The film was based on the struggle-filled life of a frustrated tollbooth worker named 'Zach Means'. The movie was chosen at the 2002 Deauville Film Festival for the Best Short Film.

Awards & Achievements

In 2002, Wil Wheaton won the Best Actor award at the Melbourne Underground Film Festival for his stellar performance in 'Jane White Is Sick & Twisted', a comedy film produced by The Asylum.

In 2014, he won the Best Hosted Series award at the International Academy of Web Television Awards.

Personal Life

Wil Wheaton married Anne Prince on November 7, 1999 and adopted one of her two sons from her previous relationship.

A long-time fan and follower of the Los Angeles Kings ice hockey team, Wil attends their games regularly at the Staples Center.

He previously faced anger issues and lives with 'generalized anxiety disorder' as well as 'chronic depression'.

Trivia

Wil is a die-hard fan of Los Angeles Dodgers.

He was Chris Hardwick's roommate at UCLA.

He supports organizations fighting mental health problems.

He has an asteroid named after him, '391257 Wilwheaton'.

1. Stand by Me (1986)

(Drama, Adventure)

2. Star Trek (2009)

(Sci-Fi, Action, Adventure)

---

3. The Last Starfighter (1984)

(Adventure, Sci-Fi, Action)

4. Toy Soldiers (1991)

(Action, Drama, Thriller)

---

---

5. Star Trek: Nemesis (2002)

(Thriller, Action, Sci-Fi, Adventure)

6. The Buddy System (1984)

(Drama, Romance, Comedy)

---

---

---

7. Hambone and Hillie (1983)

(Drama, Comedy)

8. She's Having a Baby (1988)

(Drama, Comedy, Romance)

---

---

---

---

Translate Wiki

to Spanish, French, Hindi, Portuguese

Article Title

- Wil Wheaton Biography

Author

- Editors, TheFamousPeople.com

Website

- TheFamousPeople.com

URL

-

https://www.thefamouspeople.com/profiles/wil-wheaton-30738.php

Last Updated

- March 05, 2018

---

---

---