W. S. Van Dyke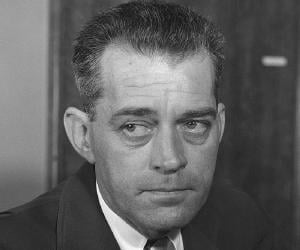 Quick Facts
Nationality: American
Famous: Directors American Men
Died At Age: 53
Sun Sign: Aries
Also Known As: Woodbridge Strong Van Dyke II
Born in: San Diego, California, U.S.
Famous as: Film Director
Family:
Spouse/Ex-: Ruth Mannix (m. 1935), Zelda Ashford (m. 1909; div. 1935)
mother: Laura Winston
Died on: February 5, 1943
place of death: Brentwood, Los Angeles, California, United States
U.S. State: California
City: San Diego, California
Cause of Death: Suicide
Continue Reading Below
W. S. Van Dyke was an American film director and writer best known for the films 'The Thin Man' and 'San Francisco' for which he received Academy Award nominations for Best Director. He was also famous for the series of musicals he made with Nelson Eddy and Jeanette MacDonald. A director known for his adherence to budget and commitment to schedule, he was as much respected for his craft as he was for his reliability. The son of an actress mother, he lost his father the day he was born. His mother worked as a touring vaudeville actress to support herself and her son. Familiarized to show business at an early age, he began appearing on stage as a toddler and appeared in a variety of roles in vaudeville and travelling stock companies as a young boy. He grew restless as a teenager and did a series of odd jobs before returning to theater. He soon ventured into Hollywood and realized that he was more interested in directing films. After working as an assistant director with D. W. Griffith and James Young, he made his directorial debut with 'The Land of Long Shadows.' He established himself as a versatile and reliable director over the years and directed several top-grossing and award winning films.
Recommended Lists:
Recommended Lists:
Continue Reading Below
Childhood & Early Life
Woodbridge Strong Van Dyke II was born on March 21, 1889, in San Diego, California. His father, a Superior Court judge, died the same day. His mother, Laura Winston, was an actress, who worked with a touring vaudeville to earn a living.

Exposed to show business at an early age, he began appearing on the stage by the time he was three. He toured along with his mother on the vaudeville circuit with traveling stock companies as a young boy and attended a variety of schools in different cities. He was also taught by his mother.

At the age of 14, he moved to Seattle to live with his grandmother. He attended business school and simultaneously did a number of part-time jobs, such as as janitor, waiter, salesman, and railroad attendant.

He drifted from one job to another as a young adult before returning to theater.

Recommended Lists:

Recommended Lists:

Career

In 1915, he ventured into Hollywood. By this time he had realized that his true interest was in directing and not acting. He began his career as an assistant director and worked with the likes of director D. W. Griffith and James Young during his initial career.

W. S. Van Dyke directed his first film 'The Land of Long Shadows' in 1917. A prolific director, he went on to direct five other films the same year which included 'Men of the Desert', 'Gift O' Gab', and 'Sadie Goes to Heaven.'

His career thrived over the next few years and the hard-working and talented young man was appointed by MGM Studios in 1926. He soon gained a name for himself owing to his versatility and ability to complete films on time and within budget.

In 1928, he directed the adventure romance 'White Shadows in the South Seas' starring Monte Blue and Raquel Torres. The film became the first MGM picture to be released with a pre-recorded soundtrack.

In 1931, he directed the ambitious adventure film 'Trader Horn' which had Harry Carey and Edwina Booth in starring roles. It was the first non-documentary film shot on location in Africa. The film crew faced many difficulties in completing the film but it proved to be a huge commercial success upon its release.

The prolific director made many other films during the 1930s including 'Tarzan the Ape Man' (1932), 'Manhattan Melodrama' (1934), 'The Thin Man' (1934), 'Naughty Marietta' (1935), 'Rose Marie' (1936), and 'Sweethearts' (1938).

Along with his professional skills, Van Dyke, was also known for his big heart. He often employed actors who were out-of-work and had fallen on hard times. He also often worked, uncredited, with other directors on their films that were in trouble. These qualities made him a much loved and respected figure in Hollywood.

Continue Reading Below

W.S. Van Dyke began suffering from health problems in the early 1940s. The last film he directed before his death was the poignant drama 'Journey for Margaret,' a story about two children orphaned in the war and the childless couple who wants to adopt them.

Major Works

One of his best known films is 'The Thin Man', a comedy-mystery film based on the novel of the same name by Dashiell Hammett. The story about a hard-drinking detective who solves a murder mystery released to extremely positive reviews and was a box office hit.

The musical-drama 'San Francisco' (1936) which was based on the devastating 1906 San Francisco earthquake was a highly acclaimed movie. The earthquake sequence is regarded as one of the best special-effects sequences ever filmed. The film was a huge commercial hit as well and was the top grossing movie of that year.

Awards & Achievements

He was nominated for the Academy Award for Best Director for 'The Thin Man' (1934) and 'San Francisco' (1936).

Van Dyke has a star on the Hollywood Walk of Fame at 6141 Hollywood Boulevard for his contribution to Motion Pictures.

Personal Life & Legacy

W. S. Van Dyke's first marriage was to Zelda Ashford from 1909 to 1935. He married Ruth Mannix after his divorce. The couple had three children.

He was diagnosed with cancer and a serious heart condition in the early 1940s. A staunch Christian Scientist, he refused to undergo any medical treatment for his diseases. His health deteriorated badly by 1943 and he committed suicide on February 5, 1943. He was 53.

Trivia

This prominent American film director was also known as "One-Take Woody."

Translate Wiki

to Spanish, French, Hindi, Portuguese

Article Title

- W. S. Van Dyke Biography

Author

- Editors, TheFamousPeople.com

Website

- TheFamousPeople.com

URL

-

https://www.thefamouspeople.com/profiles/w-s-van-dyke-7618.php

Last Updated

- October 26, 2017

---

---

---