Steve Vai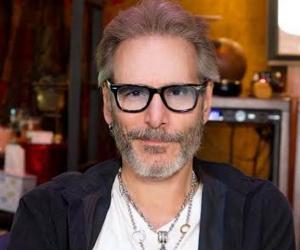 Quick Facts
Nationality: American
Famous: Quotes By Steve Vai Guitarists
Age: 59 Years, 59 Year Old Males
Sun Sign: Gemini
Also Known As: Steven Siro Vai
Born in: Carle Place, New York, United States
Famous as: Guitarist, Songwriter
Height: 6'0" (183 cm), 6'0" Males
Family:
Spouse/Ex-: Pia Maiocco (m. 1988)
father: John Vai
mother: Theresa Vai
siblings: Michael Vai
children: Fire Vai, Julian Angel Vai
U.S. State: New Yorkers
More Facts
education: Berklee College of Music
awards: 1983 - Grammy Awards for solo albums
1994 - Grammy Award for for his performance
Continue Reading Below
Steven Siro Vai is a three time Grammy Award winning guitarist and songwriter best known for his soulful music that explores the depth of human emotions. The guitar virtuoso's expertise in music is so vast that his music can never be categorized into any specific genre. His deep love for music motivates him to create unique sounds that are not just technically faultless but also appealing to the human emotions. Steve has never tried to imitate anyone nor does he aim to be better than any other musician—he only aims to give his best to music and create music that provides him artistic and spiritual fulfillment. His interest in music began early on in his childhood and he started receiving guitar lessons from the famed guitarist Joe Satriani as a teenager. He cites his major influences to be Jimi Hendrix, Jimmy Page, Brian May, and Jeff Beck. He sent a transcription of 'The Black Page', an instrumental for drums, to the legendary musician Frank Zappa. Impressed by the young man's talents, Zappa made him a member of his band. After working with Zappa for a couple of years, he left to pursue a solo career. His debut album 'Flex-Able' was a major hit and paved the way for a successful career as a musician.
Recommended Lists:
Recommended Lists:
Continue Reading Below
Childhood & Early Life
He was born on June 6, 1960, in Carle Place, New York as one of the five children to John and Theresa Vai.

He loved music from a young age and started playing the organ when he was barely six. By the time he was ten he was playing the accordion too. He picked up the guitar when he was 13. He was determined to play the instrument like Jimmy Page and therefore started taking lessons from the noted guitarist, Joe Satriani.

As a teenager he performed with several bands and also started coaching other aspiring musicians. He attended Berklee College of Music and recorded a promotional piece for them.

Continue Reading Below

Recommended Lists:

Recommended Lists:

Career

He made a transcription of Frank Zappa's 'The Black Page' and sent it to him along with a tape of his guitar recording. Zappa was impressed by the talented young man and hired him to transcribe his guitar solos in 1979.

Vai also did overdubs on many guitar parts on Zappa's album, 'You Are What You Is'. He was made a full fledged member of Zappa's band and toured with him in 1980.

He worked with Zappa for two years during which he toured extensively. Zappa referred to him as his "little Italian virtuoso". He was a featured artist on the recording, 'Zappa's Universe'.

He left Zappa in 1982 and moved to California. He released his debut solo album 'Flex-Able' in 1984. The album was greatly influenced by Zappa. It was a moderate success.

In 1985 he joined Billy Sheehan and David Lee Roth's band Eat'em and Smile. It featured Roth on vocals, Sheehan on bass and Vai on guitar, and Gregg Bissonette on drums. The group's debut album, 'Eat'em and Smile' was a big hit.

The group embarked on a world tour that began in May 1986 and continued through 1987. The tour was highly successful. The band, however, disbanded soon after due to creative differences between the members.

He joined the band Whitesnake in 1989. He played all the guitar parts in the album, 'Slip of the Tongue'. He also played for other bands at this time.

Continue Reading Below

His solo album, 'Passion and Warfare' was released in 1990. The album was critically appreciated and spawned the tracks 'For the Love of God', 'I Would Love To', and 'The Animal'.

In 1996, his album, 'Fire Garden' was released. The album was divided into two phases - one phase containing primarily instrumental music while the other one had vocals by Vai on most of the songs.

The 1999 album, 'The Ultra Zone' pays tribute to two legendary guitarists - Frank Zappa and Stevie Ray Vaughan. This album too, like its predecessor had one side full of instrumental music and another with vocals.

His concept album, 'Real Illusions: Reflections' was out in 2005. It had the tracks 'Lotus Feet', 'Dying for Your Love', and 'Building the Church'.

His most recent album is 'The Story of Light' which was released in 2012. This was his first full length album after 2005.

Recommended Lists:

Recommended Lists:

Major Works

His Gold-certified album, 'Passion and Warfare', contained his best known song, 'For the Love of God' which he had recorded after fasting for four days. The album was based on a series of dreams that Vai had when he was younger.

Recommended Lists:

Recommended Lists:

Awards & Achievements

He is the recipient of three Grammy Awards, the most recent one being for Best Rock Instrumental Performance for 'Peaches En Regalia' in 2008.

Personal Life & Legacy

He is married to Pia Maiocco, a bassist. They have two children

This famous guitarist is a beekeeper and sells his honey for his Make a Noise Foundation.

Translate Wiki

to Spanish, French, Hindi, Portuguese

Article Title

- Steve Vai Biography

Author

- Editors, TheFamousPeople.com

Website

- TheFamousPeople.com

URL

-

https://www.thefamouspeople.com/profiles/steve-vai-5159.php

Last Updated

- October 06, 2017

---

---

---