Jay-Z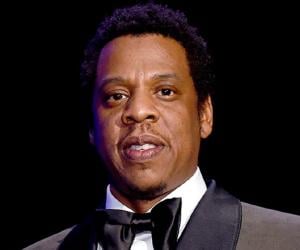 Quick Facts
Nick Name: JAZZY, HOVA, JIGGA
Birthday: December 4, 1969
Nationality: American
Famous: School Dropouts African Americans
Age: 49 Years, 49 Year Old Males
Sun Sign: Sagittarius
Also Known As: Shawn Corey Carter
Born in: Brooklyn, New York, U.S.
Famous as: Rapper
Height: 1.87 m
political ideology: Democratic
Personality: INTJ
U.S. State: New Yorkers
More Facts
education: Eli Whitney High School, George Westinghouse Career and Technical Education High School The Notorious B.I.G. and Busta Rhymes, and Trenton Central High School
Continue Reading Below
American rapper and entrepreneur, Shawn Corey Carter, better known by his stage name Jay-Z, is one of the biggest names in 'Rap' and in the genre of hip-hop. He is not only one of the most successful rappers but also a successful entrepreneur, who owns an entertainment company named 'Roc Nation'. His albums have approximately sold over 50 million copies globally and he has received a number of awards. Many of his albums have time and again charted popular countdowns including the famous 'Billboard 200'. His large catalog of music speaks volumes about his hard-work and ruthless, aspiring quality. As an entrepreneur, he owns the 40/40 Club, Def Jam Records, Roc Nation Sports, Roc-A-Fella and he is also a qualified NBA sports representative. Recently, Jay-Z was ranked as one of the most successful artists of the millennium and was also placed next to the likes of iconic rappers including 50 Cent, Nelly and Eminem. Most of his works reflect bits and pieces of his troubled, drug-ridden childhood. Despite coming from a very run-of-the-mill background, Jay-Z is a millionaire artist today and continues to mesmerize fans with his enchanting records. Work aside, he has been extremely reserved about his private life and also managed to keep his relationship with singer/actress Beyonce Knowles under wraps. He is currently married to her and the couple has a daughter.
Recommended Lists:
Recommended Lists:
Continue Reading Below
Childhood & Early Life
Shawn Corey Carter was born to Gloria Carter and Adnes Reeves, in Brooklyn, New York City. He is the last of the four children born to the couple. When he was only 11-years-old, his father abandoned the family and he was independently raised by his mother.

The family lived in the drug-infested 'Marcy Projects', where violence and gun-culture were also prevalent. It was in this sort of a neighborhood that he was also raised.

He soon became crack cocaine dealer and also imbibed the gun-culture that was so popular in his neighborhood at the time; so much so, that he shot his elder brother in the shoulder for pocketing his jewelery.

He studied at George Westinghouse Career and Technical Education High School, Eli Whitney High School and Trenton Central High School. Here, he was classmates with future performers, Busta Rhymes and The Notorious B.I.G.

His interest in music was sparked from very early on when he received a boom box for his birthday from his mother. He began free styling, scripting lyrics and tailed the music by many popular artists of the time.

In 1989, he joined the rapper, Jaz-O, who became his guru and taught him the basics of rapping. In order to pay homage to his mentor, he permanently changed his name to Jay-Z, since he was known as 'Jazzy' in his neighborhood.

Continue Reading Below

Recommended Lists:

Recommended Lists:

Career

Even though he remained unidentified for a small part of his early career, he soon rose to fame with his collaborations with Kareem Burke and Damon Dash. The trio then founded their own autonomous record label, 'Roc-A-Fella Records'.

He released his debut album, 'Reasonable Doubt' in 1996. Although it was not received well by the audience, it is widely considered one of the greatest albums of all time, featuring singles such as 'Can't Knock the Hustle' and 'Brooklyn's Finest'.

In 1998, he achieved even bigger success with the album, 'Vol.2… Hard Knock Life'. The title track of the album 'Hard Knock Life' is considered Jay-Z's most successful commercial single till date. This marked the advent of his fame and longevity in the world of music.

In 1999, he released, 'Vol.3… Life and Times of S. Carter', which once again proved to be a successful record. In the new millennium, he released 'The Dynasty: Roc La Familia', which was originally supposed to feature a number of artists but ended up featuring only Jay-Z. The same year, he founded the clothing line, 'Rocawear'.

From 2001 to 2005, he sold millions of copies of his famous records including 'The Blueprint', 'The Blueprint2: The Gift & the Curse' and 'The Black Album'.

During this time, he announced that he would be taking a break from the music industry. He also gave a performance at the Madison Square Garden and was named 'President' of the 'Def Jam Records'.

He also opened a chain of sports bars and lounges called '40/40 Club', which was named in accordance with baseball terminology.

Continue Reading Below

In 2005, he promoted New York's Power 105.1 annual concert, 'Powerhouse'. The following year, he returned with the album, 'Kingdom Come', one of the singles of which was leaked much before the release of the album causing much controversy.

In 2006, he took over the urban clothing brand, 'Rocawear', which he later sold to the Iconix Brand Group for a whopping $204 million.

He released his 10th album, 'American Gangster', selling one million copies in the United States alone, in 2007. The following year, he resigned from the position of 'President' of Def Jam Records.

Through 2008, he promoted a number of music festivals including the O2 Wireless Festival, the Hove Festival and the Roskilde Festival. The next year, he left Def Jam and signed a multi-million dollar pact with 'Live Nation', with whom he started his Roc Nation watermark; a montage and music publishing company.

On September 8, 2009, his album 'The Blueprint 3' was released and was featured in a number of popular music charts. The same year, he went on his album's tour.

In 2010, he collaborated with Rihanna, Bono and The Edge to release the track, 'Stranded' for the 'Hope for Haiti Now' fund-raiser. The same year, he printed a memoir titled, 'Decoded'.

In 2012, he collaborated with 'M.I.A' on their single, 'XXXO'.

Continue Reading Below

He released his studio album, 'Magna Carta Holy Grail' in July, 2013. Jay-Z also announced that he would be starting 'Roc Nation Sports', a sports agency sometime soon.

Recommended Lists:

Recommended Lists:

Major Works

In 1998, he released 'Vol. 2… Hard Knock Life', under Roc-A-Fella Records. This particular album catapulted him to superstardom status and was certified 5X Platinum by the RIAA. The album became so famous that it won a prestigious 'Grammy Award' for 'Best Rap Album' and also featured on the number one position on the Billboard 200. The singles in the album 'Can I Get A..' and 'Hard Knock Life' are considered two of his most successfully commercial singles till date. In the first week of its release, the album sold nearly 350,000 copies.

'The Blueprint', released in 2001, is one of his most successful albums and features the hit singles, 'Jigga That Nigga', 'Girls, Girls, Girls' and 'Song Cry'. In spite of coinciding with the September 11 attacks, the album went on to sell over 420,000 copies in the first week and once again, peaked at the number one position on the Billboard 200. The record is ranked at the no. 5 position on the 'Top 200 Albums of the 2000s' list by Pitchfork Media.

Recommended Lists:

Recommended Lists:

Awards & Achievements

In 1998, he won the Billboard Music Award for 'R&B Albums Artist of the Year'.

Throughout his musical career, Jay-Z has earned 51 Grammy Award nominations and has won 17 Grammy awards from 1999 to 2013. He has won six BET Awards from 2001 to 2012.

He won the American Music Awards for 'The Blueprint 3' for the category 'Favorite Rap/Hip Hop Album', in 2009.

Continue Reading Below

In 2009, Jay-Z and Beyonc� were ranked as Hollywood's top-earning couple by Time Magazine.

In 2010, he won the Nickelodeon Kids' Choice Awards for 'Favorite Male Singer'.

Personal Life & Legacy

He married singer/actress Beyonce Knowles in April 2008 in a hushed affair. Before he wed her, he collaborated with her on a number of singles and albums including, 'Crazy in Love', '03 Bonnie & Clyde', 'Deja vu' and 'That's How You Like It'.

The couple has a daughter, Blue Ivy Carter, who was born in 2012.

He has been engaged in a number of philanthropic activities. He vouchsafed nearly $1 million to the American Red Cross after Hurricane Katrina hit America.

Apart from his musical career and business ventures, he was also actively involved during the 2008 presidential campaign and is an avid supporter of Obama's administration.

Trivia

This famous American rapper and business kingpin owns nearly $4.5 million stocks of the Brooklyn Nets NBA team.

This renowned American rapper's daughter's cries were recorded at the end of the song, 'Glory', which was ascribed in the song. At just 2 days old, this rapper's baby became the youngest person ever to appear on a Billboard charted song.

| | | |
| --- | --- | --- |
| 2015 | Best R&B Performance | Winner |
| 2015 | Best R&B Song | Winner |
| 2014 | Best Rap/Sung Collaboration | Winner |
| 2013 | Best Rap/Sung Collaboration | Winner |
| 2013 | Best Rap Performance | Winner |
| 2013 | Best Rap Song | Winner |
| 2012 | Best Rap Performance | Winner |
| 2011 | Best Rap/Sung Collaboration | Winner |
| 2011 | Best Rap Performance by a Duo or Group | Winner |
| 2010 | Best Rap/Sung Collaboration | Winner |
| 2010 | Best Rap Solo Performance | Winner |
| 2010 | Best Rap Song | Winner |
| 2009 | Best Rap Performance by a Duo or Group | Winner |
| 2008 | Best Rap/Sung Collaboration | Winner |
| 2006 | Best Rap/Sung Collaboration | Winner |
| 2005 | Best Rap Solo Performance | Winner |
| 2004 | Best Rap/Sung Collaboration | Winner |
| 1999 | Best Rap Album | Winner |

| | | |
| --- | --- | --- |
| 2014 | Best Collaboration | Beyoncé Feat. Jay Z: Drunk in Love (2013) |
| 2004 | Best Rap Video | Jay-Z: 99 Problems (2004) |
| 1999 | Best Rap Video | Jay-Z Feat. Ja Rule & Amil: Can I Get A... (1999) |

Translate Wiki

to Spanish, French, Hindi, Portuguese

Article Title

- Jay-Z Biography

Author

- Editors, TheFamousPeople.com

Website

- TheFamousPeople.com

URL

-

https://www.thefamouspeople.com/profiles/shawn-corey-carter-1772.php

Last Updated

- April 05, 2018

---

---

---