Sergio Ramos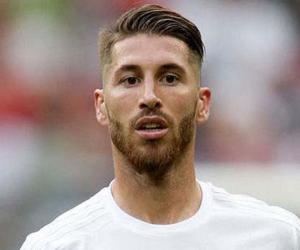 Quick Facts
Nationality: Spanish
Famous: Hispanic Soccer Players Football Players
Age: 32 Years, 32 Year Old Males
Sun Sign: Aries
Also Known As: Sergio Ramos García
Born in: Camas, Seville
Famous as: Footballer
Height: 1.84 m
Family:
Spouse/Ex-: Amaia Salamanca, Elisabeth Reyes, Pilar Rubio
father: Jose María Ramos
mother: Paqui Ramos
siblings: Mirian Ramos, Rene Ramos
children: Sergio Ramos Rubio
Continue Reading Below
Sergio Ramos is an ace Spanish footballer, who is also the captain of Spain's national football team and the Spanish club 'Real Madrid.' He is one of the strongest defenders in present-day football, although he also plays as a right back, from time to time. Born and raised in Andalusia, Spain, Sergio started his career as a player for a local club, 'Sevilla FC,' as a defender at the age of 14. He proved his mettle and was eventually promoted to the main squad of his club. His brilliant performances had him acquired by 'Real Madrid' in 2005. For the first few years after the transfer, he struggled to make a strong impression and his performances were mostly average. His performance peaked from 2009. Since he was a defender, his goal tally was not too high, but due to his defending skills, he became one of the four captains of 'Real Madrid' in the 2009–2010 season. In July 2011, his contract was extended till 2017, and in 2015, it was further extended till 2020.
Recommended Lists:
Recommended Lists:
Continue Reading Below
Childhood & Early Life
Sergio Ramos was born on March 30, 1986, in Camas, Seville, to José Maria Ramos and Paqui Ramos. Seville was popular for its bullfighting tradition. Every other child from the city dreamt about becoming a bullfighter. Sergio was no different. Although he loved playing football, he wanted to become a bullfighter.

He grew up with two siblings, a brother and a sister, and was soon talked out of a career in bullfighting by his parents, as it was a dangerous sport. His elder brother, Rene, who also happens to be his current manager, introduced Sergio to football, and Sergio was soon addicted to it.

His parents were happy with Sergio's choice and supported him by appointing a private trainer. As a child, Sergio had joined a football club named 'FC Camas,' which turned out to be a great learning experience for him. The club was where his real talents were revealed. He won many 'Man of the Match' awards and garnered some media attention too.

At the age of 14, he was acquired by the local club 'Sevilla FC,' which catered to young talented players. Sergio joined the club's youth program. Finally, in 2004, he was included in the main squad, and a bright and successful career awaited him.

Recommended Lists:

Recommended Lists:

Career

In the 2004–2005 season, he appeared in 41 games for his team 'Sevilla FC' and helped his team reach the sixth spot. This also meant he had qualified for the 'UEFA Cup,' in which he scored his first goal against 'CD Nacional.' His performance earned him immense accolades and made his entry into the major leagues certain.

In 2004, Sergio made a strong impact in the national 'Under-21' team, where he played six international matches. In March 2005, he made his international main squad debut in a friendly match against China, leading his team to victory. He also became the youngest player in 55 years to have earned a place in Spain's national team.

He has played in three 'World Cups' for Spain, in the years 2006, 2010, and 2014. He has also participated in three 'Euro Cups,' in 2008, 2012, and 2016. In his 149 matches for Spain, Sergio has scored 13 goals.

Soon, 'Real Madrid' eyed Sergio and bought him for a whopping 27 million Euros. The deal was finalized in March 2005. He scored his first goal in December that year, in a 'UEFA Championship League' group stage match. His team lost by a goal, but his performance was praised.

His first four seasons with 'Real Madrid' were not as great as he had expected them to be. He was mostly used as a defensive midfielder and a center back, the latter being his forté. He was soon promoted to the right back position, which increased his chances of scoring goals. While most defenders struggle very hard to score goals from their positions, Sergio had no such problem. People were highly impressed by this. He scored 20 goals in the first four seasons.

However, his aggressiveness on the field remained a cause of concern for the team management throughout the games. In the first season itself, he was shown four red cards, and in the subsequent three seasons, he was shown five more red cards. In August 2008, 'Real Madrid' faced a tragic time when they had only nine players on the field for a long time.

Sergio also faced a hard time during the early stages of the 2008–2009 season, but the team picked up its momentum soon. Apart from achieving the 21st spot in the 'European Player of the Year' nomination for 2008, he also made a place in the 'UEFA Team of the Year' and in the 'FIFA FIFPro World XI' team.

Continue Reading Below

'Real Madrid' faced a tiny bit of crisis in the 2009–2010 season, which helped Sergio become one of the four captains of the team. During the season, Sergio scored four goals in the 33 matches that he played in. He also touched the milestone of playing the 200th game of his career, in February 2010.

In November 2010, he was shown one of the most infamous red cards of his career after he kicked Lionel Messi from behind, in a game against 'FC Barcelona.' His aggressiveness created a lot of trouble for 'Real Madrid,' but it also helped the team in winning matches against stronger teams.

In 2011, his contract with 'Real Madrid' was extended till 2017. He maintained his momentum for the next few years and played a crucial role in his team attaining many crucial victories. During the 2012–2013 season, he captained his team in consecutive matches. His team defeated 'Barcelona' under his leadership.

In April 2014, Sergio scored two consecutive goals through headers in the semi-final match of the 'Champions League' against 'Bayern Munich.' This also led his team into the finals of the 'Champions League' for the first time in 12 years.

In 2015, his contract with 'Real Madrid' was extended for another five years. In December 2015, he led his team to a record 10–2 victory in a 'La Liga' match. 'Real Madrid' had not won a 'La Liga' match by such a huge margin in 55 years. The 2016–2017 season was the most successful season of his career, with him scoring ten goals.

Personal Life

Sergio Ramos met famous model, TV journalist, and presenter Pilar Rubio in 2012, and by September that year, the couple made their relationship official. The same year, the couple married. They have two sons, Sergio and Marco.

Before his relationship with Pilar, Sergio was known to be in multiple relationships. Some of his former girlfriends were Elisabeth Reyes, Carolina Martinez, Amaia Salamanca, and Lara Alvarez.

Sergio has maintained close ties with his family throughout his successful football career. His brother, Rene, has been working as Sergio's manager ever since Sergio started his career.

Sergio has been a great fan of bullfighting all his life. He has maintained a long-term friendship with matador Alejandro Talavante.

In his free time, Sergio likes to play the guitar. Sergio is, in his own words, a "romantic at heart."

Translate Wiki

to Spanish, French, Hindi, Portuguese

Article Title

- Sergio Ramos Biography

Author

- Editors, TheFamousPeople.com

Website

- TheFamousPeople.com

URL

-

https://www.thefamouspeople.com/profiles/sergio-ramos-13009.php

Last Updated

- March 07, 2018

---

---

---