Scotty Sire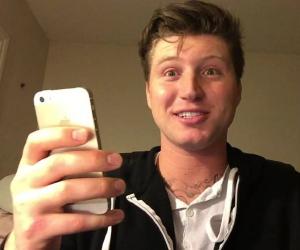 Quick Facts
Nick Name: Scotty
Nationality: American
Age: 26 Years, 26 Year Old Males
Sun Sign: Aries
Also Known As: Scott Glen Sire
Born in: Newport Beach, California
Famous as: YouTuber, Viner
Height: 1.83 m
Family:
mother: Crossen Sire
siblings: Davey
U.S. State: California
Continue Reading Below
Scotty Sire is an American YouTuber and Viner who became famous for his 6-second videos which he creates himself. He has also collaborated with other Vine stars who have their bases in California for creating these videos. These Vine stars include Gabrielle Hanah, Darius Benson and his former room-mate Gary Rojas. He has also got his mother to appear in some of the videos. He has acted in the films 'Summer Forever' (2915), 'The Pizza Guy' (2016) and 'FML' (2016). His videos are based on comedy and deal with the basic things in daily life which includes very common issues such as dating. He is famous for his honest approach to various everyday occurrences. By December 2014 he had amassed more than 1.5 million followers. By May 2015 this number had swelled to more than 2 million followers on his channel. As of October 2016, he had 3.4 million followers.
Recommended Lists:
Recommended Lists:
Continue Reading Below
The Meteoric Rise to Stardom
Scotty Sire started his career as a worker in the construction company that belonged to his father. Soon he left this job to become a bartender. As a bartender he came to know a large number of people. Being an avid fan of anime films he was already familiar with the internet. He wanted to make his feelings about everyday life and the incidents that took place daily be known to others. He opened an account on the Vine channel and started posting funny 6-second videos about his opinions of his daily experiences. These videos became an instant hit with the general public and soon he was able to garner the support of a huge number of followers. He also started posting pictures on Instagram which made him highly popular with a large number of people.

Recommended Lists:

Recommended Lists:

Continue Reading Below

What Makes Scotty So Special

Scotty Sire is one of the most hilarious persons to be seen on the social media! The main reason for his huge popularity is that he attempts to analyze many things happening in daily life in an honest and straightforward way. His approach to the problems is very comical and his sense of humor has helped him to relate with many of his followers and fans. For example, every youngster gets involved in dating at some time or other. Scotty has analyzed the problems related to dating in his own humorous and comical way and his opinion of these problems are supported and shared by a large number of his followers.

Recommended Lists:

Recommended Lists:

Beyond Fame

Very little is known about the childhood and the early life of Scotty Sire as he has kept his past life successfully under wraps. The only things that are known about his life prior to stardom are that he was a construction worker and then a bartender. Nobody knows where he did his early schooling from or whether he had graduated from any school or college. He was constantly rumored as being gay or bi-sexual during the period he lived in Los Angeles with his friend Gary Rojas. These rumors have never been confirmed and were finally laid to rest when Scotty disclosed the name of his girlfriend at last. Though he has made quite a few videos with his girlfriend Kristen McAtee earlier, people only came to know about their relationship much later. He has never been married and does not seem to have any plans of getting married in the near future. He plans to continue creating his videos and entertain his followers.

Behind The Curtains

Scotty Sire was born in Newport, California. His mother Crossen is Lebanese. His father works in a construction company. He has a younger brother named Davey. He was extremely shy and very self-conscious when he was a young kid. He started working in his father's construction company when he was quite young. He left this job and became a bartender. Currently, he is continuing with his bartending job on a part time basis. He is an avid anime fan who watches his favorite episodes on the internet. He uses Vine to upload his videos while still working as a part-time bartender. He had met Alexandria or Allicattt, as she is known on Vine, in 2014, and had dated her for some time. At one point of time he came to live with Gary Rojas in Los Angeles but after staying there for six months he went back to Newport as he did not like the environment at Los Angeles. Even after going back to his home town he never stopped creating videos and uploading them on his channel. He has continued to grow more and more popular with each passing day.

Trivia

He got his first tattoo done when he was 18 years old.

Last Updated : March 07, 2018

Translate Wiki

to Spanish, French, Hindi, Portuguese

---

---

---

Scotty Sire Fans Also Viewed