Sally Field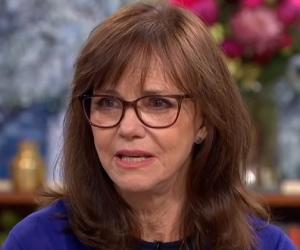 Quick Facts
Birthday: November 6, 1946
Nationality: American
Famous: Quotes By Sally Field Actresses
Age: 72 Years, 72 Year Old Females
Sun Sign: Scorpio
Also Known As: Sally Margaret Field
Born in: Pasadena
Famous as: American actress
Height: 1.59 m
Family:
Spouse/Ex-: Alan Greisman (m. 1984–1993)Steven Craig
father: Richard Dryden Field
mother: Margaret Field
children: Eli Craig, Peter Craig, Samuel Greisman
Personality: ESFJ
U.S. State: California
Net worth: $55 million
More Facts
education: Portola Middle School, Birmingham High School
Continue Reading Below
Sally Field is an actress who is most remembered for her dramatic roles in both films and television. In her childhood and teenage years, she had to endure psychological and verbal abuse from her stepfather. She found her relief by getting involved in extracurricular activities at school, including drama. Aged 21, she was offered a leading role in the TV series 'The Flying Nun', a sitcom with a slightly far-fetched concept. To anyone her age, starring in a TV show would have been enough, but not for Field, who craved for roles with substance, displaying a maturity that belied her age. Twice in her career, Field made conscious efforts to break free of her typecast roles and succeeded in bagging exactly the kind of roles that she sought. Her career has been adorned with all kinds of awards and honours. In an industry where winning one 'Oscar Award' is considered the pinnacle of one's career, she won two of them, that too in the highly competitive category of 'Best Actress in a Leading Role'. In television too, she has made her mark with award-winning performances in shows like 'ER' and 'Brothers & Sisters'. Till today, Field continues to captivate audiences, and mesmerize everyone with her gripping performances.
Recommended Lists:
Recommended Lists:
Continue Reading Below
Childhood & Early Life
Sally Field was born to Richard Dryden Field, an Army officer and Margaret Field, an actress in Pasadena, California.

Sally's parents had a turbulent relationship, which affected Sally psychologically. Their marriage eventually ended in divorce in 1950. Her mother got married to Hollywood stuntman Jack Mahoney, who was a strict father to Sally.

She studied at 'Portola Middle School' and later 'Birmingham High School' in Van Nuys, where she was involved in extracurricular activities, which included drama and cheerleading.

Continue Reading Below

Recommended Lists:

Recommended Lists:

Career

After finishing high school, and encouraged by her stepfather to pursue acting, Field enrolled in an acting workshop at 'Columbia Studios'. There, she was invited by a casting agent to audition for the lead role in a TV series called 'Gidget'.

In the rigorous auditions, after many trials, Field was chosen from among 75 applicants and hence got her first break in television.

'Gidget' ran only for just one season before being cancelled, but Field became popular with the viewers, especially teenagers and when the show was broadcasted again, it received surprisingly good viewership.

1967 was an eventful year for Field. That year, she began acting in a new TV series (The Flying Nun), had her first major film released (The Way West) and also ventured into singing with two tracks, the theme song of 'The Flying Nun' and 'Felicidad'.

Although 'The Flying Nun' was slammed by critics, it was a big success with the viewers. Field herself was unhappy because she feared that the role would typecast her as a comic actress, while she wanted more serious roles.

From 1970 to 1974, she appeared in a couple of Television movies, one of which was the suspense thriller 'Home for the Holidays'. She featured in a few TV shows as well, which included the sitcom 'The Girl with Something Extra', which ran for a season.

1976 was a ground-breaking year for her as she starred in the miniseries 'Sybil', where she played a student having multiple-personality disorder, a role for which she received much acclaim. The same year, she acted in the film 'Stay Hungry', also starring famous actor Jeff Bridges.

Continue Reading Below

'Sybil' helped to change her on-screen image and led to better roles in the following years, notably box-office hits such as 'Smokey and the Bandit' and its sequel, 'The End', 'Hooper' and an Oscar-winning role in 'Norma Rae', which helped to establish her credentials as a dramatic actress.

From 1981 to 1990, Field acted only in films and continued to experiment with different kinds of roles, working with many fine actors and winning a host of accolades and awards in the process.

Her prominent films of this decade include 'Absence of Malice', 'Kiss Me Goodbye', where she again starred with Jeff Bridges, 'Places in the Heart', which won her another Oscar, 'Murphy's Romance' featuring James Garner and 'Steel Magnolias', which had an ensemble cast, including a young Julia Roberts.

1990 onwards, she began to feature in substantial supporting roles, with memorable performances in 'Mrs. Doubtfire' with Robin Williams and 'Forrest Gump' with Tom Hanks.

From 1995 to 2000, she acted in few films, interspersed with appearances on TV in shows like 'A Woman of Independent Means', 'Merry Christmas, George Bailey', 'David Copperfield' etc.

In 1996, she made her directorial debut with the Television film 'The Christmas Tree'. In the following years, she went on to direct an episode of the TV miniseries 'From the Earth to the Moon' and her first film 'Beautiful'.

Since 2000, Field has continued to act in both films and TV shows. She featured in the commercial hit 'Legally Blonde 2'. She was also hailed for her intense performance of a bipolar mother in the Television drama 'ER' and again for her role of a matriarch in the drama 'Brothers & Sisters'.

Continue Reading Below

Her most recent acts in films include the character of 'Aunt May' in the superhero movie 'The Amazing Spider-Man' and the part of 'Mrs. Abraham Lincoln' in the period drama 'Lincoln'. She will reprise her role of 'Aunt May' in the Spider-man sequel scheduled to release in 2014.

Major Works

In 1979, the real-life inspired drama 'Norma Rae' starring Field was released to much critical and commercial success. Field's rendering of the title character, a plucky minimum-wage mill worker who tries to unionize the mill, was highly praised. Made on a budget of 4.5 million, the film grossed more than 22 million at the box-office worldwide.

In 1984, Field delivered another winner with 'Places in the Heart'. Set in the period of the 'Great Depression', the film has Field portraying a stricken widow, who struggles to keep her farm running. The film also featured John Malkovich, and grossed more than 34 million at the box-office.

Awards & Achievements

In 1979, Sally Field won the 'Best Female Performance Prize' at the 'Cannes Film Festival' for her act in 'Norma Rae'.

In 1980, she won her first academy award in the category 'Best Actress in a Leading Role' for her role in 'Norma Rae'.

In 1985, she was bestowed with her second academy award in the same category for her performance in 'Places in the Heart'.

Continue Reading Below

In 2007, she was awarded a 'Primetime Emmy Award' in the category 'Outstanding Lead Actress in a Drama Series' for her role in the TV series 'Brothers & Sisters'.

Personal Life & Legacy

Sally Field had a difficult relationship with her stepfather, especially during her teenage years. However, he encouraged her to pursue her acting interests, and even advised her to accept the lead in 'The Flying Nun'.

In 1968, while working in 'The Flying Nun', she married her boyfriend from high school Steven Craig, and became pregnant with his child. Her son Peter was born the next year. Four years later, her second son Elijah was born.

She studied at the famous 'Actors Studio', an acting workshop founded by Lee Strasberg. The course helped her attain a more serious reputation, and hence helped her get better roles.

In 1975, she divorced her first husband Steven Craig. The same year, she also hired a new agent.

In the late 1970s, Field began a romantic relationship with actor Bert Reynolds, and the couple starred together in many successful comedies.

In 1984, she married producer Alan Greisman and in the course of the nine-year marriage, which ended in divorce, she gave birth to her third son Samuel. She also has three grandchildren.

In 2005, she came to know that she was suffering with 'Osteoporosis', a bone-weakening condition. Post the revelation, she has taken up efforts to increase awareness about the condition, and is also the spokesperson for the medicine 'Boniva'.

Trivia

This famous American actress was paired romantically opposite actor Tom Hanks in the movie 'Punchline'. Six years later, in 'Forrest Gump', the actress played Hanks' mother.

During the shooting of the scene where she is hauled to a car from her award-winning film 'Norma Rae', this actress broke a rib of one the actors playing a police officer by kicking him too hard.

1. Forrest Gump (1994)

(Comedy, Romance, Drama)

2. Places in the Heart (1984)

(Drama)

---

3. Norma Rae (1979)

(Drama)

4. Steel Magnolias (1989)

(Comedy, Romance, Drama)

---

---

5. Lincoln (2012)

(Biography, History, War, Drama)

6. Murphy's Romance (1985)

(Comedy, Romance, Drama)

---

---

---

7. Smokey and the Bandit (1977)

(Comedy, Action)

8. Absence of Malice (1981)

(Romance, Thriller, Drama)

---

---

---

---

| | | |
| --- | --- | --- |
| 1985 | Best Actress in a Leading Role | Places in the Heart (1984) |
| 1980 | Best Actress in a Leading Role | Norma Rae (1979) |

| | | |
| --- | --- | --- |
| 1985 | Best Performance by an Actress in a Motion Picture - Drama | Places in the Heart (1984) |
| 1980 | Best Actress in a Motion Picture - Drama | Norma Rae (1979) |

| | | |
| --- | --- | --- |
| 2007 | Outstanding Lead Actress in a Drama Series | Brothers & Sisters (2006) |
| 2001 | Outstanding Guest Actress in a Drama Series | ER (1994) |
| 1977 | Outstanding Lead Actress in a Drama or Comedy Special | Sybil (1976) |

| | | |
| --- | --- | --- |
| 1982 | Favorite Motion Picture Actress | Winner |

Translate Wiki

to Spanish, French, Hindi, Portuguese

Article Title

- Sally Field Biography

Author

- Editors, TheFamousPeople.com

Website

- TheFamousPeople.com

URL

-

https://www.thefamouspeople.com/profiles/sally-margaret-field-2791.php

Last Updated

- April 05, 2018

---

---

---