Rubin Carter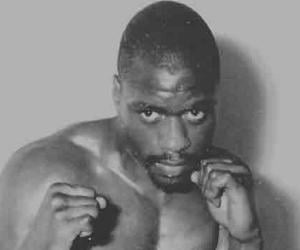 Quick Facts
Nationality: Canadian
Famous: Boxers Canadian Men
Died At Age: 76
Sun Sign: Taurus
Also Known As: Rubin Hurricane Carter
Born Country: United States
Born in: Clifton, New Jersey
Famous as: Boxer
Height: 5'8" (173 cm), 5'8" Males
Family:
Spouse/Ex-: Mae Thelma (m. 1963–1984)
father: Lloyd Carter Sr.
mother: Bertha Carter
children: Raheem Carter, Theodora Carter
place of death: Toronto, Ontario
Grouping of People: Black Athletes, Black Men
U.S. State: New Jersey
Continue Reading Below
Rubin Carter, also known as the "Hurricane," was a Canadian middleweight boxer. He was wrongfully convicted of murder and spent almost 20 years in jail, before being released after a petition of "habeas corpus." Born in New Jersey, US, he became a juvenile offender for stabbing a man at 11 years of age. He was sent to a reformatory, but he escaped and joined the 'United States Army,' where he trained to be a boxer. Later, he became a professional boxer. His aggressive boxing style could have made him a champion. However, he was wrongly convicted of a triple murder. Carter's case was tried twice, and he was given life sentences for each murder. Many campaigns were arranged in his support. Finally, a federal judge overturned the convictions, and Carter was released. He was married to Mae Thelma, but they divorced later. After his release, he lived in Toronto for a while, became a Canadian citizen, and married a supporter, Lisa Peters. Carter and Lisa separated later. He worked for the wrongly convicted. He died due to prostate cancer at the age of 76.
Recommended Lists:
Recommended Lists:
Continue Reading Below
Childhood & Early Life
Rubin Carter was born on May 6, 1937, in Clifton, New Jersey, US, and grew up in Passaic and Paterson, New Jersey. His parents, Lloyd and Bertha, were originally from Georgia. His father ran an ice-delivery service and worked in a rubber factory. Carter was the fourth of the seven children in his family.

He attacked a man with a knife when he was 11. According to him, the man he attacked was a pedophile who was trying to molest his friend. He was sent to the 'Jamesburg State Home for Boys.' In 1954, he ran away from the reformatory before the completion of his term and went to Philadelphia.

In Philadelphia, he joined the 'United States Army' and started training in boxing. He played several bouts for the 'United States Army.' He faced four courts-martial for various discipline-related offences and was discharged from the army after being branded "unfit for service."

On his return to Paterson in 1956, he was arrested for his escape from the reformatory and was sent to the 'Annandale Reformatory' for 10 months. After his release in 1957, he again got into trouble and was arrested for assault and theft. At the 'Trenton State Prison,' he revived his interest in boxing.

Recommended Lists:

Recommended Lists:

Career

After his release from prison, he entered the professional boxing arena and won his first fight on September 22, 1961. He exhibited a very powerful left hook, and his aggressiveness in the ring soon earned him the nickname "Hurricane."

Of his first 21 fights, he won 13 by knockouts. His past criminal record and his solid frame (5 feet 8 inches and 155 pounds) added to his forceful image. His boxing abilities were recognized in 1963, and he featured among the top ten middleweight contenders on a list compiled by the boxing magazine 'The Ring.'

The biggest victory of his career was his win against Emile Griffith in December 1963 at Pittsburg. He then ranked third on 'The Ring's list for the contenders of the world middleweight title. In 1964, he fought for the middleweight title against the reigning champion, Joey Giardello, in Philadelphia, but lost the match. In 1965, he fought 9 matches and won 5 of them.

On the night of June 17, 1966, two black men shot and killed three white people at the 'Lafayette Bar and Grill' in Paterson. Earlier that night, a black bar owner in Paterson was murdered by a white man. This made the police suspect that the shootout was arranged in retaliation.

The police stopped Carter's car, a white Dodge, and started interrogating him and an acquaintance, John Artis. The bartender of the 'Lafayette Bar and Grill' and a customer had died on the spot. Two others were injured (one of whom died a month later). Both the surviving victims reported that the shooters were black males, but they could not identify Carter or Artis. No facilities to test for gunshot residue were available then, and no fingerprints were taken. Carter and Artis were released later.

In August 1966, Carter lost a fight against Rocky Rivero in Argentina. That was his last match. Carter has had 27 wins (20 by knockouts), 12 losses, and 1 draw in his boxing career. Two months later, he was indicted for murder.

Two small-time criminals, Alfred Bello and Arthur Dexter Bradley, who were near the scene of the triple murders, reported two months later that they had seen both Carter and Artis with weapons outside the 'Lafayette Bar.' On the basis of these testimonies, Carter and Artis were convicted at the 1967 trial.

Continue Reading Below

Although the defense produced witnesses who verified that Carter and Artis were at another bar at the time of the shooting, both the accused were given life sentences for each of the three murders. Carter refused to wear his uniform in prison and remained secluded in his cell.

In 1974, the New Jersey public defender's office received recantations from the witnesses, Bello and Bradley. Both stated that they were pressurized into falsely identifying the accused and were promised leniency in their own criminal cases. Based on this, in 1976, the 'New Jersey Supreme Court' overturned the previous verdicts.

Immediately, Carter was hailed as a civil rights champion. Singer Bob Dylan wrote and presented the song 'Hurricane,' written for Carter's case, at a concert at the 'Trenton State Prison.' Muhammad Ali also showed his support for Carter's case. Campaigns were organized to garner public support for a retrial or pardon.

Another trial was held in December 1976, in which Alfred Bello denied his earlier recantation and stated that Carter and Artis were at the scene of the murder. Carter and Artis, who were out on bail for nine months, were sent back to jail. Over the next nine years, a number of appeals were made in the New Jersey courts, but they did not succeed.

In 1985, the case was heard in federal court and Judge Haddon Lee Sarokin of the 'United States District Court for the District of New Jersey' overturned the convictions. Thus, Carter was freed in November 1985. Artis had been released on parole in 1981. The prosecution tried to reinstate the convictions but was rejected by the 'Supreme Court,' and the case was formally closed in 1988.

After his release from prison, Carter moved to Toronto, acquired a Canadian citizenship, and joined a commune that had helped in his release. He became the executive director of the 'Association in Defense of the Wrongly Convicted' (AIDWYC). Later, in the mid-1990s, he quit the commune. Following this, he was mostly found delivering motivational speeches. He founded 'Innocence International' in 2004.

Major Works

While in the jail, he wrote and published his autobiography, 'The Sixteenth Round,' which was published in 1975 by 'Warner Books.'

Awards & Achievements

In 1993, Carter received an honorary championship title belt from the 'World Boxing Council.' He was inducted into the 'New Jersey Boxing Hall of Fame.' In October 2005, he received two honorary Doctorates of Law, one from 'York University' (Toronto, Canada) and another from 'Griffith University' (Brisbane, Australia), for his work with the 'AIDWYC' and 'Innocence International.'

Personal Life

In 1963, he married Mae Thelma Basket. They had two sons. After the birth of their second son, Mae Thelma divorced him on the grounds of infidelity. After his release in 1985, Carter married his supporter Lisa Peters, in Canada. However, they separated later.

In 2012, he revealed that he had been suffering from terminal prostate cancer. He died on April 20, 2014, at his home in Toronto, Canada.

Translate Wiki

to Spanish, French, Hindi, Portuguese

Article Title

- Rubin Carter Biography

Author

- Editors, TheFamousPeople.com

Website

- TheFamousPeople.com

URL

-

https://www.thefamouspeople.com/profiles/rubin-carter-9760.php

Last Updated

- April 11, 2018

---

---

---