Deontay Wilder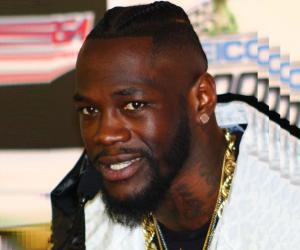 Quick Facts
Birthday: October 22, 1985
Nationality: American
Famous: Boxers American Men
Age: 33 Years, 33 Year Old Males
Sun Sign: Libra
Also Known As: Deontay Leshun Wild
Born in: Tuscaloosa
Famous as: Professional Boxer
Height: 2.01 m
Family:
Spouse/Ex-: Jessica Scales-Wilder
children: Ava Wilder, Deontay Wilder Jr., Dereon Wilder, Naieya Wilder
U.S. State: Alabama
More Facts
education: Central High School, Shelton State Community College
Continue Reading Below
Deontay Wilder is an American professional boxer who has held the 'World Boxing Council' (WBC) heavyweight title since 2015. Wilder is known as the one of the longest-reigning world heavyweight champions. He is currently ranked as the world's second-best active heavyweight boxer. As an amateur, Wilder won the bronze medal at the 2008 'Summer Olympics.' This earned him the nickname "The Bronze Bomber." By the time Wilder entered the boxing arena, he was already married and had a kid. Wilder's initial dreams were of becoming a professional footballer or basketball player. However, the birth of a daughter with a congenital disease forced him to concentrate on his boxing career as a lucrative option. In less than three years, Wilder became a successful boxer. He is known to have finished most of his matches inside the distance. Wilder has a knockout-to-win ratio of 98%. He earned his first title in professional boxing when he defeated Kelvin Price in a match in Los Angeles. Price was an undefeated player till then, and Wilder rose to fame with the win. He has won the 'Premier Boxing Champions Knockout of the Year' award for two consecutive years.
Recommended Lists:
Recommended Lists:
Continue Reading Below
Childhood & Early Life
Deontay Leshun Wilder was born on October 22, 1985, in Tuscaloosa, Alabama. Not much is known about his family or childhood. Wilder is of African–American descent.

In 2004, Deontay Wilder graduated from the 'Tuscaloosa Central High School.' He dreamed of being a professional footballer or basketball player. Wilder wanted to play for the 'Alabama Crimson Tide,' a team from his hometown. However, an early marriage put domestic responsibilities on his shoulders. After the birth of a daughter who suffered from spinal defects, Wilder took up many jobs to support his family. He worked as a driver for the 'Greene Beverage Company.' He also gave up his academic dreams. Wilder chose boxing as a means of earning money.

Recommended Lists:

Recommended Lists:

Career

In October 2005, Deontay Wilder started his amateur boxing career when he joined 'Skyy Boxing Gym' in Northport, Alabama. He trained under Jay Deas.

In 2007, Wilder entered the 'National Golden Gloves' competition. He defeated David Thompson and the world champion, Isiah Thomas.

The same year, Wilder participated in the 'US Amateur Boxing Championship' and defeated Quantis Graves. He won the championship by defeating James Zimmerman from California. He won the 'Olympic Games' trials in 21 bouts, by defeating Quantis Graves.

In 2008, Wilder recorded his career-best score by defeating Rakhim Chakhiyev from Russia. Chakhiyev was the silver medalist in the world championship. Wilder qualified for the 2008 'Summer Olympics' and competed in the heavyweight category. He defeated Abdelaziz Touilbini of Algeria and Mohamed Arjaoui of Morocco. In the semi-finals, Wilder lost to Clemente Russo of Italy and became the bronze medalist. He had an average amateur record of 30-5.

On November 15, 2008, Wilder made his debut in professional boxing, at the 'Vanderbilt University Memorial Gymnasium' in Tennessee. He knocked out Ethan Cox in the second round. In 2009, Wilder fought seven matches and won all of them in the first round. By October 2012, Wilder had set an impressive record in his boxing career. He had won 25 matches, and most of them were won within four rounds.

On December 15, 2012, Wilder won his first professional boxing title, by defeating Kelvin Price at the 'Memorial Sports Arena' in Los Angeles. In April 2013, the boxing firm 'Golden Boy Promotions' announced a fight between Wilder and Audley Harrison, a former 'Olympic' gold medalist. Wilder knocked out Harrison in the first round. After the fight, Harrison announced his retirement.

In February 2014, a fight was announced between Wilder and American boxer Malik Scott. After the fight, Wilder secured the third place, and Scott was placed at number 23, in the world rankings. Wilder defeated Scott at 1:36 of the first round.

Continue Reading Below

After defeating Malik Scott, Wilder took over as the mandatory challenger for the 'WBC' heavyweight title. On January 17, 2015, he fought the defending champion, Bermane Stiverne, at the 'MGM Grand Garden Arena' in Las Vegas. Wilder won the 'WBC' heavyweight title after defeating Stiverne. The decision was taken unanimously by all the judges, after a fight of 12 rounds. Wilder dedicated the win to his disabled daughter and to the boxing legend, Muhammad Ali, who was his hero.

In May, 2015, Wilder fought his first defense of the 'WBC' heavyweight title in Alabama. He selected Mexican–American boxer Eric Molina as his opponent. Wilder knocked down Molina at the end of the fourth round. In August 2015, Wilder fought his second defense, against Johann Duhaupas, ranked number 12 in the 'WBC.' The fight was one-sided from the beginning, with Wilder landing 56% of the punches. Duhaupas landed only 30% of the punches thrown. Wilder won the fight in the 11th round.

In December 2015, Wilder defended his title against Polish boxer Artur Szpilka. During the first three rounds, Szpilka had the upper hand. Wilder refused to give up. In the ninth round, Szpilka changed his strategy. Wilder sensed this and landed a powerful punch, which ultimately led to Szpilka being hospitalised. Wilder apologized publicly after the fight.

In May 2016, Deontay Wilder was all set to defend his title against the mandatory challenger, Alexander Povetkin from Russia. Wilder was to travel to Moscow. Povetkin was considered to be his toughest opponent. However, a week before the fight, Povetkin was tested positive for the use of a banned substance. The fight was canceled, and Wilder claimed compensation for the cancelation.

In July 2016, Wilder fought Chris Arreola, a former two-time world title challenger. Wilder dominated the fight and was announced the winner after eight rounds. During the fight, Wilder's right hand was broken and his biceps were torn. He had to undergo two surgeries to repair his injuries.

In December 2016, a fight was fixed between Wilder and Polish boxer Andrzej Wawrzyk. Wilder was criticized for selecting Wawrzyk as his opponent, as he was an easy competitor. However, Wawrzyk failed a drug test. Thus, the fight was canceled. Later, it was announced that Gerald Washington would play the world title fight against Wilder. The match took place in February 2017. Washington started with strong punches. In the fifth round, Wilder landed a few power shots. Washington suffered heavy blows on his head. The fight was halted by the referee. It was telecast on 'Fox' and was one of the most-watched fights of 2017.

In October 2017, the 'WBC' ordered Wilder to fight the mandatory challenger, Bermane Stiverne. The fight was held in front of a packed arena. Wilder knocked down Stiverne, and the referee called for a halt. Wilder landed a right hand on Stiverne, which made Stiverne defenseless. With this win, Wilder knocked out every opponent that he fought.

In December 2017, Luis Ortiz, the Cuban boxer who had failed a drug test, returned to the boxing ring. He challenged Wilder for a fight, which Wilder accepted. The fight took place in March 2018. In the initial rounds, both players fought equally well. In the fifth round, Wilder knocked down Ortiz. In the following rounds, Wilder was badly hurt. However, he made a comeback and landed a right hand on Ortiz. When the fight was halted by the referee, the judges declared Wilder as the winner.

Personal Life

In 2009, Deontay Wilder married Jessica Scales. They have two sons and two daughters. Wilder became a father for the first time when he was 19 years old. His daughter Naieya was born with spina bifida, a condition in which the backbone is deformed. Wilder took up boxing to provide money for the treatment of his daughter. Later, Wilder and Scales parted ways.

Wilder is currently engaged to Telli Swift. A baby was born to the couple in February 2018.

Translate Wiki

to Spanish, French, Hindi, Portuguese

Article Title

- Deontay Wilder Biography

Author

- Editors, TheFamousPeople.com

Website

- TheFamousPeople.com

URL

-

https://www.thefamouspeople.com/profiles/deontay-wilder-14593.php

Last Updated

- July 28, 2018

---

---

---