Robin Wright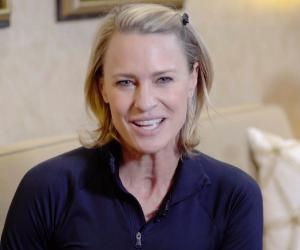 Quick Facts
Nationality: American
Famous: Quotes By Robin Wright Actresses
Age: 52 Years, 52 Year Old Females
Sun Sign: Aries
Also Known As: Robin Gayle Wright
Born in: Dallas, Texas, United States
Famous as: Actress
Height: 1.68 m
Family:
Spouse/Ex-: Dane Witherspoon (1986–1988), Sean Penn (1996–2010)
father: Freddie Wright
mother: Gayle Gaston
children: Dylan Frances Penn, Hopper Jack Penn
U.S. State: Texas
Net worth: $65 million as of May 25, 2017
Continue Reading Below
The pretty blonde actress who played Kelly Capwell in the popular television series, 'Santa Barbara', Robin Wright is not just another beautiful face in Hollywood. Born to highly accomplished parents in Texas, she was a bright young girl with glowing confidence. Her good looks, self confidence and a desire to be famous led her to apply for modeling assignments as a teenager. At just 14 she began her professional career working as a model traveling the world. Even though she realized as a young girl that she wanted to make a name for herself in the show business, she returned to school to graduate. Upon graduation she set off on her ambition to make it big as an actress. In spite of not having any formal training in acting or experience, she auditioned for and landed a role in the series 'Santa Barbara' which would eventually made a more recognized face among the audience. After finding success in television she gradually moved on to Hollywood hoping to establish herself there too. An acting career paved way for direction and soon the lovely lady was happily juggling varied responsibilities. In addition to being a career woman, she is also a doting mother of two children from ex-husband, Sean Penn.
Recommended Lists:
Recommended Lists:
Continue Reading Below
Childhood & Early Life
She was born as Robin Gayle Wright to Gayle Gaston and Fred Wright. Her mother was a national director in the Mary Kay cosmetics sales force while her dad was a pharmaceutical executive.

Raised in California, she attended La Jolla High School and Taft High School.

She was a pretty girl with lots of confidence. She began modeling as a teenager and was just 14 when she started touring the world as a model. She loved the experience of traveling and learned a lot.

Continue Reading Below

Recommended Lists:

Recommended Lists:

Career

Her modeling agent recognized the potential this beautiful and talented girl possessed and encouraged her to audition for a role in the television series, 'Santa Barbara'.

Robin had no formal training in acting yet she auditioned and bagged the role of Kelly Capwell in the soap opera 'Santa Barbara' which she played from 1984 to 1988. This role marked her transition from a model to an actress.

Her portrayal of Kelly in the soap opera drew the attention of director Rob Reiner who told the girl to audition for his new film, 'The Princess Bride' (1987). She earned the role and played Buttercup, a pretty damsel in distress in the fantasy film.

She played Jenny Curran in the 1994 comedy drama 'Forrest Gump' which was based on the novel of the same name by Winston Groom. Tom Hanks played the title role in this epic film.

In 1996, she starred along with the veteran actor Morgan Freeman in the film 'Moll Flanders' which revolved around the story of a girl living in an orphanage who is transported to British West Indies.

She acted opposite Sean Penn and John Travolta in the 1997 film 'She's So Lovely' in which she plays a drug addict and an alcoholic who is married to a mentally disturbed man.

She played Audrey Dunn in the superhero drama film, 'Unbreakable' in 2000 which also had Bruce Willis and Samuel Jackson in its cast. It was the story of a security guard who realizes that he has superpowers.

Continue Reading Below

She appeared as herself in the documentary 'Searching for Debra Winger' in which leading actresses discuss the pressures they face as women working in the film industry.

In 2005, she appeared in the two part mini-series 'Empire Falls' which was based on the novel of same name by Richard Russo. The series was highly successful and won several awards.

She was a part of the ensemble cast of 'New York, I love You' (2008), a romantic comedy drama anthology of 11 short films. The anthology also had Bradley Cooper, Natalie Portman, Chris Cooper, Ethan Hawke, and James Caan.

She played Mary Surratt in the 2010 film 'The Conspirator', a historical drama about the events following the assassination of Abraham Lincoln. She portrayed the role of the only female conspirator charged in the assassination.

In 2013, she started acting in the political television drama, 'House of Cards' which is about an ambitious politician and his loyal wife who use manipulation and unethical means to achieve political success.

Major Works

Her performance as Claire Underwood, a cold and manipulative woman in the political drama television series, 'House of Cards' based on a novel by Michael Dobbs is considered her best work till date. She received several awards and nominations for this role.

Awards & Achievements

She won the Golden Globe Award for the Best Actress in a TV Series Drama in 2014 for her role in 'House of Cards'. She also won the Satellite Award for the Best Actress for the same role.

Personal Life & Legacy

She married Dane Witherspoon in 1986. However this marriage was very short lived and broke up within two years.

She entered into a relationship with actor Sean Penn in 1989 and had two children with him. The couple got married in 1996. They divorced in 2010 after 14 years of marriage.

1. Forrest Gump (1994)

(Comedy, Romance, Drama)

2. Blade Runner 2049 (2017)

(Thriller, Sci-Fi, Mystery, Drama)

---

3. The Princess Bride (1987)

(Romance, Family, Fantasy, Adventure)

4. The Girl with the Dragon Tattoo (2011)

(Thriller, Crime, Drama, Mystery)

---

---

5. Wonder Woman (2017)

(Sci-Fi, Adventure, Fantasy, War, Action)

6. Moneyball (2011)

(Drama, Biography, Sport)

---

---

---

7. Unbreakable (2000)

(Mystery, Drama, Thriller, Sci-Fi)

8. State of Grace (1990)

(Crime, Drama, Action, Romance, Thriller)

---

---

---

---

| | | |
| --- | --- | --- |
| 2014 | Best Performance by an Actress in a Television Series - Drama | House of Cards (2013) |

Translate Wiki

to Spanish, French, Hindi, Portuguese

Article Title

- Robin Wright Biography

Author

- Editors, TheFamousPeople.com

Website

- TheFamousPeople.com

URL

-

https://www.thefamouspeople.com/profiles/robin-wright-5363.php

Last Updated

- July 26, 2017

---

---

---