Robert Herjavec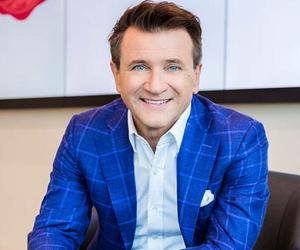 Quick Facts
Birthday: September 14, 1962
Nationality: Canadian
Famous: Writers TV Presenters
Age: 56 Years, 56 Year Old Males
Sun Sign: Virgo
Born in: Varaždin, Croatia
Famous as: Business People
Height: 1.75 m
Family:
Spouse/Ex-: Diane Plese
father: Vladimir Herjavec
mother: Katica Herjavec
children: Brendan Herjavec, Caprice Herjavec, Skye Herjavec
Founder/Co-Founder: The Herjavec Group
Net worth: $200 million as of Jan 12, 2017
Continue Reading Below
Robert Herjavec is a Canadian entrepreneur, a TV star, and the founder of The Herjavec Group, a fast-growing security software company. He was born in Croatia and migrated to Canada with his poor parents when he was a child. He started working while still young, learning the hardships of employment and making ends meet in the Canadian culture. At that time he also got a chance to work in a technology company that was just starting, but only after convincing the founder to let him work for free. Later he turned that experience into the foundation for his first technology company, which he eventually sold for a fairly large sum of money. After a brief retirement, he established 'The Herjavec Group', which is currently Canada's fastest growing technology company. He is also a leading television personality and has appeared on several business pitching shows. He spends most of his time running his business, starring on the business TV shows, and of course spending time with his family. His life can be defined as a classic "rags to riches" story and he has emerged as one of the most recognizable business leaders not just in his country, but throughout the world. He is also a famous author with two best-selling titles to his credit.
Recommended Lists:
Recommended Lists:
Continue Reading Below
Childhood & Early Life
He was born on September 14, 1962, in Varaždin, Croatia (formerly Yugoslavia). When he was eight, his family moved to Canada.

In 1970, the family arrived in Halifax, Nova Scotia aboard the 'Cristoforo Colombo'. They eventually settled in Toronto where they lived in the basement apartment of a family friend's home for eighteen months.

He graduated from New College at the University of Toronto, with a degree in English literature and political science. To support the family financially, he took on a variety of minimum wage jobs such as waiting tables, delivering newspapers and retail sales.

Continue Reading Below

Recommended Lists:

Recommended Lists:

Career

His first job was related to films where he operated behind the camera in various production roles. He worked as one of the assistant directors in several productions including an unreleased movie 'The Return of Billy Jack', filmed in 1985-86. His early film career concluded with the position of Field Producer of the 'XIV Winter Olympic Games' for Global TV.

Later he learned of an opening at a computer startup called 'Logiquest', which used to sell IBM mainframe emulation boards. Although he was under-qualified for the position, he managed to secure a job for himself by offering to work for free for the first six months to earn his stay. He eventually became the General Manager of Logiquest.

In 1990, he left the company to start his own company which he managed to establish under the name of 'BRAK Systems' from the basement of his home. Soon it became Canada's top provider of Internet Security Software. In 2000, 'BRAK Systems' was brought by 'AT&T' for $100 million. Within another couple of years, he managed to sell another technology company to Nokia for $ 225 million.

After a brief retirement as a stay-at-home father, he returned to the business arena and established a new company by the name of 'The Herjavec Group' in 2003. He currently serves as the Chief Executive Officer (CEO) of the company which is one of Canada's fastest-growing technology organizations.

Along with being a successful entrepreneur, he is also a leading television personality. He features in two national versions of 'Dragons' Den', one in Canada on the CBC TV series 'Dragons' Den', and in America on the ABC series 'Shark Tank'.

He is also the author of two best-selling titles, 'Driven: How to Succeed in Business and Life' (2010) and 'The Will to Win: Leading, Competing, Succeeding' (2013). While the former one is based on by the work and life principles that made him both wealthy and successful, the latter one delivers life lessons that promise to guide readers to greater happiness and success.

He is passionate about car racing and also a keen golfer and runner. He competes in the well-known Ferrari Challenge and has competed in the 2010 Miami marathon and the 2011 New York marathon. He is also a certified SCUBA diver and a motorcycle enthusiast.

Recommended Lists:

Recommended Lists:

Major Works

In 2003, he founded 'The Herjavec Group (THG)' which has grown from three employees in 2003 to 150 employees as on 2013. The company's sales which were $400K in 2003 increased to over $125 million in 2012. The company has registered over $500 million in sales in the last 10 years and is considered to be Canada's largest IT security provider.

Awards & Achievements

In 2011, he won the 'Rookie of the Year' title after winning both car races at the season-opener of 'Ferrari Challenge' in St. Petersburg, Florida.

In 2012, his organization 'The Herjavec Group' was named the Canada's #1 Security Company, according to Branham Ranking.

In 2013, he received the distinguished Canadian 'Entrepreneur of the Year Award' for Technology. He was also conferred the 'Queen's Jubilee Award' for outstanding service.

Personal Life & Legacy

He is happily married to Diane Plese, an optometrist. The couple married in a Croatian church in Mississauga, a Canadian city near Toronto. They are blessed with three children; two daughters, Caprice and Skye, and a son named Brendan.

Translate Wiki

to Spanish, French, Hindi, Portuguese

Article Title

- Robert Herjavec Biography

Author

- Editors, TheFamousPeople.com

Website

- TheFamousPeople.com

URL

-

https://www.thefamouspeople.com/profiles/robert-herjavec-5540.php

Last Updated

- September 29, 2017

---

---

---