Portia de Rossi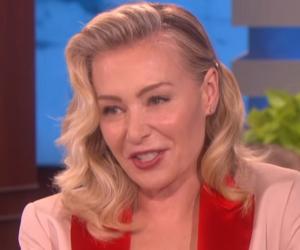 Quick Facts
Birthday: January 31, 1973
Nationality: American, Australian
Age: 46 Years, 46 Year Old Females
Sun Sign: Aquarius
Also Known As: Portia Lee James DeGeneres
Born Country: Australia
Born in: Horsham, Victoria, Australia
Famous as: Actor, Writer, Model
Height: 5'7" (170 cm), 5'7" Females
Family:
Spouse/Ex-: Ellen DeGeneres, Mel Metcalfe
father: Barry Rogers
mother: Margaret Rogers
siblings: Michael Rogers
More Facts
education: University of Melbourne, Geelong Grammar School
awards: Genesis Award
Continue Reading Below
Portia Lee James DeGeneres, known professionally by her pseudonym Portia de Rossi, is a famous Australian-American model, actress and philanthropist. She changed her name legally at the age of 15 taking the name 'Portia' from the Shakespearean play 'The Merchant of Venice' and adopted the Italian title 'de Rossi' which she found to be very glamorous. Portia believes that it was the most daring thing she has ever done and she stated that the urgency to change her name was triggered by her inner conflict with her sexual identity. Portia began her journey in the film industry with the romance, comedy and drama movie 'Sirens' with Hugh Grant. She has also acted in several American sitcoms and Television movies and comedy series like 'Too Something' as Maria Hunter, 'Nick Freno: Licensed Teacher' as Elana Lewis, 'Arrested Development' as Lindsay Bluth and also gave (prank call voice) as Bonnie Swanson. However, she gained massive popularity playing the role of a Boston- based lawyer Nelle Porter in the Ally Mc Bill comedy drama TV series. Her character provides the main comic relief in the series.
Recommended Lists:
Recommended Lists:
Continue Reading Below
Childhood & Early Life
Portia was born on 31st January 1973 in Horsham regional city, in the Wimmera region of Western Victoria to Barry Rogers and Margaret Rogers, and raised in Geelong, Australia. Her father passed away when Portia was just nine years old and hence, her mother started working as a medical representative to raise Portia and her brother single- handed.

Portia was brought up in Grovedale, Geelong City, Australia. As her mother was struggling hard to provide for the family, Portia at a tender age of eleven commenced her career in the entertainment industry by performing as a model and an actress for Television commercials and print media.

After completing her graduation from Melbourne Girls Grammar school, Portia started to attend the University of Melbourne where she took up law, all the while pursuing her modelling and acting career.

Although she was a very hard-working and diligent student, but her performances in the television commercials caught the notice of a casting director and after auditioning she was selected to perform in the film 'Sirens' where she acted as Giddy, one of the three gorgeous models.

Recommended Lists:

Recommended Lists:

Career in Television

Portia has acted in several American sitcoms like 'Too Something' as Maria Hunter, 'Nick Freno: Licensed Teacher' as Elana Lewis and 'Veronica's Closet' as Carolyn.

Portia has acted in the Television movie 'Astoria' and also performed as Lana Collinsin the television movie 'Breed Apart' and performed as guest star in the 'Twilight Zone' television series.

Portia shifted to California to consolidate her career in acting and got to play the role of a cold-hearted attorney Nelle Porter (the classic 'Ice Queen') in the legal comedy-drama television series titled 'Ally McBeal'. This brought her a lot of exposure among the American audiences.

'Ally McBeal' provided Portia the right opportunity to showcase her acting talent. Portia along with the cast of the series won in 1999 the 'Screen Actors Guild Awards' for 'Outstanding Performance by an Ensemble in a Comedy series' category.

Rossi auditioned in 2003 for the role of Lindsay Bluth Funke in the American sitcom 'Arrested Development' and she was immediately chosen for it. The story of the sitcom is about Bluth family members who live a lavish lifestyle.

In 'Arrested Development', Portia plays the role of a pampered and materialistic girl Lindsay who continuously tries to seek attention and is full of vanity. Rossi won with other co-stars the 'TV Land Award' in the 'Future Classic Award' category and also received the 'Golden Satellite Award' in the 'Best Actress in a Series, Comedy or Musical' category both in 2004 for the sitcom.

In 2003, Portia acted as Carolyn Bessette Kennedy, who is a publicist for Calvin and Klien and also the wife of John F. Kennedy Jr. in the television film 'America's Prince: The John F. Kennedy Jr. Story'.

Continue Reading Below

Some of Rossi's incredible performances are 'NIP/ Tuck' as Olivia Lord, a supportive mother and an expert in Eastern medicine, satirical sitcom 'Better of Ted' as Veronica Palmer, and the television special 'Mocking Bird Lane' as Lily Munster, a vampire who is also an elegant matriarch of the Munster family.

She played the role of Elizabeth North in the political thriller television series 'Scandal'. Portia next performed the role of Cora Wolf in the horror comedy web television series titled 'Santa Clarita Diet' and even did a prank call voice as Bonnie Swanson for the animated sitcom 'Family Guy' both in 2017.

Recommended Lists:

Recommended Lists:

Career in Films

After her debut film 'Sirens', Portia shifted to Los Angeles to build her acting career. Since then she has featured in several films like 'The Woman in the Moon' as Shauna, in slasher film 'Scream 2' as Sorority Sister Murphy, in horror film 'Stigmata' as Jenniffer Kelliho, in action comedy film 'Who is Cletis Tout' as Tess Donnely, in comedy, horror movie 'Dead & Breakfast' as Kelly, in Drama movie 'The Shift' as Denise Moore and several others. Portia has performed as a narrator in the comedy 'Now Add Honey' as Beth Halloway.

Recommended Lists:

Recommended Lists:

Philanthropist

Portia is a philanthropist at heart and has supported many charitable organizations like 'Best Friend's Animal Society', 'Farm Sanctuary', 'FHI 360', 'Locks of Love' and 'PROJECT ZAMBI', 'Save The Music Foundation', 'The Art of Elysium', 'The Gentle Barn', Alley Cats and 'The Humane Society'.

Recommended Lists:

Recommended Lists:

Personal Life & Legacy

Portia was married to documentary filmmaker, Mel Metcalfe, but the couple separated within three years of relationship as Mel had an extramarital affair.

As of her sexuality, Portia came out in public as a lesbian in 2005 and went on to marry Television host, comedian, producer and writer, Ellen DeGeneres, in 2008. They, however, later separated.

Recommended Lists:

Recommended Lists:

Net Worth

As of 2017, Portia's estimated net-worth is $20 million.

Recommended Lists:

Recommended Lists:

Trivia

De Rossi has stated that she suffered from anorexia nervosa when she was in her teens and also all along her adult childhood. It was her rigorous training that helped her overcome this eating disorder.

She has featured on many magazine covers including Shape, Out etc.

Portia has also written an autobiography titled 'Unbearable Lightness: A Story of Loss & Gain'.

She has given backing vocals for her ex-girlfriend Francesca Gregorini's album titled 'Sequel'.

She loves to dress up and adores wearing dresses and clothes that make her feel beautiful and feminine. She is very satisfied with the fact that she can choose to wear a tank top and jeans whenever she feels to.

Portia is admired for her flawless skin and her very long wavy blonde hair besides her acting.

At present she is a very healthy eater and never denies herself of any food items or restricts herself in quantity.

Portia shares her birth date with her grandmother as well as 'Arrested Development' co-star Jessica Walter.

1. Mockingbird Lane (2012)

(Comedy, Drama, Fantasy, Horror)

2. Who Is Cletis Tout? (2001)

(Crime, Comedy)

---

3. Stigmata (1999)

(Horror)

4. Scream 2 (1997)

(Mystery, Horror)

---

---

5. Girl (1998)

(Romance, Music, Comedy, Drama)

6. Sirens (1993)

(Romance, Drama, Comedy)

---

---

---

7. Dead & Breakfast (2004)

(Fantasy, Horror, Comedy, Musical)

8. I Witness (2003)

(Crime, Thriller, Drama, Romance, Action)

---

---

---

---

Translate Wiki

to Spanish, French, Hindi, Portuguese

Article Title

- Portia de Rossi Biography

Author

- Editors, TheFamousPeople.com

Website

- TheFamousPeople.com

URL

-

https://www.thefamouspeople.com/profiles/portia-de-rossi-9756.php

Last Updated

- August 11, 2017

---

---

---