PewDiePie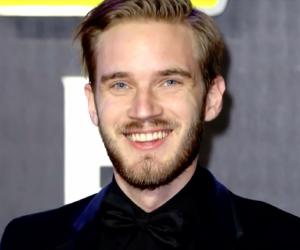 Quick Facts
Birthday: October 24, 1989
Nationality: Swedish
Age: 29 Years, 29 Year Old Males
Sun Sign: Scorpio
Also Known As: Felix Arvid Ulf Kjellberg
Born in: Gothenburg
Famous as: YouTube Star
Height: 1.75 m
Family:
Spouse/Ex-: Marzia Bisognin (2011–)
father: Ulf Christian Kjellberg
mother: Lotta Kristine Johanna
siblings: Fanny
Net worth: $20 million
More Facts
education: College dropout
Continue Reading Below
If you spend a lot of time watching YouTube, the name PewDiePie would have popped up on your screen very often. And if you love video games, there is no way that you could have missed this name. Well, let us inform you that the YouTube celebrity with the most number of subscribers is not Justin Bieber or Rihanna. Sorry to disappoint you, this title goes to 'PewDiePie'. Justin Bieber might have 24 million subscribers and Rihanna 22 million subscribers, but this guy here has actually over 48 million subscribers for his YouTube channel. Interestingly, the only thing that he does is post videos of himself playing video games. For all guys who love playing video games and get lectured about this, remember you can make a fortune out of this. For any kind of doubts regarding the same, we suggest that you approach PewDiePie.
Recommended Lists:
Recommended Lists:
Continue Reading Below
The Meteoric Rise to Stardom
You won't believe if we say that this guy literally left his studies to become a YouTube personality. After dropping out from college he started a YouTube channel. Felix Kjellberg began his YouTube page 'PewDiePie' on 29th April 2010 with a Minecraft playthrough video showing a zombie that had spawned in a Minecraft. After a few months of this video, he began uploading playthroughs of 'Call Of Duty: Black Ops', 'Amnesia: The Dark Descent' and 'Dead Space 2'. During the initial days, PewDiePie was known for playing horror and action video games.

Recommended Lists:

Recommended Lists:

It was in 2011 that his fandom increased. In October 2011, he created a single topic blog 'Fuck Yeah PewDiePie' for the fans of his videos. In the span of eight months, his YouTube channel had over 1, 4000 videos uploaded. Those videos included playthroughs of around 40 games and 40 Amnesia custom stories which were sent by his fans. Felix can be crowned as the 'Social Media Giant'. We only talked about his YouTube channel; outside YouTube too he is the king! He enjoys over 7 million Facebook likes, 8 million followers in Twitter and then again 10 million in Instagram, and we are still counting!

The characters of his videos are very funny. While watching his videos, you can notice that our focus would divert to the commentaries and reactions he gives while playing the video games. Due to this his videos fall under the set of 'Let's Play', a series of videos of screenshots, documenting a playthrough of video game. This usually includes the commentary by the gamer.

Let's check on the graph of his subscribers. Trust us it will amuse you. After creating his account in 2010, in December 2011 his channel had around 60,000 subscribers. By the time he earned 700,000 subscribers, he was asked to speak at the Nonick Conference in 2012. The same year by July he had 1 million subscribers, it only took him two more months to reach 2 million. Not surprising at all, in October 2012, OpenSlate ranked the 'PewDiePie' channel as the number 1 channel on YouTube.

Talking about his earnings, with these many subscribers, came the commercial success too! According to Swedish newspaper 'Expresen', this guy made $7.4 million in 2014 and was named one of the most influential people on Internet in the year 2015. Considering the size of both his subscribers and number of videos 'Let's Play' creates, to be precise 2,300 videos were created by him, he is absolutely worth it.

Kjellberg's popularity brought him as a guest star in 'South Park' episodes. On December 3rd, 2014 an episode from the animated show "South Park' titled '#REHASH' was aired. It featured the original footage from PewDiePie. That is not the end. Kjellberg also released his book on December, 2015. The book titled as 'This Book Loves You', is a collection of illustrated satires of inspirational quotes. "Don't be yourself, Be a pizza, Everyone loves Pizza" is something that only Felix would quote. This book was ranked first in the New York Adults paperback bestseller list.

Apart from all of these he is also well known for his social services. In February 2012, he entered the King of the web contest, a social media competition. This competition awards cash or merchandise prizes to its winners. Since he received more than a million votes he was crowned as 'Gaming King of the Web.' After receiving a cash prize he donated the entire amount to 'World Wildlife Foundation'.

Since then he has been contributing to charity frequently. He then donated over $34,000 to St. Jude Children's Research Hospital out of the funds he received for being a YouTube partner. He even encouraged his fans to take part in charity. After gaining more than 10 lakh subscribers for his channel, he posted a video asking his subscribers to donate to Charity: Water association. This association was formed with the aim to provide clean water to the developing countries. Their initial goal was to collect an amount of $250,000 but the Bro Army were successful in collecting a sum total of over $ 400,000 by the end of the drive.

Continue Reading Below

What Makes PewDiePie So Special

The first thing that makes him so special is he is loved by everyone, irrespective of age and gender. On the occasion of his book launch in Manhattan, fifteen hundred teenagers gathered to get a glimpse of him. According to http://www.rollingstone.com/, a 21 year old girl said that she arrived from New York early in the morning around 4 am, after driving 33 hours from Texas.

That's actually nothing; she also mentions about an elderly women who was standing next to her, who along with her niece flew from Peru. For record! The distance between Peru and Manhattan is nearly 5,554 km. Now time to meet a 16 year old fan, Shane. Shane Flanagan took a bus from New Jersey, the previous day of the occasion and camped outside a patio umbrella. And that has its pluses; he was the first on the line! We told you, PewDiePie is loved globally.

Another interesting factor is his videos. In his videos he laughs, screams, swears and goofs around as if he were hanging around with his best friend. And then he would talk to the props that appear in the game as if it is a living object. Want an example? The first character he created was a golden statue in a bookshelf and he named it 'Stephano', who had a French ascent. It was introduced in an Amnesia story titled 'Abduction'. Over a period of time, this object became less fearless. The funny part is where; Stephano would advise PewDiePie whenever he is scared or distracted. However after the advice session, PewDiePie would immediately place Stephano to the nearest shelf and ask him to shut up. The gamer didn't achieve 4.1 billion views in 2014 for nothing!

And then his answer when enquired about his earnings of $7.4 is exactly why he is successful. Sitting in front of a computer, playing games and screaming all day is not an easy task. Though it seems easy it isn't in real. In his video 'Lets Talk About Money" he says "People…thought it was unfair. They thought I just I sit on my ass all day and I just yell at the screen over here- which is true- but there is so much more to it." Here he talked directly to the camera, he didn't sound defensive and neither was he screaming. He sounded truthful and agreeable. He also added saying "If you think someone is funnier. Go refresh their video and watch it over and over and over again. Because that is how we get paid".

And then there is the famous "Bro Army". For all those who are wondering about Bro Army. Let us enlighten you; Bro Army is the name of fanbase of PewDiePie. Felix likes to call his fans as 'Bros'. As the Bro Army is all about PewDiePie, his fans consider him as the leader of this group. People in this army are usually engaged in brofisting, as PewDiePie would give brofist to the fans at the end of his videos. Unlike other YouTube personalities he isn't just playing games, he interacts with his audience. Bro fist!

Beyond Fame

In spite of fame, Felix is also a controversial gamer. He had to face the rage of other gamers who are displeased with his content. He even had to disable certain YouTube comments on his channel due to negativity and spam issues.

The news that spread like wild fire was about the suspension of PewDiePie's Twitter account. On 30thAugust, 2016 PewDiePie unverified himself from Twitter as he found the notification very annoying. The same day he retweeted a tweet of satirical news site, 'Sky News' that jokingly suggested that he was unverified because he had ties with the terrorist group ISIS. He then jokingly tweeted he and his fellow YouTube gamer 'jackseptic eye' had been unverified on twitter due to their ties with ISIS. Following day his twitter account was momentarily suspended. Though he at that time had lost 8 million followers, they are all back now and the account is active, but the blue tick mark is still missing.

Behind The Curtains

Felix Kjellberg was born on 24th October 1989. Being a native of Gothenburg, he was born to Ulf Christian Kjellberg and Lotta Kristine Johanna and grew up with his sister Fanny.

During his school life Felix was interested in arts and would draw popular video game characters such as Mario and Sonic the Hedgehog. His love for video games started at a small age, he used to bunk his classes to play video games. After graduating from Goteborgs Hogre Samskola, he went to pursue degree in industrial economics and technology management at Chalmers University Of Technology. It was during this time that he left his studies to become a YouTube star.

His parents were not quite happy with this decision and so they refused to provide him any sort of funds. He then began working at a hot dog stand to fund his videos. It is said that his actual channel name was "Pwedie" but unfortunately he forgot the password and so started "PewDiePie".

Felix then hit the headline for dating Marzia Bisognin, who is also a vlogger, she vlogs about food fashion and travel. They have been dating since 2011. They now live together and sometime even vlog together. Rumors about their break up started hitting the headlines lately to which she posted a picture of the duo, thus clearing the air.

Last Updated : December 25, 2017

Translate Wiki

to Spanish, French, Hindi, Portuguese

---

---

---

PewDiePie Fans Also Viewed