Peter Tosh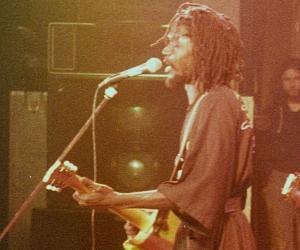 Quick Facts
Birthday: October 19, 1944
Nationality: Jamaican
Famous: Quotes By Peter Tosh Died Young
Died At Age: 42
Sun Sign: Libra
Also Known As: Winston Hubert McIntosh, Stepping Razor
Born in: Westmoreland, Jamaica
Famous as: Reggae Musician
Family:
Spouse/Ex-: Andrea
children: Andrew Tosh
Died on: September 11, 1987
place of death: Kingston, Jamaica
More Facts
awards: 1987 - Grammy Award for Best Reggae Performance
Continue Reading Below
Peter Tosh was born to very young parents, who refused to take his responsibility, thus leaving him without the protection and the love of parents that children generally deserve. In absence of his parents, he was raised by his aunt but only literally. One look at Tosh in his earlier days could make anyone believe the fact that he raised himself. He was an extremely resourceful, self-dependent being and fought for a number of causes. He became the voice for those who could not speak or did not have the means to voice their feelings to a worldwide audience. While some hated Tosh, others revered him as the rebellious hero. To many, he was a redeemer; a saint, who was sent to liberate the people of Jamaica, both physically and mentally by way of his music. He was one of the most renowned reggae artists of his time and was the founding member of the band 'The Wailers', which gave another important personality and artist, Bob Marley, a head-start in the world of music. Through all the hardships in Jamaica, the group came up with their first collaboration, 'Catch A Fire'. As the core vocalist of the band, Tosh used music as a medium to voice his feelings and opinions. Apart from his career with 'The Wailers', he also had a successful solo career, which was cut-short due to his tragic death.
Recommended Lists:
Recommended Lists:
Continue Reading Below
Childhood & Early Life
Winston Hubert McIntosh was born on October 19, 1944 to parents who were way too young to raise him, in Jamaica. Instead, he was raised by his aunt in Grange Hill.

While he lived with his aunt, he became extremely inspired by American radio stations and developed an interest for singing and playing the guitar from a very young age.

In the early 1960s he moved to Kingston and started selling sugarcane juice. It was during this time, he befriended Bob Marley and Bunny Wailer.

The trio began going to Joe Higgs, their voice tutor and began to hone their individual music talents. They soon realized their dreams and got together to form the band, 'The Wailers' in 1962.

Recommended Lists:

Recommended Lists:

Career

They started playing for covers of American pop hits and they slowly rose to fame.

Tosh was critical to the group because he was the only self-taught keyboardist and guitarist out of the three.

By the 1970s, a number of other members had joined the band. The group signed a record deal with Chris Blackwell and Island Records Company and debuted commercially with 'Catch A Fire' in 1973. The same year, they released their second studio album, 'Burnin'.

An accident the same year changed his life forever. Chris Blackwell from Island Records refused to sign Tosh for a solo album in 1974 and in response to this, Tosh and Bunny Wailer left 'The Wailers', citing Blackwell's 'unfair treatment' as the reason.

In 1976, he released his solo debut album, 'Legalize It', under CBS Records. The title track was a hit and reggae music lovers and Rastafarians from across the world began to endorse the single in the album. The next year, he released his second solo album, 'Equal Rights'.

He formed a Reggae band, 'Word, Sound and Power' in 1976. Along with the band members, he toured for the next few years.

In 1978, he signed a deal with Rolling Stones Records and released the album, 'Bush Doctor'. One of the singles in the album, 'Don't Look Back', which was a cover version that he performed with Mick Jagger, established him as one of the best reggae artists of the period.

Continue Reading Below

In 1979, he released the next album, 'Mystic Man' and followed it with 'Wanted Dread and Alive' after two years, under the Rolling Stones' record label.

In 1983, he released the album 'Mama Africa'. The following year; he went into voluntary exile, looking for the divine advice of medicine men in Africa.

In 1987, after a brief hiatus, it appeared that the artist was having a career recovery, when he released his last studio album, 'No Nuclear War'. This album won a prominent award the same year.

Recommended Lists:

Recommended Lists:

Major Works

'Burnin', released in 1973, was the fourth studio album released by him under Chris Blackwell and 'The Wailers'. The track, 'Burnin' was ranked #151 and #41 on Billboard's Pop Albums and Black Albums charts. Rolling Stone magazine also rated the alum #319 on the list of '500 greatest albums of all time'. Recently, in 2007, the album was added to the 'Library of Congress' National Recording Registry'.

Recommended Lists:

Recommended Lists:

Awards & Achievements

His last album, 'No Nuclear War', won the Grammy Award for 'Best Reggae Album', in 1987.

In 2012, he was posthumously awarded the 'Order of Merit', Jamaica's third highest honor.

Personal Life & Legacy

In 1973, while he was driving back home with his girlfriend, Evonne, by his side, a car that was on the wrong side of the road hit his car, killing Evonne and seriously fracturing his skull. He survived from the accident

Peter Tosh had common-law marriage with Andrea Marlene Brown and the couple did not have any children. But Peter had 10 children from previous relationships. The 10 children include 5 sons and 5 daughters.

He was murdered at this residence in Jamaica, by a gang of three men who refused to leave his house unless Tosh gave them money.

As he did not have any money in the house, they refused to leave his residence and continued to torture him. During this time, some of Tosh's associates had arrived at the scene to congratulate him on his return to Jamaica, unaware of the events unfolding inside. Frustrated, one of the three men from the gang put a gun to Tosh's head, killing him with the first shot.

The three men also went on to seriously injuring others and killing two DJ's, Doc Brown and Jeff Dixon.

In 1991, a documentary titled 'Stepping Razor – Red X' was released that was based on the artist's life, music and premature death.

In 2006, it was announced that his wife, Andrea Brown would auction his M16 guitar on eBay, but in 2011, Tosh's son, Andrew stated the guitar was in care of a close friend.

Trivia

This famous reggae artist was an avid fan of unicycling. He would often ride a unicycle forwards, backwards and hop, entertaining audiences by riding a unicycle during his shows.

During Bob Marley's concert, 'One Love Peace Concert' in 1978, this famous reggae musician gave a lecture about legalizing marijuana for which he was arrested and beaten severely in prison.

Translate Wiki

to Spanish, French, Hindi, Portuguese

Article Title

- Peter Tosh Biography

Author

- Editors, TheFamousPeople.com

Website

- TheFamousPeople.com

URL

-

https://www.thefamouspeople.com/profiles/peter-tosh-2564.php

Last Updated

- November 01, 2017

---

---

---