Paul Castellano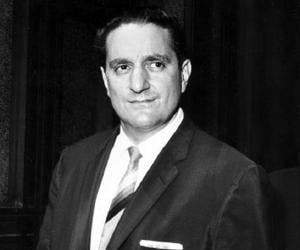 Quick Facts
Nationality: American
Famous: American Men Male Criminals
Died At Age: 70
Sun Sign: Cancer
Born in: Brooklyn, New York, U.S.
Famous as: Gangster
Family:
Spouse/Ex-: Nina Manno (1937–1985)
children: Constance, Joseph, Paul Jr., Philip
Died on: November 16, 1985
place of death: Manhattan, New York, U.S.
Continue Reading Below
Paul Castellano was a gangster and racketeer of America. Popularly known as 'The Howard Hughes of the Mob', 'Big Paul', 'The Pope' and 'The Chicken Man', he was the head of the Gambino crime family which used to operate organized crime activities in New York City. During Apalachin Conference, police took him into custody. At that time he was one of 61 high ranking mobsters arrested. Later, his extravagant life style created envy and dissatisfaction within the Gambino family. As the son of a butcher, he left school in the eighth grade. As a criminal, he was popular for not disclosing the identity of his associates to police. As a boss, he started demanding more money from top ranking mafia leaders. Apart from that, he banned family members from running drug trafficking rackets, though he used to accept large amount of payment from drug business from the Cherry Hill Gambinos and the DeMeo crew. Though he was a hardcore criminal, he liked to consider himself as a businessman first. He did not mind being referred as a murderer. But he felt insulted when he thought that he was regarded as less than a gentleman by police. He was murdered by his rival John Gotti's men.
Recommended Lists:
Recommended Lists:
Continue Reading Below
Childhood & Early Life
Born in Brooklyn, New York City, U.S., Paul Castellano was the youngest son of Giuseppe Castellano, a butcher and member of the Mangano crime family and Concetta.

He had a sister whose name was Kathryn. He left his school education in the eighth grade to learn butchering and collecting number game receipts from his father.

Recommended Lists:

Recommended Lists:

Offences & Incarceration

In 1934, in the month of July, he was arrested for the first time in Hartford, Connecticut for robbing a haberdasher. When he refused to reveal the identity of his two assistants during this crime, he served a three-month prison sentence.

In 1940, he joined the Mangano family. Under his boss Albert Anastasia, he became a caporegime , a high rank in Mafia family. After Anastasia's murder in 1957, Carlo Gambino became his boss.

In this year, he attended Apalachin Conference in Apalachin, New York. This was a historic summit of the American Mafia, an Italian-American criminal society. The New York State Police raided the meeting and arrested him.

During police custody, he refused to provide any clue about the meeting to the grand jury. As a consequence, he was imprisoned for a year on charges of contempt.

For his conspiracy to withhold information, he received sentence to five years of imprisonment on January 13, 1960. But on the month of November of the same year, an Appeals Court reversed his conviction.

He was actively involved for the establishment of Dial Poultry, a poultry distribution business.

After attaining power in the Gambino family, he started earning a large amount of money from construction concrete. Besides this, he used to manage business interest of Gambino family in the Concrete Club, a consortium.

Continue Reading Below

He also supervised Gambino's interest in Teamsters Union. This organization worked to provide workers to pour concrete at all the major building projects across New York and Long Island.

In 1976, shortly before his death, Carlo Gambino appointed Castellano to succeed him over his underboss. As its result, he played a crucial role in running activities like robbery, extortion and loan shark.

Major Crimes

After becoming the acting boss of Carlo Gambino in 1975, police charged him for loan sharking. The police also claimed that he did not provide any information about the profits from his illegal racket and thus evaded tax.

In 1975, he ordered the murder of Vito Borelli, boyfriend of his daughter Constance. Vito compared Paul to Frank Perdue, the owner of Perdue Farms. Feeling insulted, he took measures to terminate Vito's life.

In 1978, he ordered the murder of Nicholas Scibetta, a Gambino associate, for being involved in several public fights and insulting a female cousin of Frank DeCicco, underboss of Gambino family. In the same year, he planned the murder of Gambino Capo James Eppolitto and his mobster son.

In 1983, he played a crucial role in the murder of Roy DeMeo. He was aware of DeMeo's dependency on cocaine and he utilized this information to succeed in his plan. DEMeo's dead body was found in the trunk of his Cadillac.

In the following year, police accused him of extortion, narcotics trafficking, robbery and prostitution. In 1985, police took him into custody on charges of racketeering. Later, he was released on bail.

Personal Life & Legacy

He married Nina Castellano with whom he had three sons namely Paul, Philip and Joseph Castellano and a daughter whose name was Constance Castellano. Later, he developed a romantic relationship with his live-in maid Gloria Olarte.

He was assassinated on 16 December 1985. John Joseph Gotti, an Italian-American mobster made a plan to murder him at a dinner party. Gotti successfully executed his plan with the help of a hit team. The gunmen shot Castellano several times.

Trivia

According to FBI documents, this notorious person ordered to terminate the life of Frank Amato, his former son-in-law for physically abusing his daughter Connie Castellano. It has been known that after the murder, Amato's body was cut into pieces and was disposed at the sea.

This infamous person constructed a 17-room mansion in New York. Resembling the White House in Washington, D.C., this house consisted of an Olympic size swimming pool.

Translate Wiki

to Spanish, French, Hindi, Portuguese

Article Title

- Paul Castellano Biography

Author

- Editors, TheFamousPeople.com

Website

- TheFamousPeople.com

URL

-

https://www.thefamouspeople.com/profiles/paul-castellano-3396.php

Last Updated

- September 17, 2016

---

---

---