Pat Metheny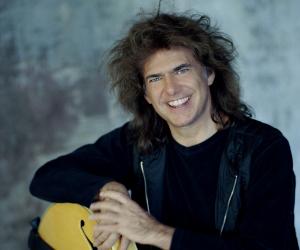 Quick Facts
Nationality: American
Famous: Composers Guitarists
Age: 65 Years, 65 Year Old Males
Sun Sign: Leo
Also Known As: Patrick Bruce Metheny, Metheny, Pat
Born in: Lee's Summit
Famous as: Guitarist
Family:
Spouse/Ex-: Latifa Metheny, Sônia Braga
siblings: Mike Metheny
children: Jeff Kaiis Metheny, Nicolas Djakeem Metheny
More Facts
education: 1972 - Lee's Summit High School, University of Miami
awards: 2008;2000;1998 - Grammy Award for Best Jazz Instrumental Album - Pilgrimage; Like Minds; Beyond the Missouri Sky (Short Stories)
1993 - Grammy Award for Best Contemporary Jazz Album - Secret Story
2012; 2004 - Grammy Award for Best New Age Album - What's It All About; One Quiet Night

2014 - Goya Award for Best Original Score - Living Is Easy with Eyes Closed
2001 - Grammy Award for Best Improvised Jazz Solo - (Go) Get It
1983 - Grammy Award for Best Jazz Fusion Performance - Offramp
1991 - Grammy Award for Best Instrumental Composition - Change of Heart
2004 - Porin Award for Best Foreign Jazz Album - One Quiet Night

Continue Reading Below
Patrick Bruce 'Pat' Metheny is an American jazz guitarist and composer who is acknowledged as one of the greatest contemporary musicians owing to his versatility on any instrument. He is a multi-Grammy winning jazz fusion guitarist known for incorporating pop music and traditional jazz with the help of technology. He has spent most of his life touring and averages between 120-240 shows a year since he began touring over 30 years ago, some for his own projects and some for other artists. Coming from a musical lineage, he was proficient in playing the trumpet and the guitar by the age of 15. During high school he played the French horn for the half-time marching band for academic credits and gave jazz performances in Kansas City. His accomplishments as a musician are unique, but his feats as a music educator are no less. He became the youngest teacher at the Miami University and also at the Berklee College of Music. At Berklee's, under the guidance of vibraphonist Gary Burton he became known as a teenage prodigy. Eventually he went on to found the Pat Metheny Group which also featured the pianist Lyle Mays; Mays would become his frequent collaborator and their professional relationship has spanned over 25 years and 15 albums.
Recommended Lists:
Recommended Lists:
Continue Reading Below
Childhood & Early Life
Pat Metheny was born on August 12, 1954 in Lee's Summit, Missouri into a musical family. His family was into band music and his older brother Mike played the trumpet.

He played his first instrument, the trumpet, at the age of eight and switched to guitar at the age of 12. In 1969, he won a Down Beat scholarship to a one-week jazz camp and met guitarist Attila Zoller.

After passing out from Lee's Summit High School he attended the University of Miami. He stayed at the University for a brief period during which he was also offered a teaching position.

Recommended Lists:

Recommended Lists:

Career

He became the youngest teacher ever at the University of Miami at the age of 18 and later took up a teaching assistantship with jazz vibraphonist Gary Burton at the Berklee College of Music. At Berklee he gained a reputation for being a teenage prodigy.

His debut album, 'Bright Size Life' (1975) was launched in collaboration with Pastorius and drummer Bob Moses, and his second album 'Watercolours' (1977) featured pianist Lyle Mays, bassist Eberhard Weber and drummer Danny Gottlieb.

He created a jazz fusion group called 'Pat Metheny Group' in 1977, in which he was the guitarist, composer and the bandleader, while Lyle Mays played the roles of keyboardist and composer. The group also had Danny Gottlieb and Mark Egan in its line-up. The group's first album 'Pat Metheny Group' (1978) was released on the ECM label.

The group's second album, 'American Garage' (1979) turned out to be a huge success and the album ranked No. 1 on the Billboard Jazz chart. The opening track '(Cross the) Heartland', was an instant hit and became the band's signature tune.

The group's unique sound was due to Pat's Gibson ES-175 guitar coupled with two Eventide Clockworks' Harmonizer digital delay units, Mays' Oberheim and Sequential Circuit Prophet 5 synthesizer and Steinway piano.

Later on Pat Metheny left his Gibson guitar and took the Roland GR-300 guitar synthesizer and the Synclavier guitar system made by New England Digital, while Mays worked with a Synclavier keyboard and several other synthesizers.

Their next album 'Offramp' (1982) was their first recording to win a Grammy Award. It featured bassist Steve Rodby and Brazilian guest artist Nana Vasconcelos, who played the percussion and gave wordless vocals.

Continue Reading Below

The group's next releases were the albums 'Travels' (1983), 'First Circle' (1984) and 'The Falcon and the Snowman' (1985). 'First Circle' featured new additions in the form of Argentinean multi-instrumentalist Aznar and drummer Paul Wertico.

Their album 'Still Life (Talking)' (1987) combined Brazilian jazz-influenced harmonies with jazz, folk and pop elements. They followed it up with the album 'Letter From Home' (1989).

The albums 'We Live Here' (1995), 'Quartet' (1996) and 'Imaginary Day' (1997) were referred to by Metheny and Mays as the triptych. In these albums, the Latin music style which dominated their previous releases was discarded for experimentation and improvisation.

Their next album was 'Speaking of Now' (2002) and it featured several younger musicians including drummer Antonio Sanchez, trumpet player Cuong Vu, and bassist-vocalist-guitarist and percussionist Richard Bona.

Their album 'The Way Up' (2005) was a concept-record and consisted of a 68-minute long piece. The album featured a new group-member, Swiss-American harmonica player Gregoire Maret and two guest artists, Bona and Dave Samuels.

In 2012, he formed a quartet named 'Unity Band' with drummer Sanchez, bassist Ben Williams and saxophone-player Chris Potter, and they toured the Europe and the US.

The band became the new 'Pat Metheny Unity Group' in 2013 and had a new member, Italian composer and multi instrumentalist Giulio Carmassi. The group went for their first world tour in 2014.

Recommended Lists:

Recommended Lists:

Major Works

Metheny's solo album, 'Secret Story', as well as The Pat Metheny Group's albums 'Still Life (Talking)' and 'Letter from Home' went onto become Gold records, while the live performances of the group's album 'The Way Up' received standing ovations in almost 90 concerts during their 2005 world tour.

Recommended Lists:

Recommended Lists:

Awards & Achievements

Pat Metheny has won 20 Grammy awards, several of them with the Pat Metheny Group. He won the Grammy for Best Jazz Instrumental Solo for '(Go) Get It' as a soloist in 2001.

In 1995, he was presented with the Miles Davis Award by the Montreal International Jazz Festival.

He was inducted into the Downbeat Hall of Fame in November, 2013.

Recommended Lists:

Recommended Lists: