Nicholas Tse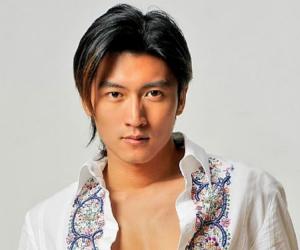 Quick Facts
Nationality: Hong Konger
Age: 39 Years, 39 Year Old Males
Sun Sign: Virgo
Also Known As: Nicholas Tse Ting-fung
Born in: Hong Kong
Famous as: Singer, Songwriter, Actor
Height: 5'9" (175 cm), 5'9" Males
Family:
Spouse/Ex-: Cecilia Cheung (m. 2006–2011)
father: Patrick Tse
mother: Deborah Lee
siblings: Jennifer Tse
children: Lucas Tse, Quintus Tse
More Facts
education: St. George's School, Hong Kong International School
awards: World Music Awards
Asian Film Award for Best Supporting Actor
Continue Reading Below
Nicholas Tse Ting-fung, popularly known as Nicholas Tse, is a Hong Kong based film actor and Cantopop singer. He learned martial arts from renowned action director Nicky Li Chung-Chiand also from specialists like Philip Ng, Andy On and Sammo Hung while training for roles. Recently in 2006, he learned Wing Chun Kung Fu for a new TV series.He made his singing debut in 1996.He made his acting debut in 1998 with the crime thriller film 'Young and Dangerous: The Prequel'. Nicholas is famous for his Cantopop rock genre of music with major hits including 'Exposure', 'Lonely Base' and 'Front, back, left, right'.He has collaborated with other Cantopop singers like Charlene Choi for 'Love', Joey Yung for both 'Amen' and 'Second Life', with Eason Chan for 'Kid', Sam Lee and Stephen Fung for 'You Can't Stop Me' and with Meilin for 'Beauty and the Beast'. He is a talented Mandarin songwriter and composer, whose songs 'I love you because I love you' and 'Hwang ZhongRen' were very popular. Nicholas posed for Singaporean photographer Leslie Kee's 2006 charity photo-book 'Super Stars' which included 300 Asian celebrities, dedicating their work to the victims of the 2004 Asian Tsunami disaster.
Recommended Lists:
Recommended Lists:
Childhood & Early Life
Nicholas was born on 29th August, 1980 in Hong Kong to Patrick Tse and Deborah Lee, both working in the showbiz.He moved to Vancouver, Canada at an early age where he attended St. George's School before the family returned to Hong Kong due to a hostile environment in school and the neighbourhood.

After studying at Hong Kong International School and later at Phoenix, California, Nicholas also went to Japan to study music before returning to Hong Kong. He has a younger sister named Jennifer Tse, who is an actress and model.

Recommended Lists:

Recommended Lists:

Career in Films

At the age of seventeen, Tse acted in his first film titled 'Young and Dangerous: The Prequel' in 1998. This film showcased him as Chan Ho-nam. In the same year, he acted in the film 'Gen X Cops' as the protagonist who embarks on an undercover mission to investigate a jet fuel theft case.

In 1999, he acted in the martial arts film 'A Man Called Hero', a Hong Kong drama film titled 'Metade Fumaca' and also in the Singaporean drama film 'Street Angels'. He also performed in a Hong Kong anthology film titled 'The Mirror'.

In 2000, he acted in the role of a swindler in a comedy film titled 'Winner Takes All'. He even acted in the action oriented film 'Time and Tide' and also in another comedy film titled 'Comic King'. In 2002, he starred along with Jackie Chan in a movie titled 'The Medallion'. He also acted as Maojie in the film 'Jade Goddess of Mercy' in the same year. In 2004, he once again shared the screen with Jackie Chan in the Hong Kong action movie 'The New Police Story'.

He performed as a monk in a Hong Kong fantasy action film titled 'A Chinese Tall Story' in 2005 and in 2006 he acted in themartial arts action film 'Dragon Tiger Gate'. In the same year, he also gave a cameo performance in the film 'Rob- B- Hood'.

In 2007, he enacted as one of the three police officers who try to bring down a gang of seven criminals in the film 'Invisible Target'. In 2008, he played the main role of Sergeant Tong Fei, a police sergeant in the film 'Beast Stalker'. He even did a voice over for the animated film 'Storm Rider Clash of the Evils'.

He acted in another martial arts fantasy film titled 'The Storm Warriors' in 2009 and in the same year, he played the challenging role of a rickshaw puller in the historical action film 'Bodyguards and Assassins'.

In 2010, he acted in a romantic comedy film titled 'Hot Summer Days'. In the same year, he acted as an informant who is recruited by a police detective to gather information about a gangster in the action thriller film 'The Stool Pigeon'.

In 2011, Tse acted in a martial arts film titled 'Shaolin' which also featuredJackie Chan in a special appearance.Then in 2012, he performed in 'Viral Factor' and inthe detective thriller 'The Missing Bullet'. Next in 2015, he acted in the comedy film '12 Golden Ducks' and 2016 saw him in the romantic comedy film 'I Love That Crazy Little Thing'.

In 2017, he played the role of a chef in the comedy film 'Cook up a Storm' and then took up a serious role in the Chinese war drama 'The Bombing'.

Recommended Lists:

Recommended Lists:

Music Career

While singing at a friend's party, he was noticed by the head of Emperor Entertainment Group Albert Yeung and Tse signed a deal with the company in 1997 under the Fitto label and went on to release his first album 'My Attitude'. This album took the third position on the IFPI CD chart. He then went on to release more albums like 'Horizons' (1998), 'Believe' (1999), 'Jade Butterfly' (2001) and 'Listen Up' (2004).

He gained a lot of recognition for his songs 'Knew it would be like that' and 'If there is only one week'.He went on to release his hit album 'Viva' in 2000, and it was after this album that he got recognized as an A-list singer.

TV Career

Nicholas started his TV career with shows like 'The Monkey King: Quest for the Sutra', 'Secretly Loving You' and 'Hearts of Fencing'. He became very popular for his series 'Chef Nic' and 'Chef Nic 2', a Chinese food travelogue show starring him and featuring celebrity guests on each episode.

Awards & Achievements

His first album'My Attitude' reached third position on the IFPI CD chart.

He was given a musical award for his popular song 'No choice but to leave' at the 1999 Jade Solid Gold Top 10 Awards.In 2002 World Music Award, he received the World's Best Chinese Artist Award for his super-hit album 'Jade Butterfly'.

Controversies

Tse has been involved in numerous traffic accident related controversies with his driving license being confiscated on many occasions.

He was once involved in a public fight with a reporter.

He also became infamous due to his ex-wife Cheung being involved in the 2008 Edison Chen (who was Tse's friend) intimate photograph leak case.

Personal Life

Prior to his marriage, Nicholas had a relationship with actress Faye Wong who is eleven years elder to him.

Later, he married Cecilia Cheung, a Hong Kong actress and Cantopop singer, in a secret wedding ceremony in Philippines in 2006. They are blessed with two sons – Lucas Tse born on 2nd August 2007 and Quintus Tse born on 12th May, 2010. Nicholas and Cecilia parted ways through divorce.

He is currently in a relationship with Singer and actress Faye Yong.

Trivia

He is featured in Madame Tussauds gallery.

Net-worth

People from Money Magazine have estimated his net-worth to be $131 million, although other media have reported it to be over $200 million as of 2014.

Translate Wiki

to Spanish, French, Hindi, Portuguese

Article Title

- Nicholas Tse Biography

Author

- Editors, TheFamousPeople.com

Website

- TheFamousPeople.com

URL

-

https://www.thefamouspeople.com/profiles/nicholas-tse-10954.php

Last Updated

- October 24, 2017

---

---

---