Nicholas Hoult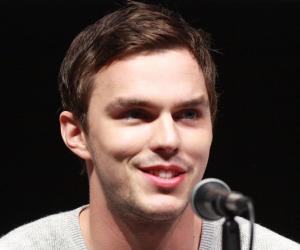 Quick Facts
Birthday: December 7, 1989
Nationality: British
Famous: Actors British Men
Age: 29 Years, 29 Year Old Males
Sun Sign: Sagittarius
Also Known As: Nicholas Caradoc Hoult
Born in: Wokingham, United Kingdom
Famous as: Actor
Height: 1.90 m
Family:
father: Roger Hoult
mother: Glenis Brown
siblings: Clarista Hoult (sister), James Hoult (brother), Rosanna Hoult (sister)
More Facts
education: Sylvia Young Theatre School
Continue Reading Below
Nicholas Hoult is a famous English actor. He gained prominence after starring in the role of Marcus Brewer alongside Hugh Grant in the movie 'About A Boy'. He is best known for playing the role of Beast in the 'X-Men: First Class', 'X-Men: Days of Future Past', and 'X-Men: Apocalypse'. Hoult earned a 'Golden Nymph Award for Best Actor in a Drama Series' nomination for his portrayal of Tony Stonem on the TV show 'Skins'. He met actress Kaya Scodelario on the sets of the 'Skins' and he regards her guidance as a blessing in his life. He admittedly doesn't like watching his own acting and often plays pranks. He once ran into a golf course dressed as Beast and gave golfing tips and then ran away. Hoult recently admitted being in a relationship with model Bryana Holly. He is a sports enthusiast, enjoys Formula One racing, and used to play for Reading Rockets. Besides his successful acting career, the actor is equally involved with social causes and charities. He is associated with 'Teenage Cancer Trust', 'National Society for the Prevention of Cruelty to Children', and 'WWF'.
Recommended Lists:
Recommended Lists:
Continue Reading Below
Childhood & Early Life
Nicholas Hoult was born to Glenis and Roger Hoult on December 7, 1989, in Wokingham, Berkshire, UK. His mother is a piano teacher and his father is a retired British Airways pilot.

He has three siblings including elder brother James (born 1977), elder sister Rosanna (born 1984), and younger sister Clarista Hoult (born 1992). His siblings are involved in acting and dancing and his great aunt was Dame Anna Neagle.

He followed in the footsteps of his elder siblings and even started practicing ballet. He started studying in the 'The Coombes CE Primary School' in Arborfield, Berkshire, before moving on to the 'Arborfield Church of England Junior School'. He grew up fairly independent as his parents supported his dreams.

While attending a play at the age of three with his mother, Nicholas was noticed by a director, who suggested he try acting. This made quite an impression on his young mind and he landed a part in the play 'The Caucasian Chalk Circle'.

Recommended Lists:

Recommended Lists:

Career

Nicholas Hoult made his acting debut in the movie 'Intimate Relations' (1996). The same year he made his TV debut in the episode 'It Ain't Me, Babe', on the series 'Casualty'.

In 1997, he was then seen in the movie 'Mr. White Goes to Westminster'. In the next few years, he continued making TV appearances on a number of shows including 'Silent Witness' (1998), 'The Ruth Rendell Mysteries' (1999), and 'The Bill' (2000).

By 2001, Hoult had established himself as a talented young amateur actor. This was evident from his numerous appearances on TV shows that year like, 'The Bill', 'Magic Grandad', 'Holby City', 'Doctors', 'Walking the Dead', and 'World of Pub'.

2002 was a breakthrough year for Nicholas Hoult, as he landed the role of Marcus Brewer in the comedy-drama film 'About a Boy'. The movie was not only a box office hit but earned him the 2003 'Critics Choice Award' nomination. He also won the 'Phoenix Film Critics Society Award for Best Performance by a Youth in a Leading or Supporting Role – Male'.

From 2003 to 2006, Nicholas Hoult was cast in different roles on TV shows like 'Star', 'Keen Eddie', and 'Mystery Hunters'. But his focus was more on banking on his 'About a Boy' success. Thus, he starred in three movies 'Wah-Wah' (2005), 'The Weather Man' (2005), and 'Kidulthood' (2006). Unfortunately, none of these movies were box office successes.

In 2007, he was cast in the role of Tony Stonem in the British digital E4 series 'Skins' (2007–2008). His performances were critically acclaimed and he ended up being nominated for the 'Walkers Home Grown Talent Award' and 'Golden Nymph Award'.

In 2007, he was also seen in the TV movie 'Coming Down the Mountain'. The next year, he made an appearance as Stefan on the show 'Wallander' in the episode 'Sidetracked'. He was praised for his performances, but still failed to get major roles.

Continue Reading Below

In 2009, he made a comeback with his 'British Academy Film Awards for Orange Rising Star Award' nominated role in the movie 'A Single Man'. He followed that up with his first major box-office blockbuster 'Clash of the Titans' (2010), in which he played Eusebios.

Nicholas Hoult's most famous role came in 2011, when he portrayed the character of in Henry 'Hank' McCoy or Beast in the movie 'X-Men: First Class'. He went on to reprise the role in 'X-Men: Days of Future Past' (2014), 'X-Men: Apocalypse' (2016), and in the upcoming 'X-Men: Dark Phoenix' (2018).

The year 2013 saw the British actor portray a zombie named R in the romantic zombie comedy movie 'Warm Bodies'. The movie was a surprise hit and ended up making US$ 117 million against a budget of US$ 35 million. In the same year, he also starred in 'Jack the Giant Slayer' which was a commercial disaster.

In 2015, Hoult was busier with multiple movies like 'Dark Places', 'Equals', and 'Kill Your Friends'. In spite of his acting being critically acclaimed, the movies failed to make a mark at the box office.

He starred in one of his most successful movies to date, in the critical and commercial blockbuster 'Mad Max: Fury Road' in 2015. He played the lead role of Nux and ended up winning 'Best Supporting Actor - Audience Award' at the 2016 'CinEuphoria Awards'.

In 2016, he voice acted in the role of Ace in the animated movie 'Underdogs' and appeared as Casey in the movie 'Collide'.

2017 turned out to be a great year for the British actor, as Nicholas Hoult was seen in several critically acclaimed roles in movies like 'Newness' and 'Sand Castle'. But two of his best outings were as J.D. Salinger in the 'Rebel in the Rye' and as Nikola Tesla in 'The Current War'.

Continue Reading Below

Hoult will also be seen in the upcoming movies 'The Favourite' and will portray the iconic writer J. R. R. Tolkien in the biopic 'Tolkien', in 2018.

Major Works

Nicholas Hoult has acted in some of the biggest blockbusters of the last decade. 'Clash of the Titans' made US$ 493 million against a budget of US$ 125 million.

'X-Men: First Class', 'X-Men: Days of Future Past', and 'X-Men: Apocalypse', have in total grossed more than US$ 1.5 billion worldwide.

He co-starred with Charlize Theron and Tom Hardy in one of the lead roles in 'Mad Max: Fury Road'. The movie was not only a box office success making US$ 378.9 million but also won six 'Academy Awards' in 2016.

Awards & Achievements

Nicholas Hoult won the 'Phoenix Film Critics Society Award – Best Performance by a Youth in a Leading or Supporting Role' and the 'OFTA Film Award for Best Youth Performance' for his acting in 'About a Boy' in 2003.

He was nominated for the 'Golden Nymph Award' (2008) for 'Outstanding Actor - Drama Series' for his performance in 'Skins'.

He won the 'Choice Movie Breakout' star award at the 2013 'Teen Choice Award' for 'Warm Bodies'.

Continue Reading Below

Hoult was nominated along with the cast of 'Mad Max: Fury Road' at the 'Golden Derby Awards' (2016). He also received a nomination for the 'Choice Movie: Scene Stealer' award at the 2015 'Teen Choice Awards', for the same movie.

Personal Life & Legacy

Nicholas Hoult started dating actress, Jennifer Lawrence, in 2010, when they were filming 'X-Men: First Class'. They broke up in 2014.

He has been in a relationship with Playboy model, Bryana Holly, since March 2017.

He is the ambassador for the basketball team 'Reading Rockets' and enjoys attending Grand Prix events all around the world.

Nicholas Hoult is also associated with charities like 'National Society for the Prevention of Cruelty to Children'. In 2007, he was inducted into their Hall of Fame and he also supports 'Save the Children' charity.

In 2009, Hoult was associated with 'Teenage Cancer Trust' and in 2010 he went to slums in Nairobi, Kenya, to support a project providing clean water and sanitation.

Hoult and two of his friends took part in a 3000km 'Rickshaw Run' in January 2017, across India, to raise funds for 'WWF's' Rhino conservation project and 'Teenage Cancer Trust'.

He is also one of the star ambassadors for Jaguar since 2014 and has appeared in some of their commercials.

1. Mad Max: Fury Road (2015)

(Sci-Fi, Adventure, Action, Thriller)

2. X-Men: Days of Future Past (2014)

(Thriller, Adventure, Sci-Fi, Action)

---

3. The Favourite (2018)

(History, Biography)

4. X: First Class (2011)

(Adventure, Sci-Fi, Action)

---

---

5. Deadpool 2 (2018)

(Adventure, Comedy, Sci-Fi, Action)

6. A Single Man (2009)

(Drama, Romance)

---

---

---

7. About a Boy (2002)

(Comedy, Romance, Drama)

8. X-Men: Apocalypse (2016)

(Adventure, Action, Sci-Fi)

---

---

---

---

Translate Wiki

to Spanish, French, Hindi, Portuguese

Article Title

- Nicholas Hoult Biography

Author

- Editors, TheFamousPeople.com

Website

- TheFamousPeople.com

URL

-

https://www.thefamouspeople.com/profiles/nicholas-hoult-12848.php

Last Updated

- January 17, 2018

---

---

---