Michelle Rodriguez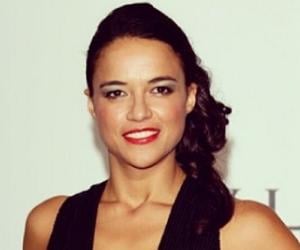 Quick Facts
Nationality: American
Famous: Actresses American Women
Age: 40 Years, 40 Year Old Females
Sun Sign: Cancer
Born in: San Antonio, Texas, United States
Famous as: Actress
Height: 1.65 m
Family:
father: Rafael Rodriguez
mother: Carmen Milady Rodriguez
siblings: Omar Rodriguez, Raul Rodriguez
U.S. State: Texas
Net worth: $30 Million as of apr 17, 2017
Continue Reading Below
Michelle Rodriguez is an American actress and screenwriter. Reaching the 'Maxim' magazine's list of Hot 100 Women of 2002, she is a blend of good acting skills and beauty, and has established a strong career in Hollywood. She first shot to fame with her debut film, 'Girlfight', for which she not only gained critical acclaim, but also bagged several awards. Her film 'Avatar' has been her most successful film till date, and her movies 'Battle: Los Angeles' and 'Furious 7' were also smashing hits. 'The Fate of the Furious' also received record-breaking success. She had also successfully branched into television acting, and did some very successful TV series, winning awards as well. Besides numerous voice works in video games, she has also tried her hands at scriptwriting, and is currently working on several projects. Despite having a very successful professional career, she has been arrested and sentenced to jail several times due to her unruly behavior, for which she had also been expelled from at least five schools.
Recommended Lists:
Recommended Lists:
Continue Reading Below
Childhood & Early Life
Mayte Michelle Rodriguez was born on July 12, 1978, in San Antonio, Texas. Her mother Carmen Milady Rodriguez is a Dominican and her father Rafael Rodriguez, who served in the US Army, was a Puerto Rican. She has ten siblings and half-siblings.

When she was eight, she shifted to the Dominican Republic with her mother, and stayed there till she was 11. Her maternal grandmother raised her for some time. The elderly lady was quite religious and raised Michelle as a Jehovah's Witness. Michelle later abandoned the faith.

From the ages 12 to 17, she lived in Puerto Rico, after which she finally settled in Jersey City, New Jersey.

Much later in life, at a television program 'Finding Your Roots' a DNA test was conducted on her, according to which her ancestry is 72.4% European, 21.3% African, and 6.3% Native American. She explained that her father had a light complexion and her mother had a dark complexion, giving rise to some racial conflicts in the family.

A wild teenager, she was expelled from five schools due to her unruly behavior. She first dropped out of high school mid-way, but later she earned her GED.

She also attended a business school for a short period, as she quit it to pursue a career in acting. Her goal was to become an actress, screenwriter, and director.

Recommended Lists:

Recommended Lists:

Career

Michelle Rodriguez bagged her first role in a low-budget film 'Girlfight' in 2000 after beating 350 other applicants. She attended this audition after seeing an ad calling for an audition. She portrayed Diana Guzman, an arrogant teen, who diverts her anger by training to become a boxer.

She played many important roles in successful movies over the ensuing years. One of them was the action crime film 'The Fast and the Furious' in 2001. Her portrayal of Letty was highly appreciated.

In the science fiction action horror film 'Resident Evil' in 2002, she played the role of Rain Ocampo. Next, she did 'Blue Crush' a sports film in 2002, and 'S.W.A.T', a 2003 American action crime thriller film.

In 2004, she voiced-over in the video game 'Halo 2', playing a marine. She also lent her voice to Liz Ricarro in the Cartoon Network series 'IGPX'.

Next, she did 'Lost', a television series from 2005 to 2006. She appeared in the second season of the show, in which she played a tough cop, Ana Lucia Cortez. She also did a cameo in the second episode of the fifth season called 'The Lie', in 2009. She appeared in another episode of the show called 'What They Died For' in 2010 as well.

In 2006, she appeared in an episode of G4's show 'Icons,' a documentary TV show. In 2008, she appeared in 'Battle in Seattle', a political drama, opposite Charlize Theron and Woody Harrelson.

In 2009, she starred in the fourth installment of 'The Fast and the Furious' film series called 'Fast & Furious'. That same year, she was featured in a high-budget sci-fi movie 'Avatar'. She also featured in 'Trópico de Sangre,' an independent film based on the Mirabal sisters the same year.

Continue Reading Below

In 2010, she appeared in Robert Rodriguez's action film 'Machete'. The next year, she did the science fiction film 'Battle: Los Angeles' with Aaron Eckhart.

In 2012, she returned as Rain Ocampo in the science fiction action horror film 'Resident Evil: Retribution'. In 2013, she repeated her roles as Letty in 'Fast & Furious 6', and Luz/ Shé in 'Machete Kills'. The same year, she said that she is working on scriptwriting on several projects, including a drug drama, a family adventure film, and a female-oriented period film.

In 2015, she starred in 'Furious 7', and in 2017, she voiced-over for 'Smurfs: The Lost Village'. She also starred in 'The Fate of the Furious'. In the coming months, she will be seen in 'Alita: Battle Angel,' for director James Cameron, opposite Viola Davis.

Major Works

Her debut film 'Girlfight' in 2000 became her first successful movie which received several awards and nominations. 'Avatar', is her most successful film to date. Her movie 'Battle: Los Angeles' collected over US$200 million worldwide. In 2015, 'Furious 7' collected over $1.5 billion worldwide. 'The Fate of the Furious' received a record-breaking collection on the opening day itself.

Awards & Achievements

In 2001, Michelle Rodriguez won several awards for 'Girlfight', including Deauville Film Festival award in the category of Best Female Performance; Independent Spirit Award in the category of Best Debut Performance; National Board of Review award in the category of Best Breakthrough Performance by an Actress, and also Gotham Award.

In 2002, she bagged an Imagen Foundation Award for 'S.W.A.T.' In 2005, she won Screen Actors Guild Award for 'Lost' TV series.

Personal Life

After Michelle Rodriguez broke off an engagement with a Muslim boyfriend in 2000, she had been in relationships with actors Olivier Martinez, Vin Diesel, and Zac Efron, and Cara Delevingne, a model.

Continue Reading Below

In an interview, she described herself as bisexual. "I fall under the B category of LGBT," she said.

In March 2002, she was arrested for assaulting her roommate, but later the charges were dropped, as the roommate didn't want to take up the allegations in court.

In November 2003, she was again faced with eight charges related to driving, including a hit and run case and drunken driving. However, in June 2004, she pleaded no contest to three of the charges—hit and run, driving under influence, and driving with a wrong license.

Eventually, she went to prison for 48 hours, and performed community service at the morgues of two hospitals in New York. She also had to do a three-month alcohol rehabilitation program, and was finally placed on probation for three years.

In 2005, Honolulu police arrested her for violating speed limits, and also for drunken driving. In April 2006, she was found guilty for drunken driving, and was bailed out with US$500 fine. She also had to be in the prison for five days.

Again, for violating her probation in Los Angeles, she was sentenced to two months prison, and had to complete a 30-day alcohol rehabilitation program. She also did 30 days of community service. However, since the prison was overcrowded, she was released from prison the same day she entered.

In September 2007, she was again sentenced for 180 days in jail, for not completing her community service, but she was released after 18 days as the jail was overcrowded.

1. Avatar (2009)

(Fantasy, Sci-Fi, Adventure, Action)

2. Widows (2018)

(Crime, Drama, Thriller)

---

3. Furious Seven (2015)

(Action, Thriller, Crime)

4. Furious 6 (2013)

(Thriller, Crime, Action)

---

---

5. Girlfight (2000)

(Drama, Sport)

6. Gardens of the Night (2008)

(Drama)

---

---

---

7. The Fate of the Furious (2017)

(Adventure, Crime, Thriller, Action)

8. The Fast and the Furious (2001)

(Thriller, Crime, Action)

---

---

---

---

Translate Wiki

to Spanish, French, Hindi, Portuguese

Article Title

- Michelle Rodriguez Biography

Author

- Editors, TheFamousPeople.com

Website

- TheFamousPeople.com

URL

-

https://www.thefamouspeople.com/profiles/michelle-rodriguez-33244.php

Last Updated

- July 11, 2017

---

---

---