Melvin Franklin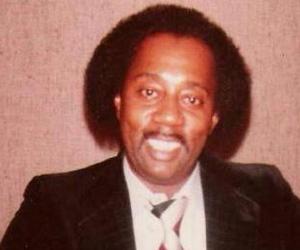 Quick Facts
Birthday: October 12, 1942
Nationality: American
Famous: Black Singers Rhythm & Blues Singers
Died At Age: 52
Sun Sign: Libra
Also Known As: David Melvin English
Born in: Montgomery, Alabama
Famous as: R&B Singer
Height: 1.85 m
Family:
Spouse/Ex-: Kimberly English (m. ?–1995)
mother: Rose English
children: Davette English, David English Jr., Felicia English, LaRissa English, Niquos English
Died on: February 23, 1995
U.S. State: Alabama
Continue Reading Below
David Melvin English, known popularly as Melvin Franklin, was an American bass singer. He was a founding member of the American vocal group 'The Temptations'. The band became popular for their choreography, distinct harmonies, as well as their colorful wardrobes. Born in Montgomery, Alabama, Franklin was into music from an early age. As a teenager, he was a member of several singing groups such as 'The Voice Masters'. Along with a few of his classmates, he formed the group 'The Elgins'. Later, it was renamed to 'The Temptations'. Melvin and his friend Otis became the only founding members to never leave the group. Throughout his career, his deep vocals earned him huge fame and he was known as one of the best contemporary singers. Some of his best known works include the songs 'I Truly, Truly Believe', 'Silent Night' and 'Ol' Man River'. Other than singing, he also played a voice role in the animated cartoon series 'Pole Position'. He had a role in the British adventure film 'Sky Bandits' as well.
Recommended Lists:
Recommended Lists:
Continue Reading Below
Childhood & Early Life
David Melvin English was born on 12th October 1942, in Montgomery, Alabama, in the US. His mother's name was Rose English; she was from Mobile County, Alabama. His biological father was a preacher in a church. According to Rose, she was impregnated by him through "non-consensual relations."

Shortly after he was born, his mother got married to Willard Franklin and moved to Detroit. Her grandmother, however, insisted that Melvin be kept in her care. At the age of ten, Melvin finally went on to live with his mother and stepfather. He eventually took on his stepfather's surname.

Melvin developed an interest in singing at a very early age. He was a member of several singing groups in Detroit, such as 'The Voice Masters'. He performed with known singers such as Lamont Dozier, David Ruffin, and Richard Street. He used to refer to Ruffin and Dozier as his cousins.

While he was studying at Northwestern High School, his classmate Otis Williams invited him to join his singing group. The group, which was formed in late 1960, was named 'The Elgins'. Other members included Elbridge Bryant, Paul Williams, and Eddie Kendricks.

Recommended Lists:

Recommended Lists:

The Temptations

In 1961, the group signed with Motown Records under their new name 'The Temptations'. During his time, Melvin also acquired the nickname 'Blue' as he was fond of the color blue.

The group's early albums include 'The Temptations Sing Smokey' (1965), 'Getting Ready' (1966), 'The Temptations with a Lot o' Soul' (1967) and 'The Temptations Wish It Would Rain', (1968). Many of their singles were hits and topped several charts. Franklin's song 'I Truly, Truly Believe', from the album 'The Temptations Wish It Would Rain' became hugely popular.

One of the most successful singles of the group was 'The Way You Do the Things You Do' (1964), which stood at the 11th position on the Billboard Hot 100. It also entered the charts in various countries such as France, Canada and the UK. The same year, the group released another song 'Beauty is Only Skin Deep', which was also a huge hit.

Other hit songs of the group include 'I Wish it Would Rain' (1967), 'Run Away Child, Running Wild' (1969), 'Just My Imagination' (1971), and 'Masterpiece' (1973). Melvin was usually a background singer in most of the group's singles.

Throughout the years, the group continued to release several successful albums, such as 'On Broadway' (1969), 'Sky's the Limit' (1971), 'Masterpiece' (1973), 'A Song For You', (1975), 'Reunion' (1982), and 'To Be Continued' (1986).

Other Works

Other than singing, Melvin Franklin had also worked as a voice actor. He voiced 'Wheels', one of the main characters, in the animated cartoon series 'Pole Position'. The series aired in 1984 from September to December, covering thirteen episodes. The series was based on a popular video game of the same name.

He played a role in the 1986 British adventure film 'Sky Bandits'. The film was about the story of two outlaws who enlist in the Royal Air Force and fly war planes known as gunbuses. The film was a commercial failure, grossing nearly $3 million on a budget of $18 million.

Awards & Achievements

Melvin Franklin was inducted into the Rock and Roll Hall of Fame in 1989, as a member of The Temptations.

In 2013, he was posthumously inducted into the Official R&B Hall of Fame along with The Temptations. The same year, he also received the Lifetime Achievement Award which was accepted by his wife.

Along with The Temptations, he won three Grammy Awards.

Personal Life

Melvin Franklin was married to a woman named Kimberly. The couple had six children.

In the late 1960s, Melvin was diagnosed with arthritis. Though he fought his illness in order to continue performing, he later developed other problems as well, such as diabetes. He was also shot in the hand in the year 1978, while he was trying to prevent a man from stealing his car.

After a series of seizures, he eventually fell into a coma on February 17, 1995. He passed away after a few days, on 23rd February. His tomb lies at Forest Lawn Memorial Park in Los Angeles, California.

Trivia

In 1998, a mini-series named 'The Temptations' was aired by NBC, which was based on the famed vocal group. Melvin was portrayed by actor DB Woodside.

Translate Wiki

to Spanish, French, Hindi, Portuguese

Article Title

- Melvin Franklin Biography

Author

- Editors, TheFamousPeople.com

Website

- TheFamousPeople.com

URL

-

https://www.thefamouspeople.com/profiles/melvin-franklin-35279.php

Last Updated

- April 11, 2018

---

---

---