Mark Henry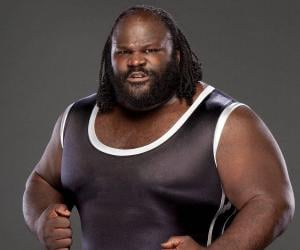 Quick Facts
Nationality: American
Famous: Wrestlers American Men
Age: 47 Years, 47 Year Old Males
Sun Sign: Gemini
Also Known As: Mark Jerrold Henry
Born in: Silsbee, Texas, United States
Famous as: Weightlifter, Powerlifter, Wrestler
Height: 1.93 m
Family:
Spouse/Ex-: Jana Henry
father: Ernest Henry
mother: Barbara Jean
U.S. State: Texas
Net worth: $4.5 million as of Apr 6, 2017
Continue Reading Below
Mark Henry is an American powerlifter, Olympic weightlifter and professional wrestler. Labelled as the World's Strongest Teenager and later as the World's Strongest Man, Henry is a two time Olympian and a gold, silver and bronze medallist at Pan American Games. His intimidating size and power earned him a spot in American Powerlifting circle early in life from where he never looked back. Henry went on to become WDFPF record holder in squat, deadlift, raw deadlift and total. He is credited for the biggest raw squat and raw powerlifting total ever performed by a drug tested athlete. After breaking records in powerlifting, Henry made an easy switch to weightlifting; he was a two-time Olympic Festival Champion and three-time US National Weightlifting Champion. In 1996, he joined WWE. As a wrestler, he won the World Heavyweight Champion title, WWF European Championship and ECW Championship. Though injuries have played a spoilsport for Mark Henry, his established persona of a ruthless and powerful man terrifies his opponents till date.
Recommended Lists:
Recommended Lists:
Continue Reading Below
Childhood & Early Life
Mark Henry was born on June 12, 1971, in Silsbee, Texas. His father, Ernest Henry, died when Mark was just 12 years of age. Two years later, he was diagnosed with dyslexia.

Since an early age, Mark Henry was fond of wrestling. He idolized Andre the Giant. Mark Henry grew up to be a tall, strong and sturdy man. At the age of 18, he was called 'World's Strongest Teenager' by LA Times.

He started powerlifting since his Silsbee High School days. In 1990, he won the National High School Powerlifting Championships. By the time, he finished school, he was a three-time Texas state champion with state and national records in all four powerlifting categories, squat at 832 lb, bench press at 525 lb, deadlift at 815 lb and the total at 2,033 lb.

Recommended Lists:

Recommended Lists:

Powerlifting Career

Mark Henry's amazing talent was soon spotted by Terry Todd who took him to Austin. There, he received training in Olympic style weightlifting. In just eight months of training, he broke four national junior records. In 1991, he won the US National Junior Championship and the International Junior Powerlifting Championship.

Within a year, Mark Henry reached the pinnacle of success in weightlifting on a National and continental level. He won several weightlifting competitions, thus cementing his dominance at the sport.

He competed in powerlifting as well and won numerous titles. He became ADFPA US National Powerlifting Champion in 1995, defeating 5 time IPF World Powerlifting Champion and 12 time USAPL National Powerlifting Champion Brad Gillingham.

He outperformed America's Strongest Man of 1997 Mark Philippi. He also set two world records, in the raw deadlift at 903.9 lbs and the squat without a squat suit at 948.0 lbs. He improved this record after every competition.

Weightlifting Career

At the age of 24, Henry was acknowledged as the Strongest Man in the World. No one in the history of the sports had ever lifted as much as he did in the five competitive lifts, the snatch and the clean and jerk in weightlifting and the squat, bench press and deadlift in powerlifting. Till date, he is known as History's Greatest Lifter.

His win at the 1996 US National Weightlifting Championships helped him secure a place at the 1996 Summer Olympics. At 6"4', he became the largest athlete in Olympic history. However, a back injury dampened his game. Henry later announced it to be his last official competition in Olympic weightlifting.

Mark Henry's record breaking achievements and feats in powerlifting and weightlifting made him immensely popular. The overwhelming popularity brought him to the notice of WWE owner Vince McMahon, who offered Henry a 10-year contract as professional wrestler which he signed.

Continue Reading Below

Before making an end to his lifting career, Henry broke several records. He became the youngest man in history to squat more than 900 pounds without a squat suit, the youngest to total more than 2,300 pounds raw and the only person to accomplish these feats under 25 years of age.

Wrestling Career

Trained by Leo Burke, Mark Henry's first ever appearance in the WWF ring was against Jerry Lawler. It was at In Your House: Mind Games on September 22, 1996. He convincingly defeated Lawler. Later, in the tug of war contest, he defeated Hunter Hearst Helmsley, Crush and Goldust.

In no time, Mark Henry became a regular fixture on WWF programming. He defeated important fighters including Steve Lombardi and The Sultan. He also took part in the Wrestle Mania XIV in a tag team Battle Royal.

In 1999 WWF Intercontinental and WWF European Championships, he helped Jarrett win both the match and the title. During this time, he gave himself the nickname Sexual Chocolate and claimed to be a sex addict. He soon became a fan favourite and was seen romancing WWF women.

His mother's death in 2001 caused him to take a hiatus from wrestling as he felt the need to compete in the Super Bowl of Weightlifting to honor his mother. After four months of gruelling training, he fought against some of the world's strongest men. Starting it off as an underdog in the event amongst the strongest of men, Henry surprisingly won all the four events thus claiming the title of 'World's Strongest Man'. Interestingly, he not just won the contest, but also achieved it in record time.

In August 2003, Henry returned to WWE television on the Raw roster. He was involved with World Heavyweight Champion Goldberg, and engaged in a rivalry with Shawn Michaels and Booker.

At WWE Tag Team Championship, he was involved in a Battle Royal for the vacant World Heavyweight Championship which he lost to Kurt Angle at the 2006 Royal Rumble in January. Unperturbed by the loss, he faced Rey Mysterio in the ring in a non-title match which he won convincingly. He returned to screen for an episode of SmackDown! His loss to Undertaker made him take a short hiatus.

Continue Reading Below

In 2008, Mark Henry was drafted to the Extreme Championship Wrestling (ECW). He defeated Kane and Big Show in a Triple Threat match to capture the ECW Championship. The victory ended his decade long drought chase for a title win, his only being one that he held in WWE in 1999. However, he lost the title to Matt Hardy at Unforgiven in the Championship Scramble match.

In June 2009, Mark Henry was traded to Raw brand. His first match was against Randy Orton whom he defeated. He then formed a tag team with Montel Vontavious Porter and challenged the Unified WWE Tag Team Champions Jeri-Show for the title unsuccessfully.

In 2011, a technical snag during his match against Randy Orton outraged Mark Henry so much so that he became violent in the ring. He injured his opponents including Big Show, Kane, Vladimir Kozlov and The Great Khali. None dared to fight him except for Sheamus who took the challenge.

At SummerSlam, Mark Henry defeated Sheamus by count-out and thereafter won the 20-man Battle Royal, thus becoming the number one contender for the World Heavyweight Championship.

In 2012, At Night of Champions, he defeated Orton to become World Heavyweight Champion for the first time in his 15 years of career with WWE. He also became the fifth African-American to win a World Heavyweight title. He successfully defended his title thrice, first against Orton at Hell in a Cell match, next against Big Show at Survivor Series and finally against Bryan in a steel cage match.

It was at the TLC that Mark Henry finally lost his World Heavyweight Championship title to Big Show in a chairs match. Following this, he suffered from hyperextended knee that kept him away from the ring. Though he returned to the ring shortly thereafter, his game was hampered. In May, Henry announced of undergoing a career threatening surgery.

After a nine-month hiatus from wrestling, Henry returned to the ring on February, 2013 brutally attacking Daniel Bryan, Rey Mysterio and Sin Cara. He later defeated Randy Orton to earn a spot in the number one contenders' Elimination Chamber match for the World Heavyweight Championship.

Injuries got the better of Henry as he remained absent for most of his later career. He returned to television for an episode of Raw where he delivered an emotional speech on his retirement. It was due to his speech that he was granted a WWE Championship match against Cena at Money in the Bank for the only title that he never held. However, he lost the title match.

The matches following his loss to John Cena mostly turned out against Henry as he lost most of them to his opponents. Be it for an episode on Raw or for SmackDown, match at the Night of Champions or at Survivor Series, he hardly won any. Subsequently, he took a hiatus from wrestling due to an unspecified injury.

March 2015 marked the return of Mark Henry for an episode of SmackDown. He later tried unsuccessfully to bag the vacant Intercontinental Championship at Elimination Chamber but was eliminated by Sheamus. He suffered from back to back losses in single matches eventually.

In July 2016, Mark Henry was drafted to Raw at the WWE Draft. His United States Championship match against Rusev did not turn out in his favour. Later, he teamed with R-Truth and Goldust in a feud against Titus O'Neil and The Shining Stars, which they convincingly won.

At the recent Royal Rumble of 2017, Henry finished at the sixth spot eliminated by Braun Strowman.

Personal Life & Legacy

Mark Henry is married to Jana. He has a son Jacob and daughter Joanna. Currently, he lives in Austin, Texas.

Translate Wiki

to Spanish, French, Hindi, Portuguese

Article Title

- Mark Henry Biography

Author

- Editors, TheFamousPeople.com

Website

- TheFamousPeople.com

URL

-

https://www.thefamouspeople.com/profiles/mark-henry-11759.php

Last Updated

- July 24, 2017

---

---

---