Marilu Henner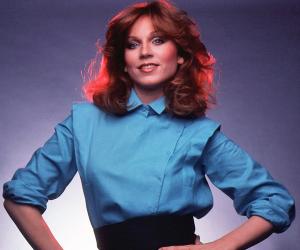 Continue Reading Below
Mary Lucy Denise Henner, popularly known as Marilu Henner, is an American actress, radio host, and author. Born into a family with a rich legacy in fine arts, she started dancing as a toddler and began teaching dance at her family's Henner Dance School when she was a teenager. She also choreographed her school's stage productions. She eventually decided to pursue a career in acting and started doing small roles in stage and TV productions. Coming to prominence with her performance in the hit sitcom 'Taxi,' she went on to appear in movies like 'Johnny Dangerously', 'The Man Who Loved Women', 'L.A. Story' and 'Man on the Moon'. She returned to the TV in 1990 with 'Evening Shade.' She is also a successful author, having churned out many best-selling books in the fields of health and fitness. She published a revealing autobiography, 'By All Means Keep on Moving', in which she boldly revealed her sexual relationships with many of her Taxi co-stars.
Recommended Lists:
Recommended Lists:
Continue Reading Below
Childhood & Early Life
Marilu Henner was born on April 6, 1952 in Chicago, Illinois to Loretta Callis and Joseph Henner. Her mother was Greek and her father was Polish. She has five siblings, she being the third child. Her mother was the president of the National Association of Dance and Affiliated Arts and ran the Henner Dance School for 20 years.

She started taking dance classes when she was two years old. She began teaching dance at her mother's studio when she was 14 and choreographed dance programs at high schools and colleges.

Recommended Lists:

Recommended Lists:

Career

While Marilu Henner was attending the University of Chicago, she bagged the role of 'Marty' in the Kingston Mines production of the play 'Grease' in 1971. When the show moved to the Broadway, she was asked to reprise the role. But she rejected the offer and instead chose to work in the national touring company.

She moved to New York and bagged her debut Broadway role in 'Over Here!' in 1976. Her other Broadway plays include 'Pal Joey', 'Chicago', 'Social Security' and 'The Tale of the Allergist's Wife'.

In 1977, she made her film debut in 'Between the Lines' and was featured in her second film 'Bloodbrothers' in 1978. In the same year, she landed the breakthrough role of her career in the popular sitcom 'Taxi', in which she played the role of a single mother and cab driver Elaine O'Connor-Nardo who wants to venture into the world of fine arts. She continued her role for five seasons.

She landed the leading female role in the 1982 film 'Hammett', directed by Wim Wenders. The following year, she was featured opposite Burt Reynolds in 'The Man Who Loved Women', directed by Blake Edwards. She also appeared in 'Cannonball Run II' in the same year.

In 1984, she bagged the role of the leading female in the film 'Johnny Dangerously' opposite Michael Keaton. In 1990, she returned to TV and found success with her role in 'Evening Shade'. She continued her role as Ava Evans Newton, the wife of a high school athletics coach for four years.

On September 5, 1994, she published her autobiography, 'By All Means Keep on Moving', in which she revealed her relationships with many of her 'Taxi' co-stars including Tony Danza and Judd Hirsch.

On May 6, 1998, her book 'Marilu Henner's Total Health Makeover' was published, followed by 'The 30-Day Total Health Makeover' published on March 3, 1999 and 'I Refuse To Raise A Brat' on October 12, 1999.

Continue Reading Below

In 1999, she played herself in the film 'Man on the Moon', a movie about the comedian Andy Kaufman. Miloš Forman directed the film which was critically acclaimed.

She also ventured into reality television and hosted the PBS series 'America's Ballroom Challenge' from 2006-07. She also competed in the celebrity edition of Donald Trump's 'The Apprentice' in 2008 and made it to the 8th week before she was fired. That year, her book 'Wear Your Life Well: Use What You Have To Get What You Want' was published.

In August 2012, she won $25,000 for charity as a celebrity contestant on 'Live! with Kelly' 'Grilling with the Stars' contest for her healthy grilled mushroom recipe.

She has written nine books on health, diet, and memory, of which 'Total Health Makeover' has been the most popular. She also conducts online classes on her website www.marilu.com and helps people eat healthy. She also hosts the television program, 'The Art of Living'.

She hosts her own show 'The Marilu Henner Show', which airs on a number of radio stations across America. Distributed by Sun Broadcast Group and GCN radio, it is aired on weekdays.

She features guest physicians, celebrity guests, and health experts on this show. It is also aired live at Marilushow.com.

Henner helped her husband Michael Brown battle bladder and lung cancer. She chronicled his recovery from cancer in her book 'Changing Normal: How I Helped My Husband Beat Cancer'. Today, Brown is healthy, thanks to Henner's diet and healthy lifestyle tips.

Continue Reading Below

In 2014, she did five episodes of 'Brooklyn Nine-Nine', a police television sitcom that premiered on Fox. She played Vivian Ludley. The series revolved around Jake Peralta, an immature but talented detective in Brooklyn, who comes into conflict with his new commanding officer who is serious and stern.

In 2016, she did two TV films, 'In-Lawfully Yours', where she played Naomi and 'Three Bedrooms, One Corpse: An Aurora Teagarden Mystery', where she portrayed Aida Teagarden.

In 2017, she was featured in the TV series 'Sizzle Reel-Fantastic Memorylady' and in the TV film 'Dead Over Heels: An Aurora Teagarden Mystery'.

Recommended Lists:

Recommended Lists:

Major Works

The series 'Taxi,' which originally aired on ABC from 1978 to 1982, was her most remarkable early work following which she was recognized as a talented actress. It was also aired on NBC for a year—from 1982 to 1983. The sitcom won 18 Emmy Awards.

She has authored several books on health and diet including 'Healthy Kids: Help Them Eat Smart and Stay Active-For Life!' and 'Healthy Life Kitchen.' These books are very popular and are helping thousands of readers lead a healthy lifestyle.