Lisa Kudrow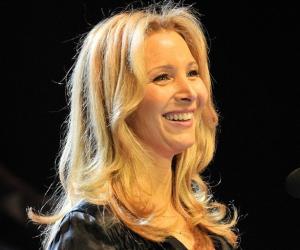 Continue Reading Below
Lisa Kudrow is an American actress best known for her role in the television sitcom 'Friends'. Her portrayal of Phoebe Buffay in the sitcom not only won her many awards, but also made her a much recognized face in American television. Along with being an actress she is also a writer and producer. Born to a physician father and a mother who worked as a travel agent, there was nothing in her early life to hint about the career path she would ultimately chose and succeed in. A good student who did well in the sciences at school, she initially aspired to follow in her father's footsteps and venture into medicine. She studied biology in college and worked with her father for a few years. She seemed destined for a career in research but life had other plans for her. At the urging of an acquaintance, she ventured into acting while continuing to work for her father as a medical researcher. Eventually she realized that acting was her true calling and decided to become a full time actress. Smart, talented and passionate, she bagged several television roles which made her a well-known face in American show business. Her career touched new heights following the success of 'Friends' and it was not long before she started appearing in movies as well.
Recommended Lists:
Recommended Lists:
Continue Reading Below
Childhood & Early Life
Lisa Valerie Kudrow was born on July 30, 1963, in Los Angeles, California, U.S. Her mother Nedra worked as a travel agent while her father Dr. Lee N. Kudrow was a physician who specialized in the treatment of headaches. She has one brother and one sister.

She was raised in a middle-class Jewish family and received her primary education from Portola Middle School in Tarzana, California before moving on to Taft High School in Woodland Hills, Los Angeles. She was good in academics and also had interest in sports.

She was much inspired by her father and planned to follow in his footsteps. She earned her Bachelor of Science degree in Biology from Vassar College with the intention of researching headaches like her father did.

Continue Reading Below

Recommended Lists:

Recommended Lists:

Career

After completing her education Lisa Kudrow joined her father in his work and earned a research credit on his study on the comparative likelihood of left-handed individuals developing cluster headaches.

Her brother's childhood friend, comedian Jon Lovitz, sensed that she had a talent for comedy and acting and encouraged her to perform. She began taking improv classes while continuing to work with her father. Eventually she was able to join the famous Los Angeles improv comedy group, The Groundlings. During this time she became friends with Conan O'Brien.

Soon she got the opportunity to perform with other improv groups as well and started auditioning for television roles. She appeared as Kathy Fleisher in three episodes of season one of the Bob Newhart sitcom 'Bob' (1992–1993).

She landed the role of a lifetime in 1994 when she was cast as Phoebe on the sitcom 'Friends'. She became very popular in this role and earned several awards and accolades for her performance.

Her role in 'Friends' made her a much recognized face in American television and it was not long before she started getting offers of film roles. Even though she had already played minor roles in some movies, she was now getting more substantial roles.

During the late 1990s she acted in movies like 'Romy and Michele's High School Reunion' (1997), 'Clockwatchers' (1997), 'The Opposite of Sex' (1998), and 'Analyze This' (1999). Her popularity as a television star also continued to rise.

In 2002, she played the role of Laura Sobel in the mafia comedy film, 'Analyze That', a sequel to the 1999 film 'Analyze This'. The film also starred Robert De Niro and Billy Crystal who played the roles of mobster Paul Vitti and psychiatrist Ben Sobel respectively.

Continue Reading Below

In the 2007 drama film 'P.S. I Love You', she was cast as Denise, one of the friends of the protagonist played by Hillary Swank. She followed it up with three movies, 'Hotel for Dogs', 'Powder Blue', and 'Paper Man' in 2009.

Lisa Kudrow launched 'Web Therapy', an improvisational web series in 2008. She starred as a self-centered therapist Fiona Wallice who has conceived of a new "modality" of therapy and hopes to promote her new technique as a worldwide therapy option. She also served as the co-creator, writer and executive producer of the series that ran till 2014.

She was the executive producer for the American version of the UK television series 'Who Do You Think You Are?' in which celebrities trace their family trees. Her own heritage was also traced which led to the knowledge that her great-grandmother died in the Holocaust. Her search for her roots in Eastern Europe was broadcast in 2010.

Some of her more recent movies are 'Neighbors' (2014) and 'El Americano: The Movie' (2015). Currently she is busy with her upcoming films 'Table 19', 'Neighbors 2 ', and 'The Girl on the Train' which are slated to be released in 2016.

Recommended Lists:

Recommended Lists:

Major Works

Lisa Kudrow is best known for her portrayal of Phoebe Buffay in the sitcom 'Friends'. She played a lady who is weird, goofy, eccentric, and promiscuous. Kudrow was much appreciated for her role and won an Emmy Award and two Screen Actors Guild Awards for the same.

Recommended Lists:

Recommended Lists:

Awards & Achievements

In 1998 she won the Primetime Emmy Award for Outstanding Supporting Actress in a Comedy Series for her role in 'Friends'. The same year, she received the New York Film Critics Circle for Best Supporting Actress for the film 'The Opposite of Sex'.

She won the Gracie Award for Outstanding Female Lead in a Comedy Series 'The Comeback' in 2006.

In 2011, she was presented with the Webby Award for Best Individual Performance for the online series 'Web Therapy'.