Leighton Meester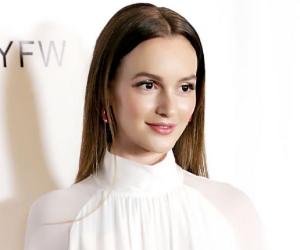 Quick Facts
Nationality: American
Age: 32 Years, 32 Year Old Females
Sun Sign: Aries
Born in: Fort Worth, Texas, United States
Famous as: Actress
Height: 1.64 m
Family:
Spouse/Ex-: Adam Brody (m. 2014)
father: Constance Meester
mother: Douglas Meester
children: Arlo Day Brody
U.S. State: Texas
Continue Reading Below
Leighton Meester is an American model, actress, singer and songwriter. She is popularly known for her role of 'Blair Waldorf' in the television drama series 'Gossip Girl'. Leighton Meester began her career in the industry as a young girl. During her childhood, she was featured in a local stage production of 'Wizard of Oz', following which her interest in acting grew. She began working through commercials and modelling. As part of modelling assignments, she has been associated with major brands like Herbal Essences, Vera Wang, Jimmy Choo and Ralph Lauren. Though she began her career as a model, she later ventured into acting as well.She made her acting debut with series 'Law & Order' and took up minor/ cameo roles in television series and feature films like 'Country Song', 'Monte Carlo', and 'Killer Movie'. Apart from acting, she has also recorded music and written songs in collaboration with several noted artists like Cobra Starship and singer Robin Thicke. Her songs have been listed as Billboard Top Hits. Leighton Meester has also done a Broadway performance in the stage production of 'Of Mice and Men'.
Recommended Lists:
Recommended Lists:
Continue Reading Below
Childhood & Early Life
On 9 April 1986, Leighton Marissa Meester was born in Fort Worth, Texas. Her father Douglas Meester worked for an internet company and mother Constance was a writer. She has a younger brother named Alexander 'Lex' and is known to have an older brother named Douglas Meester.

She was born at a time when her mother was serving prison time for trafficking marijuana from Jamaica to the USA. Her mother was allowed to give birth in prison and nurse her for three months in a halfway house after which she had to return to prison to complete her sentence. During this time, Leighton Meester was cared for by her grandmother.

At the age of 11, she moved to New York City along with her mother where she attended the Professional Children's School. Later, at 14 she shifted to Los Angeles and attended the Hollywood High School and Beverly Hills High School. She later completed her school education in a private school.

Around this time she began modelling with agencies like Wilhelmina Models and for designers like Ralph Lauren. She also appeared in commercials for brands like Clearasil and Tamagotchi.

Recommended Lists:

Recommended Lists:

Continue Reading Below

Career

Leighton Meester made her acting debut in an episode of the political and legal drama series 'Law & Order' in 1999. This was followed by several guest appearances in television series like 'Boston Public' (2001), 'Once and Again' (2002) and 'Family Affair' (2002).

Her debut feature film appearance was in the horror film 'Hangman's Curse' (2003). The same year she was part of the main cast in the television series 'Tarzan, a show that went on to be cancelled after just eight episodes.

Between 2003 and 2005, she made special appearances in several television series like 'The Big Wide World of Carl Laemke' (2003), 'Crossing Jordan' (2004), '7th Heaven' (2004), 'North Shore' (2004),'24' (2005), 'Veronica Mars' (2005) and '8 Simple Rules' (2005).

In 2005, she got a recurring role in the science fiction series 'Surface'. The following year she did two feature films, 'Flourish' and 'Inside'. The same year she played short roles in television series 'CSI: Miami' and 'Shark'.

In 2007, she was cast as part of the television series 'Gossip Girl'. The series was based on a book series by the same name by Cecily von Ziegesar. She earned much critical appreciation for her performance and earned several awards and nominations for the same. The series went on for six seasons, until 2012.

She recorded the song 'Inside the Black' for the soundtrack of film 'Drive-Thru' in 2007. In 2009 she signed a contract with Universal Republic for a project that eventually went on to be shelved. However a few songs that were recorded were later made available.

In 2009, her first official single 'Somebody to Love' was released, featuring R&B singer Robin Thicke. In 2011, her second single 'Your Love's a Drug' was released.

She also provided vocals to the song 'Good Girls Go Bad' by American pop band Cobra Starship. The song became popular and reached number seven on the Billboard Hot 100. She also sang the cover of the song 'Christmas (Baby Please Come Home)' for the album 'A Very Special Christmas 7'.

In 2010, she played minor roles in feature films 'Date Night', 'Going the Distance' and 'Country Strong'. The following year she played a negative character in 'The Roommate', which earned her appreciation and award nominations.

In 2012, she appeared in the comedy feature film 'That's My Boy'. Other works that she was part of include 'Life Partners' (2014), 'The Judge' (2014), 'By the Gun' (2014) and 'Unity' (2015). In 2014 she had also made a stage appearance in the play 'Of Mice and Men'.

In 2014, she also released her debut studio album 'Heartstrings'. All the songs were written and sung by her and was went on to receive positive reviews.

In 2017, she started appearing on the comedy television series 'Making History' that premiered on the 5th of March.

Recommended Lists:

Recommended Lists:

Major Works

Leighton Meester is an actress popularly known for her character 'Blair Waldorf' in the television series 'Gossip Girl'. She has also played noteworthy roles in feature films such as 'Killer Movie' (2008), 'Country Song' (2010) and 'The Roommate' (2011).

Awards & Achievements

Leighton Meester received the Teen Choice Award for Choice TV Actress: Drama, for two subsequent years 2009 and 2010 for her performance in drama television series 'Gossip Girl'.

In 2010 she won the Spotlight Award in the Hollywood Film Awards for the feature film 'Country Song'.

Personal Life & Legacy

Leighton Meester was in a romantic relationship with actor Sebastian Stan between 2008 and 2010.

In 2013 she got engaged to actor Adam Brody. They got married in 2014 and had a daughter named Arlo Day Brody on 4 August 2015.

She has had a strained relationship with her mother, with both parties filing lawsuits against each other regarding financial support for her younger brother's health treatment, alleging contract breach, physical abuse, and other reasons. In the recent years, with the court dismissing the claims made by her mother, Meester received a judgment in her favour.

Continue Reading Below

Trivia

She became interested in acting after she appeared in a local production of 'The Wizard of Oz', as a child.

1. The Judge (2014)

(Drama, Crime)

2. Like Sunday, Like Rain (2014)

(Music, Drama)

---

3. Country Strong (2010)

(Drama, Music)

4. Date Night (2010)

(Comedy, Crime, Romance, Thriller)

---

---

5. Going the Distance (2010)

(Romance, Comedy)

6. Life Partners (2014)

(Comedy, Romance)

---

---

---

7. The Beautiful Ordinary (2007)

(Comedy, Drama)

8. The Oranges (2011)

(Romance, Comedy, Drama)

---

---

---

---

Translate Wiki

to Spanish, French, Hindi, Portuguese

Article Title

- Leighton Meester Biography

Author

- Editors, TheFamousPeople.com

Website

- TheFamousPeople.com

URL

-

https://www.thefamouspeople.com/profiles/leighton-meester-31846.php

Last Updated

- March 30, 2017

---

---

---